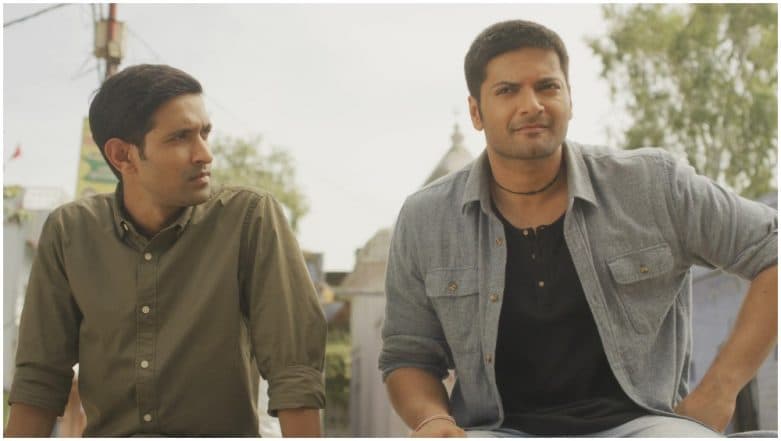 Can Mirzapur be the next Sacred Games? The lack of censorship in this medium (unless our sanskari courts decide otherwise) gives the freedom to push the envelope when it comes to violence and gore, something Anurag Kashyap and Vikramaditya Motwane put to good use in Sacred Games. Mirzapur, which is now streaming on Amazon Prime Video, belong to the same genre and its promos have been very intriguing. The web-series is directed by Inside Edge fame Karan Anshuman along with Gurmeet Singh and Mihir Desai. Mirzapur: After Kiara Advani, Neha Dhupia and Swara Bhasker, Shweta Tripathi To Have a Masturbation Scene in The Web-Series?
The show is set in the titular Mirzapur, a town in Uttar Pradesh. While the state is notorious for the crime rate, Mirzapur takes the cake when it comes to violence. Guns and dead bodies are not an irregular occurrence here. Ruling this unruly town is its unofficial king, Akhanand Tripathi aka Kaaleen Bhaiyya (Pankaj Tripathi). He is the biggest dealer in guns and opium, but no one could touch him. The cops are in his pocket and the inhabitants of Mirzapur fear and respect him. He is married (for the second time) to a much younger, feisty woman (Rasika Duggal), but their married life (read: sex) is far from perfect. Kaaleen Bhaiyya's biggest thorn in his side is his volatile, haughty psychopath of a son, Munna (Divyendu Sharma). Munna wants to inherit his father's empire, but he is not very interested in learning the ropes of the business.
In the same town, lives brothers, Guddu (Ali Fazal) and Bablu (Vikrant Massey), whose father (Rajesh Tailang) is an upright lawyer wanting to cleanse the town of its vices. However, his sons have bigger ambitions and dreams. Guddu has a hulky body with an aim to win Mr Purvanchal title, though he is a bit dim-witted. The younger brother, Bablu, knows where and when to use his brains and he dotes on his elder sibling. Mirzapur Trailer: Pankaj Tripathi's Crime Drama Looks Appealing – Watch Video.
When Munna crosses paths with the siblings over a legal matter, they end up bashing him. Kaaleen, instead of getting them killed, sees potential in the brothers and hires them to handle the operations, much to the growing chagrin. Using their combined power of brains and brawns, Guddu and Bablu manage to improve Kaaleen Bhaiyya's business, which only adds to the resentment of Munna. As tensions rise in his clan, Kaaleen Bhaiyya has to decide whom to choose to keep Mirzapur in his control - his crazy son or the ambitious, unpredictable brothers.
The first scene itself sets the tone of what to expect from the rest of the series. An inebriated Munna barges into a wedding procession, and while dancing with the groom's relatives, he accidentally shoots the groom. From thereon, Mirzapur revels in extreme violence and gore. We get amputated fingers getting crushed under tyres, eye-balls out of sockets, closeup of bloody headshot cavities and so on.
Having binged on shows like Game of Thrones and Breaking Bad, copious gore is not something new to me. In fact, the violence, along with some good dark humour, give Mirzapur an intriguing start. The first episode has some show-stopping moments, like the aforementioned wedding scene, or when Kaaleen Bhaiyya asks a customer to test a gun to some grisly results. The best scene, perhaps in the whole season, is the dining table sequence, when Munna confronts Guddu and Bablu's father, and the resulting chaos is both nerve-racking and hilarious in a twisted sort of way. So far so good.
However, Mirzapur frequently removes the black humour from the violent scenes that often end up feeling sensationalised. The same applies to the abusive language used throughout the series. When it comes to web content, I have no clue why the scriptwriters behave like those unruly teens who swear at each other, when they are out of their parents' ears. There are plenty of colourful abuses used in Mirzapur, so much that normal words uttered sound alien. They end up giving the scenes a sense of artificiality, instead of giving them a realistic, dark edge.
It also doesn't help that none of the main characters evokes any sort of empathy from us, even the leads. Guddu is all too happy to join the Tripathi fold where he can put his muscles to good use. Bablu, meanwhile, abhors mindless violence but doesn't mind encouraging others to get into that. Even when he feels worried to see his elder brother becoming a mindless monster, he does little to change things.
The only 'good' people in the saga, the siblings' father and sister, get little scope in the ensuing melee. There is also an honest cop (Amit Sial), who makes quite a dramatic entrance, but adds little to the proceedings.
It's not that I abhor violent characters. Being a fan of the Joker or Gus Fring, I love to see a psychopath revel in tormenting his victims once in a while (on screen, of course). So I had high hopes from Munna, especially with the way how he is introduced. While Divyendu Sharma plays the character with a crazy fervour, Munna's psychopathic tendencies feel very one-note after a couple of episodes, rolling in predictability and brattishness. The only time we see some layers to his character is when he faces the death of a dear friend (another rare terrific moment) and feels utterly lost at that moment. But that passes away soon and Munna returns to playing a whiny, trigger-happy kid with daddy issues.
The same cannot be said for Kaaleen Bhaiyya, the enigmatic Baahubali of Mirzapur. Calm and composed, it's difficult to gauge what's going on in his mind, even when dealing with an idiot of a son, and that makes Kaaleen Bhaiyya so unpredictable. Unlike Munna, Kaaleen Bhaiyya speaks less and thinks more, looking ahead when it comes to business, while keeping his family interests in the forefront.
Like Don Corleone, he understands the fragility of his own situation and refrains from making needless enemies. When his bodyguard tells him that people respect him, Kaaleen Bhaiyya reminds him that it is not respect but fear, and it can go away anytime. It helps that he is played by a terrific Pankaj Tripathi, who has the knack to shine even in a bad project. Just look that subtle expression of resentment on his face when a cop calls Guddu and Bablu 'Bhaiyya' and you know what a fine actor he is!
Another interesting character, though with a brief screentime, is Kaaleen's paralysed father (Kulbushan Kharbanda). While he is mostly seen spouting advice to his son and watching animal documentaries, it is in the final episode that we get to see the evil streak in him up and close. And it is pure disgusting!
The performances are all uniformly good, even though it is Pankaj Tripathi who often steals the show, Ali Fazal is surprisingly good, with much appreciation needed for the fact that he bulked up his body to play a bodybuilder. Vikrant Massey gives a subdued performance in a more restrained role.
The female characters, like in Sacred Games, have little to add when it comes to the main premise. But all the three actresses (Duggal, Shweta Tripathi and Shriya Pilgaonkar) are terrific and have no qualms to shed their inhibitions for some really bold scenes.
Talking about the premise, Mirzapur's plot feels very derivative. I am all for influences and tributes, but that feels justified if the content has something new to say. The premise of Mirzapur has heavy influences from Anurag Kashyap movies, especially Gangs of Waseypur. Inspirations have also been taken from The Godfather, Sarkar, and Parinda. Even Last Man Standing (a man kills his would-be assassin while having sex with a prostitute), Company (gangster's mother and girlfriend having no issues with his work) and Breaking Bad (Lying on a bed of currency).
As the middle portions of the series traverse through a predictable route, the final episode has some nail-biting moments, squeamish scenes and dark, unexpected victories. Only to make the season end at a very lame, unsatisfying conclusion and putting a very unnecessary cliffhanger to foretell what to expect in the next one. Looking back, Mirzapur never hints at the possibility of having more than a season, so that felt very annoying!
Final Thoughts
What works for Mirzapur are the performances and some rare moments of dark humour. It isn't boring, but Mirzapur also doesn't have anything new to the table, with heavy influences from other films and series of the same genre. Viewers might also be put off with the wanton violence, that often feels random and sensational.