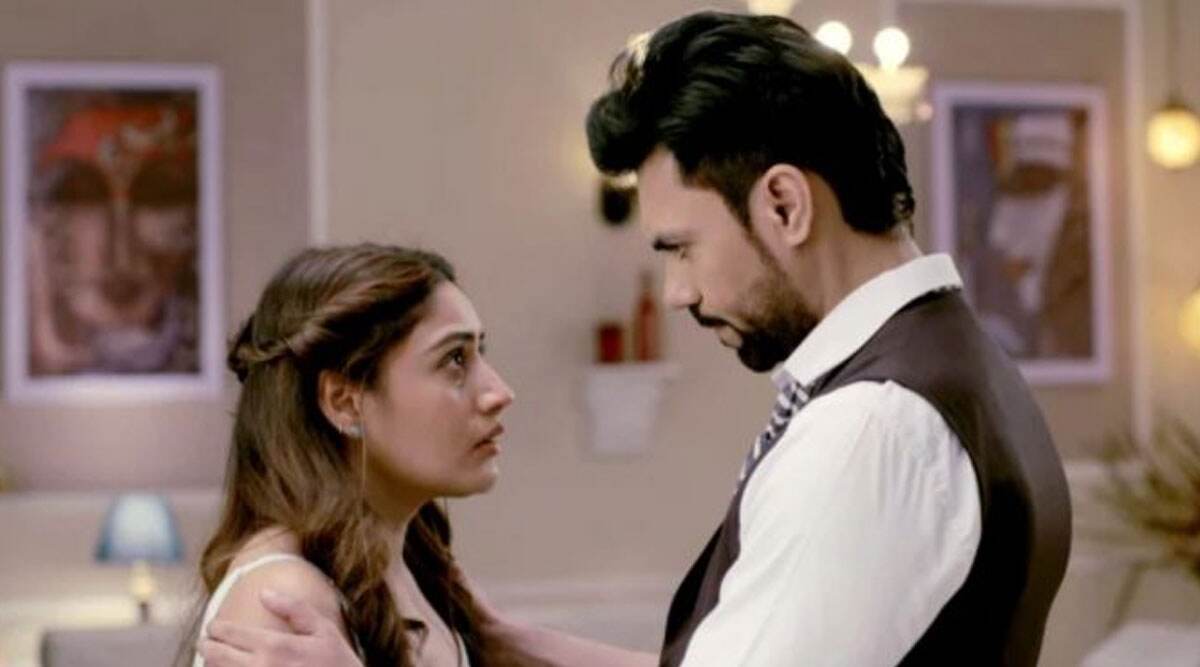 In yesterday's episode of Sanjivani 2, N.V. tells Ishaani that he is her husband and has full rights to hold her hands. N.V. brings Ishaani inside Sanjivani hospital. Ishaani recalls all that happened with her and gets disturbed. In tonight's episode, we see Ishaani (Surbhi Chandna) gets upset and goes to the nearby temple and breaks down in front of God. Dadi comes and consoles her, Ishaani cries holding her. Dadi asks did N.V. scold her or told her something. Ishaani tells Dadi that if some relationship gives pain then to should she continue it. Dadi tells if N.V. told something she should tell her and she will punish him. Ishaani smiles. Ishaani tells Dadi that N.V. is not understanding her problem and forcing her to join Sanjivani. Ishani tells Dadi she cannot do it and gets emotional. Dadi changes the topic to lift Ishaani's mood and suggests that they should get some pakoras and go home and eat it. Sanjivani 2 January 21, 2020 Written Update Full Episode: Ishaani's Husband NV Takes Her Back to Sanjivani Hospital to Help Her Battle Depression.
Dadi and Ishaani come home with the pakoras. Dadi calls out N.V. to come and join them. Suddenly she sees red roses all around the house and gets tensed as N.V. is allergic to these flowers. Dadi sees N.V. lying on the floor because of an asthma attack. Ishaani throws all the flowers out of the house. Dadi and Ishaani make N.V. sits in the chair. Ishaani tells Dadi that she will call the doctor. N.V. tells that he will only get treated from Ishaani and no one else. Dadi pleads Ishaani to treat N.V. or else he might die. Ishaani brings the injection and gives it to N.V., he becomes stable.
Dadi asks N.V. if he is ok. N.V. tells Dadi that he is fine. N.V. thanks Ishaani for helping him. Dadi blesses Ishaani as she saved N.V. Ishaani gets emotional and sits down. N.V. keeps the contract file in front of Ishaani and tells her to sign it. Ishaani turns back but N.V. holds her and gives her a pen to sign the contract. Ishaani signs the contract. N.V. and Dadi both are happy for Ishaani. N.V. gets Ishaani's doctor coat and puts around her. Ishaani sees herself in front of the mirror and recalls the past. N.V. congrats Ishaani for her new venture. Sanjivani 2 January 17, 2020 Written Update Full Episode: Ishani is Heartbroken on Hearing That Sid is Leaving For US With His Mother, Meanwhile Sanjivani Catches Fire.
Later N.V. calls the flower guy and tells him to take all the flowers back and pays him money. N.V. did this whole melodrama so that Ishaani agrees to join Sanjivani.  Dadi comes and asks N.V. why he took such a big risk. N.V. tells that as he is an investor, he knows that bigger the risk profit will be bigger and smiles. Just then N.V.'s sister visits them. Dadi is happy to see her. Meanwhile, Ishaani thinks that she cannot do it and remove the doctor's coat. Ishaani takes her pills and calms her down.