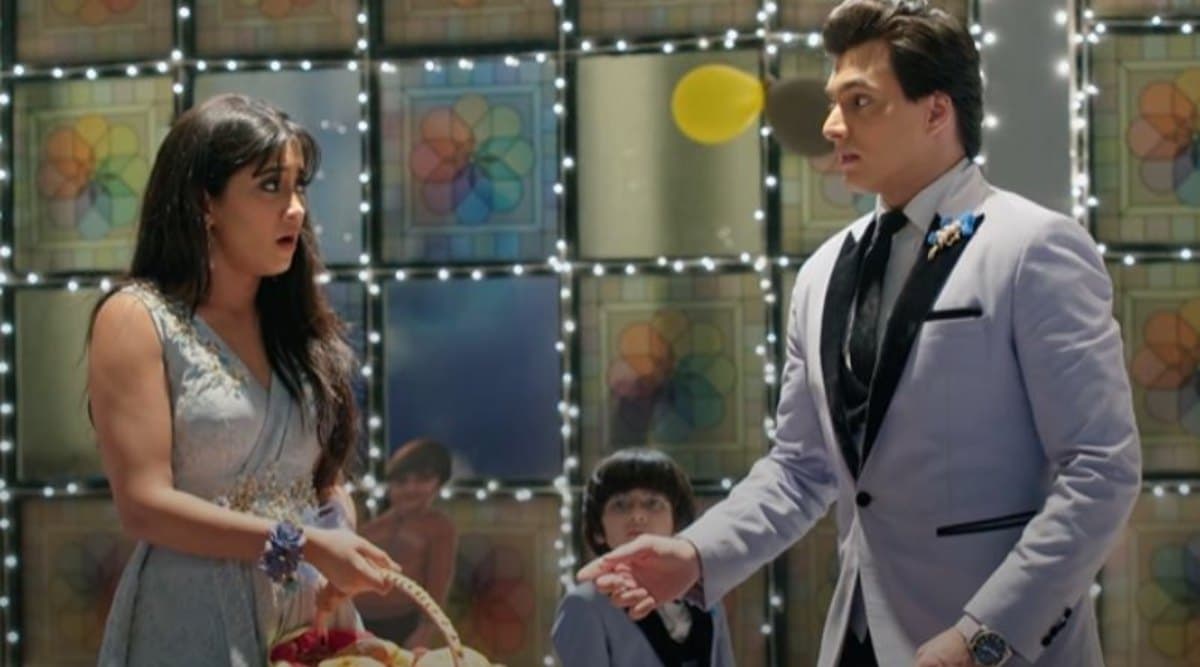 In yesterday's episode of Yeh Rishta Kya Kehlata Hai Kartik and Naira propose to each other after the intervention of their families. In tonight's episode, we see Kartik (Mohsin Khan) takes Naira's (Shivani Joshi) footprint on a board so that it remains with her all his life. Kartik promises that he will not hurt her and love her all life. Naira also says she also loves him the same. Naira tells Kartik that she too wants his footprints. Naira says they should be together all their lives and smiles (Delu khey muhalley mein tere mere baathey karna track plays in the background). They hug each other while Suhasini watches them and thinks about something. Yeh Rishta Kya Kehlata Hai December 9, 2019 Written Update Full Episode: Kartik Vows to Never Let Naira Leave Him Ever Again, Kairav Is Excited to Witness His Parents' Wedding.
Later, when Swarna comes to Suhasini's room, she asks her why she is looking tensed. Suhasini says she feels something bad is going to happen. Suhasini says as they hurt Vedika's feelings maybe because of that she feels tensed. Swarna tells that Vedika took the decision herself and no one forced her. Swarna also says she is a sensible girl and she knows what is good for her.
Vedika on the other side, flashbacks about her and Kartik. Vedika gets emotional and is confused to take the decision of her life. Vedika thinks of Pallavi's talk and gets disturbed and cries.
The next day morning, Naira and Kartik pray to God for their new beginning. They pray that all problems should erase from their life. Kartik and Naira pray for their long term relationship. Just then Vedika comes there and watches them from far. Vedika gets emotional when she sees Kartik and Naira close to each other. Naira feels that she has seen Vedika. Kartik tells it is getting late and that they have to go home as Kairav is waiting. Yeh Rishta Kya Kehlata Hai December 6, 2019 Written Update Full Episode: Kartik and Naira Try to Propose Each Other but Miss the Chance to Do so.
Swarna informs all that Vansh's grandfather is not keeping well and that he wants to see Gayu and Vansh for the last time so he has called them there. Samar tells Gayu to go and visit them. Suhasini also tells Gayu to go.  Naksh comes to take Naira and Kairav home. Kartik tells them that he will miss them both. Suhasini prays God that everything should be good.
The next day outside the courtroom,  all wait for Vedika to come as their divorce case is filed. The advocate tells that both the husband and wife's signature is a must. Manish and all are tensed as why did  Vedika not turn up. Naksh tells that Vedika had told she will come on time. All wait for Vedika.  The court time is going on.  The advocate comes and asks about Vedika and tells that if she will not come within five minutes then they have to come some other day. Just then Vedika comes there and apologies for coming late. Vedika narrates why she was late and goes inside to do the formalities. Suhasini thinks is Vedika telling the truth or purposely she came late.
In the Goenka house, the panditji finds out a date for Kartik and Naira's marriage. Kairav tells the panditji to give a sooner date. Just then Naira comes and tells that their marriage will have to wait for little more.n In the precap, Kairav selects a ring for Kartik and Naira's engagement.