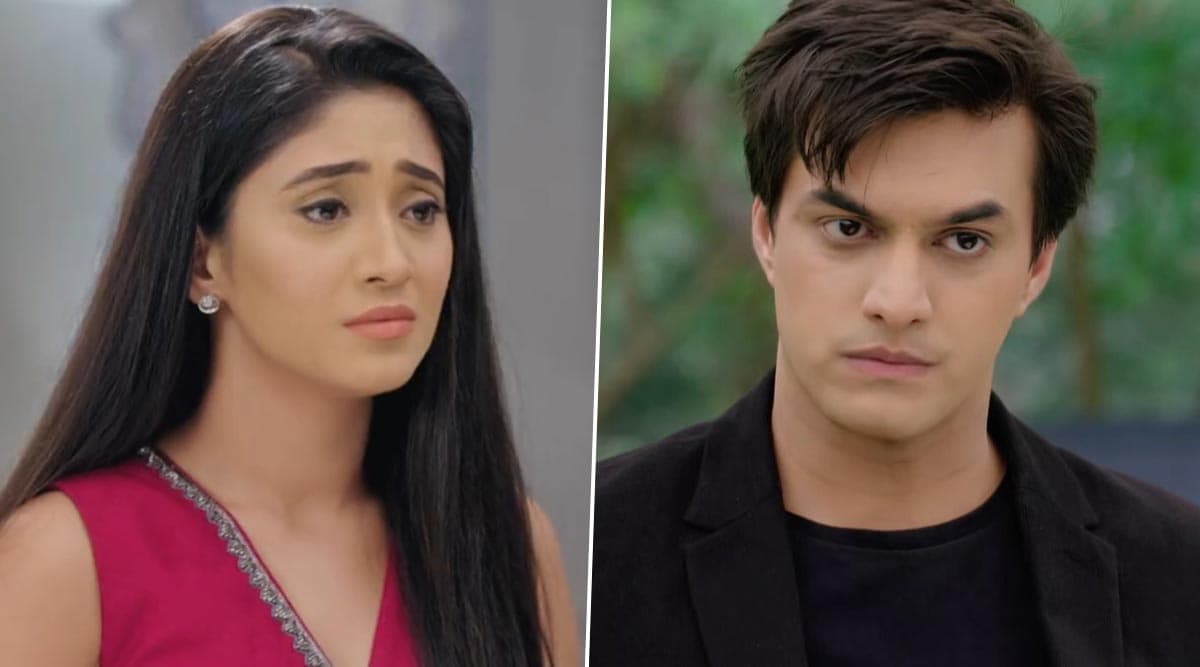 In yesterday's episode of Yeh Rishta Kya Kehlata Hai, Naira disguises herself as Santa Claus to attend the Christmas party at the Goenkas. Naira overhears Vedika and Umesh Gupta's conversation and later follows him to find out the truth. In tonight's episode, we see Naira (Shivangi Joshi) searches online to get some clue about Umesh Gupta's identity. Meanwhile, Kairav is happy as he enjoyed the Christmas party. Kairav tells Kartik (Mohsin Khan) that they have to go to school at 4 'clock as his football match is there. Kairav tells them they have to inform Naira to come on time. Vedika tells she will also come with them. Suhasini calls Naira and informs her that Pallavi has come to meet Vedika. Naira tells Suhasini to hear what they are talking about and inform her. Yeh Rishta Kya Kehlata Hai January 7, 2020 Written Update Full Episode: Naira Turns Into a Santa Claus and Visits the Goenka House, Vedika Suspects Something Fishy
Suhasini takes the phone and goes near so that Naira can also hear them. Pallavi tells Vedika to calm down and she will sort the problem. Vedika tells her she is worried as Naira is around all the time. Pallavi tells Vedika to keep Naira away from Kartik. Pallavi tells her she will go to the hospital and finish her work first. Naira tells Suhasini to hold Pallavi for some time at the Goenkas so that she can go to the hospital and get some proof. As Suhasini goes to stop Pallavi she sees that she has already left. Naira leaves for the hospital. Suhasini tries calling Naira but her phone is switched off.
Meanwhile, Pallavi calls Umesh and tells him to meet in the hospital. Kairav asks Kartik while going to the school that did he inform Naira? Kartik tells him to forget but they will pick her up. Vedika tells Kartik that Kairav will be late for his match so they will go to school directly and tell Naira to come there. Kartik gives the phone to Kairav and tells him to call Naira. Kairav calls Naira but her phone comes switched off so he calls Naksh and gives the message to him. Yeh Rishta Kya Kehlata Hai January 3, 2020 Written Update Full Episode: Kartik Returns With Vedika Instead of Naira and Leaves His Family Shocked
Naira comes to the hospital and goes to Pallavi's cabin to find out the truth. Naira sees Umesh in the hospital and hides as she does not want anyone to see her. Kairav tells Kartik that he wants to eat ice-cream with him and Naira. Vedika could no longer listen to Naira's name and shouts at Kairav to keep silence for some time. Kartik stops the car and tells him to go and buy some balloons for himself. Kairav goes to get the balloons. Kartik chides Vedika and asks her how dare she shouts at Kairav. Kartik warns Vedika not to behave with Kairav like this henceforth.
Pallavi gets furious on Umesh as to why he went to meet Vedika at her home. Naira overhears them arguing with each other. Naira comes to know the truth that the kidney which she got is of Umesh and not Vedika. Naira is shocked to know about this. Naira recalls everything that happened when Vedika was around her and gets upset. Naira vows that now she will unmask Vedika in front of everybody. Kairav is waiting for Naira and asks Kartik where is she. Just then Naira comes, Kairav is happy to see her. Kartik and Naira go to meet Kairav's football coach who praises Kairav and tells them that he is a good football player. Vedika gets disturbed when Naira sees her in a peculiar way. Vedika tells Naira that for a few days she will have to bring Kairav for the class as she and Kartik are going for their honeymoon.
In the precap, Naira reveals the truth about Vedika to Suhasini and Naksh.