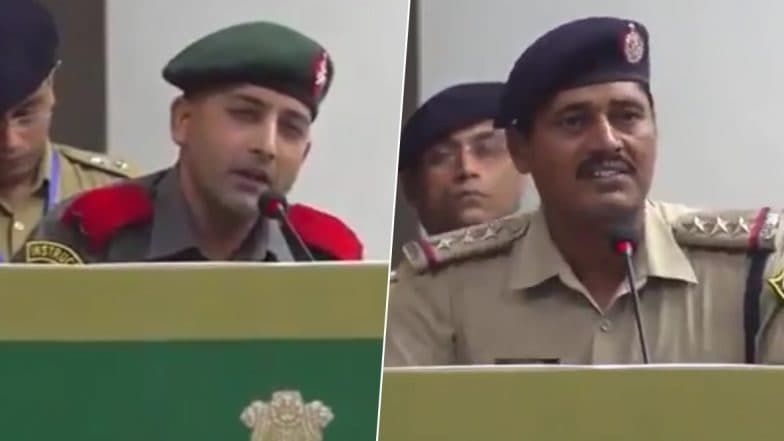 New Delhi, October 9: Days after an alleged incendiary speech of Central Reserve Police Force (CRPF) jawan Khushbu Chauhan went viral, videos have emerged of two more defence personnel speaking at the same event. In a stark contrast to Chauhan, these two officers could be heard strongly defending human rights in their speeches. The officials - Indo Tibetan Border Police (ITBP) inspector Pawan Kumar and Assam Rifles' rifleman Balwan Singh have stressed on safeguarding the civilian rights in their speeches.
Kumar, in his speech, said a human touch is required in solving a conflict rather than crushing all voice of dissent with the use of force. He said that disputes could only be resolved through social justice, no matter how strong the security apparatus is. CRPF Asks Jawan Khusbhu Chauhan to be 'Cautious' After Her Fiery Speech Over JNU Protests Goes Viral.
Kumar further added that the need of the hour is to combat the growing racism, communalism and hatred being spewed towards a particular community. "Hate speech should be stopped. Humanity should be placed above caste and religion," he said.
Watch Full Speech of ITBP Inspector Pawan Kumar
Rifleman Balwan Singh, who is part of the Assam Rifles, also stressed on the humane part of a disciplined force which separates it from an anarchic militant group. Singh, in his speech, said anger can not win over anger, and the need is to reciprocate with love. "The real battle is in the hearts of people," he said.
Singh further added that the defence personnel should focus more on saving lives, rather than claiming them. "The real act of valour lies in saving lives rather than killing someone," he said, adding that one should always strive towards resolving dispute through conciliatory measures.
Watch Full Speech of Rifleman Balwan Singh:
The debate where Singh and Kumar delivered the speeches was organised at an event by the United Nations Human Rights Council (UNHRC). At the same competition, CRPF's Khushbu Chauhan had stoked a row with her tirade against a section of human rights activists.
Chauhan said that those who support human rights did not support the forces when Pulwama incident happened and jawans were killed in Chhattisgarh, "but when anti-national slogans were raised in the JNU by an anti-national, then they stand with him."