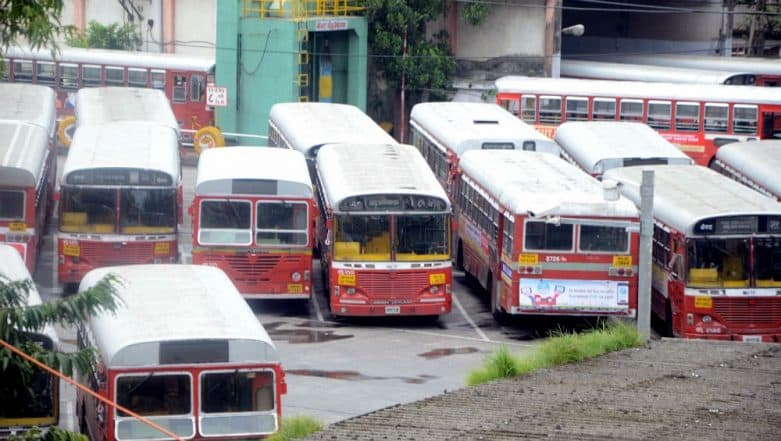 Mumbai, January 11: Commuters in Mumbai continued to face the brunt of the indefinite strike called by Brihanmumbai Electricity Supply & Transport (BEST) bus employees for the fourth day on Friday. As talks between union leaders and officials remained inconclusive on Thursday, the BEST employees extended the strike even on Friday. Travellers faced inconvenience as auto-rickshaw and taxi drivers charged much more than normal rates. BEST Bus Strike in Mumbai: Central Railways Runs Extra Local Trains; Check Schedule.
The employees are protesting over long-pending demands of implementation of the merger of the BEST budget with a principal budget of the BMC, employee service residences among others. The other demands higher salaries, deliberations on new wage agreement, resuming appointments on compassionate grounds and bonus equivalent to that of the civic body employees.
As many as 33,000 BEST employees in Mumbai went on an indefinite strike since January 7 over their demands. The strike has paralysed bus services and causing inconvenience to nearly 25-lakh daily commuters. BEST did not take out any bus from all 27 depots this week as the BEST administration and an industrial court declared the strike as "illegal". BEST Bus Strike in Mumbai: 25 Lakh Commuters to be Affected as Red Buses to Go off Roads.
In Mumbai, the BEST has a fleet of over 3,200-red-colour buses across the city. It is the second-biggest mode of transport in Mumbai after local trains, which ferry over 80-lakh passengers every day. According to reports, the cash-strapped BEST is likely to face a loss of Rs 3 crore per day during the strike.