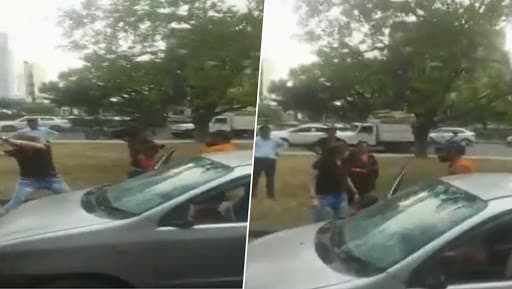 Chandigarh, June 26: In an incident of road rage, a girl allegedly attacked a 26-year-old youth with a rod near Tribune Chowk in Chandigarh on Tuesday. The 25-year-old girl identified as Sheetal Sharma started attacking Nitish after their cars rammed into each other. Nitish is a resident of Chandigarh sector 29. The entire incident was caught on the camera and the video is doing rounds on social media.
According to a report, published in The Tribune, the victim was heading from Tribune Chowk towards the Poultry Farm roundabout through a slip road when the incident took place. He was traveling along with his family in a Santro Car. Ghaziabad Road Rage Shocker: Man Drives Car For 2 Km With Cab Driver Clinging On To Car Bonnet; Video Goes Viral.
Video of the incident:
The altercation broke out after Sheetal's Maruti SX4 collided with Nitish's vehicle. According to reports, she was reversing her car in a rash manner. After the argument, Sheetal parked her car in the middle of the road. She then took out a rod from her vehicle and started hitting the youth. Mumbai Road Rage: Cab Driver Beaten To Death By Motorists For Overtaking.
After getting the information, the police reached the spot and arrested the girl. The injured youth was taken to a nearby hospital. Meanwhile, police impounded both the vehicles. Meanwhile, a case was registered under various sections including 308, 323, 341 and 506 of the Indian Penal Code (IPC) against Sheetal who is a resident of Mohali.