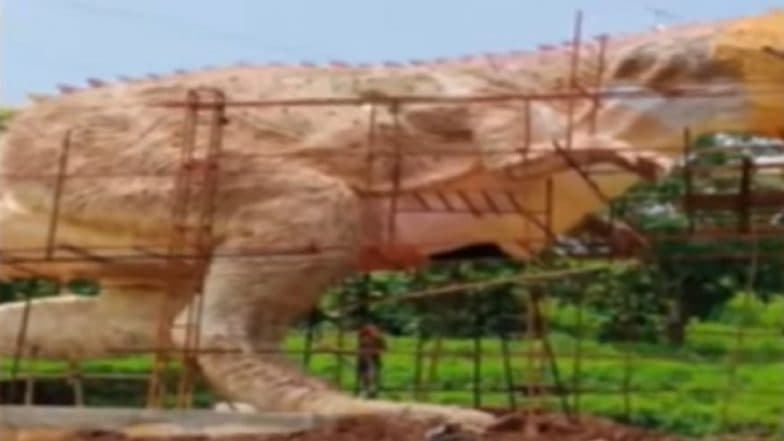 Ahmedabad, September 8: A 30-feet tall statue of dinosaur, located in vicinity of the Statue of Unity in Gujarat's Narmada district, collapsed in the early hours of Sunday. The falling of the statue could had led to casualties had the place been thrown open for tourists. The Gujarat government, as part of the plan to develop the Statue of Unity into a lucrative tourist spot, is installing three dinosaur statues close to the 182-metre tall statue of India's first Home Minister Sardar Vallabhbhai Patel. Statue of Unity, World's Tallest Statue, Faces Seepage Issues at Viewing Gallery, Watch Video.
The scenic spot where the three dinosaur statues will be located is likely to be opened up for tourists by October 31, reports said. The statues of dinosaurs are being built since the past one month, and are expected to be completed by October 15.
Watch Video of Huge Dinosaur Statue Collapsing Near Statue of Unity:
The private contractor who has been roped in was building these dinosaurs using clay material sourced from artisans in Chennai. The fibre statues are aimed at providing the statues a realistic touch, which would blend with the lush green surroundings in the vicinity.
Notably, the Statue of Unity is located in Kevadiya village of Narmada district. Built close to the Sardar Sarovar Dam, the government is hopeful that the scenic spot would soon attract tourists from all parts of India and abroad.