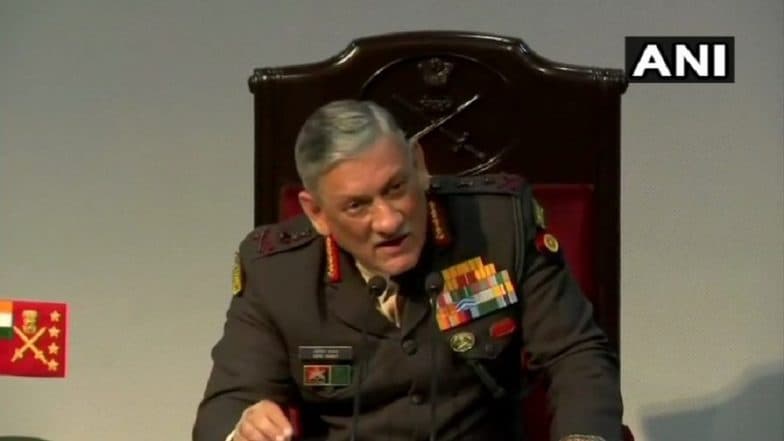 New Delhi, January 25: Army Chief General Bipin Rawat is likely to be honoured with the Param Vishisht Seva Medal (PVSM), the highest medal for services, on Republic Day 2019. The Narendra Modi government is likely to make the announcement on January 26. The move is being seen as an unusual one as the medal is presented by the Chief himself to senior lieutenant generals or their equivalent in the Indian Navy or the Indian Air Force.  The medal is being bestowed upon General Rawat for tackling counter-terror operations against Pakistan including surgical strikes. General Bipin Rawat Gives Stern Warning to Anti-India Forces, Says 'Indian Army is Capable of Thwarting Any Foreign Aggression'.
The honour is usually awarded to servicemen before they take up the role of the Army Chief. However, General Rawat wasn't given this award in the past two years. He would also be retired before Republic Day 2020. Reports say that Defence Ministry officials have nominated his name for the PVSM.
Meanwhile, 15 Corps Commander Lt General Anil Bhatt will receive the Ati Vishisht Seva Medal (AVSM) this year. Lance Naik Nazir Wani, who laid down his life while killing six terrorists in an operation in the Kashmir Valley, has received the Ashok Chakra, the highest gallantry award, posthumously.