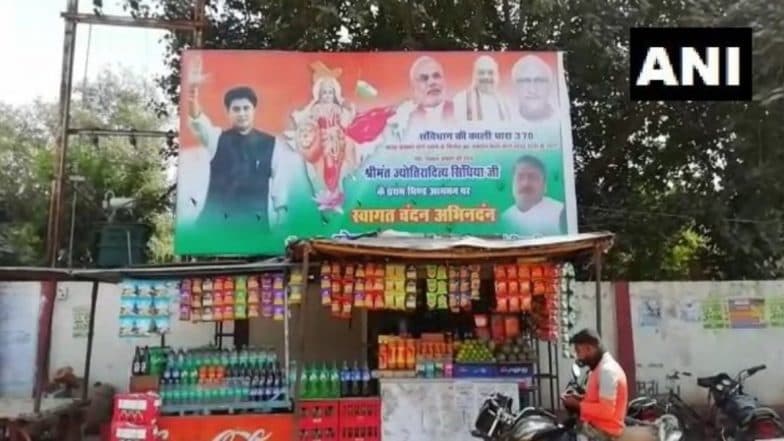 Bhind, October 11: Bharatiya Janata Party (BJP) workers on Friday put up banners in Madhya Pradesh's Bhind district with pictures of Jyotiraditya Scindia alongside Prime Minister Narendra Modi and Home Minister Amit Shah. This development comes after the senior Indian National Congress leader backed Centre's move for abrogating Article 370. No Doubt Congress Needs To Self-Introspect: Jyotiraditya Scindia On Salman Khurshid's Remark.
"Welcome, congratulations and salutation to Shrimant Jyotiraditya Scindia, great son of India and pride of Gwalior-Chambal, for his support to the abrogation of black Article 370 of Constitution," the poster read. According to reports, the banners have been installed by BJP Bhind Bhind District Coordinator. Jyotiraditya Scindia Has This Message For Kamal Nath Amid Feud Within Madhya Pradesh Congress.
ANI Tweet:
Madhya Pradesh: Poster of Congress leader Jyotiraditya Scindia along with Prime Minister Narendra Modi and Home Minister Amit Shah, put up in Bhind. The poster was put up by BJP Bhind District Coordinator after Scindia's support for abrogation of Article370. pic.twitter.com/gyr2cjjpgY

— ANI (@ANI) October 11, 2019
Earlier, Scindia had supported BJP government's move of revoking powers of Article 370. "I support the move on #JammuAndKashmir & #Ladakh and its full integration into union of India. Would have been better if the constitutional process had been followed. No questions could have been raised then. Nevertheless, this is in our country's interest and I support this," he tweeted.
Meanwhile, in a yet another sign that he is not happy with Kamal Nath government, Scindia on Thursday stressed that Congress was unable to fulfil promises in Madhya Pradesh.
"The farm loan waiver of farmers has not been done in totality. Loan of only Rs 50,000 has been waived off even when he (Kamal Nath) had said that loan up to Rs 2 Lakh will be waived off. Farm loan up to Rs 2 Lakh should be waived off," he said while addressing a gathering in Bhind.