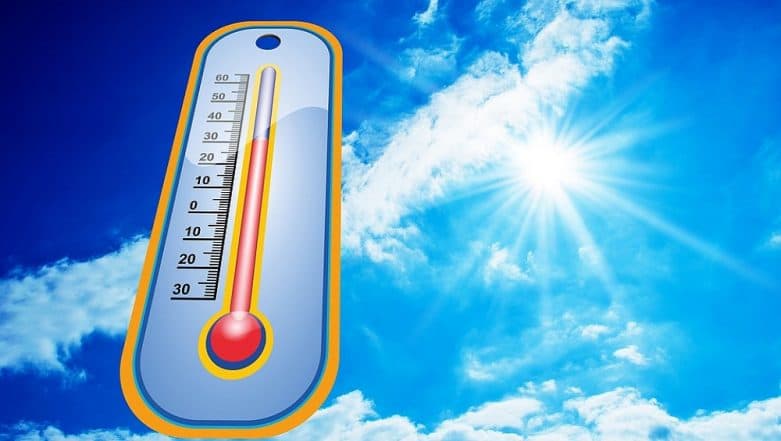 Mumbai, June 2: Maharashtra continued to reel under severe heatwave conditions with mercury touching 45 degrees Celsius in Nagpur. On May 28, the Nagpur region, in eastern Maharashtra had recorded this season's highest temperature at 47.5 degrees Celsius. According to India Meteorological Department (IMD), Nagpur breached the 47-degree mark to record the second highest temperature in the city in the last 10 years and the fifth highest in the last 65 years. The IMD futher added saying that respite from the scorching heat is unlikely in the next few days. Heatwave in India: Mercury Breaches 45-Degree Mark in Several States, Churu in Rajasthan Records Hottest Day at 50 Degree Celsius. 
Many regions in Maharashtra including Nagpur and few districts of Vidarbha are reeling under a severe heatwave for the last few weeks. The IMD has warned on Sunday also warned of severe heat wave condition across north India for the next 48 hours. On Tuesday, Chandrapur had recorded the highest temperature in Vidarbha at 47.8 degrees Celsius.  If such weather conditions prevail, the city might break its own record of its highest temperature, 47.9 degrees Celsius, recorded on May 22, 2013. Heatwave Sweeps India: Maharashtra's Chandrapur Sizzles at 44.8 Degrees.
Here's the tweet:
Severe heatwave continues across Maharashtra, mercury touches 45 degrees Celsius in Nagpur. pic.twitter.com/CiyvDQcVKS

— ANI (@ANI) June 2, 2019
On Sunday, the IMD said that thunderstorm and rain accompanied with hail and gusty wind is very likely to occur on Sunday over Hardoi, Sitapur, Lucknow, Barabanki districts and adjoining areas in Uttar Pradesh.
On Saturday, Churu in Rajasthan recorded the highest temperature in the country today at 50.8 degrees Celsius, which is nine degrees above normal,  the Meteorological Department in Jaipur informed.  The other areas that were impacted due to the heatwave included Ganganagar with 49 degrees Celsius while Bikaner recorded 47.9 degrees Celsius, Jaisalmer 47.2 degrees Celsius and Kota 46 degrees Celsius.