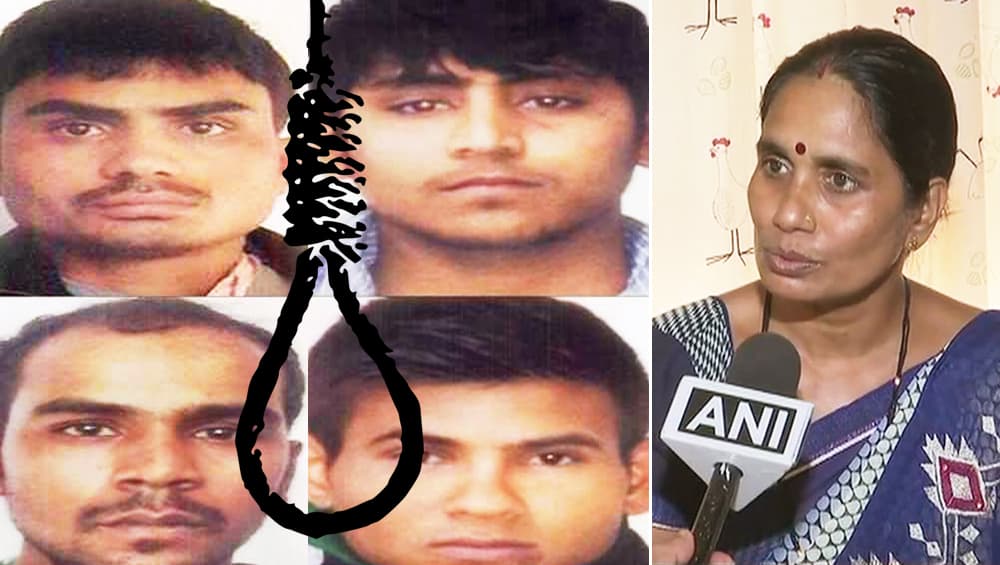 New Delhi, December 12:  Exactly 7 years after the horrific gangrape and murder, the four convicts in the Nirbhaya case will soon be executed, indicate preparations at Tihar Jail in Delhi. According to a report by News 18, the hanging is likely to be done on December 16, 2019 and death warrants will be issued soon. A tweet by News 18 stated that all preparations are currently underway in Tihar jail in the national capital and will soon be completed.  Nirbhaya was gangraped and killed on December 16, 2012. However, reports of the convicts getting hanged on December 16 remains unconfirmed as the Supreme Court is scheduled to hear the review petition of Akshay Singh, one of the convicts in the case who was given death penalty, on December 17.
Badrinath, Nirbhaya's father, said they don't have any confirmation till now. "There is a case coming up tomorrow also. If the report is true, then I will be really happy", he was quoted by News 18. The four convicts  in the gang-rape, torture and killing of a 23-year-old medical student in Delhi in 2012 are Pawan Gupta, Akshay Thakur, Mukesh Singh and Vinay Sharma.
According to a report by NDTV,  sources at the Tihar jail stated that special ropes for the execution are being brought from the Buxar jail in Bihar. The report added that all the four convicts are in different cells and arrangements for the hanging are being made in Jail Number 3, where executions take place. Nirbhaya Rape and Murder Case Convict Akshay Singh Files Review Petition Against Death Penalty, Says 'Delhi Air Killing us Any Way'.
Here's the tweets:
#JustIn– Nirbhaya convicts likely to be hanged on Dec 16, 2019, death warrants to be issued soon. It will be done by Afzal Guru's hangmen from UP: Top govt sources

Original Input: @manojkumargupta #RageAgainstRape | #IndiaForWomen pic.twitter.com/VTz8P0kCE5

— News18 (@CNNnews18) December 12, 2019
NIRBHAYA CASE UPDATE-

Top Govt sources tell @CNNnews18

Hanging likely to be done on Dec 16,2019.

Death warrants to be issued soon

All preparations underway in Tihar jail and will be completed soon

Exactly 7 years ago, Jyoti Singh was brutally gangraped on 16th Dec 2012.

— Zeba Warsi (@Zebaism) December 12, 2019
On Thursday, the Tihar Jail authorities  in Delhi asked Uttar Pradesh to provide two hangmen on short notice, amid reports that conviction may be executed soon. Reports inform that the prison's department had received a request in this regard from the Tihar administration through fax on December 9. According to a report from PTI, UP's Additional Director General (Prisons) Anand Kumar told media that the department is ready to provide the hangmen.
Earlier, the Ministry of Home Affairs (MHA) had received the mercy plea of a convict of the 2012 Nirbhaya gang-rape and murder case after it was rejected by the Delhi government.
In 2012, six people were convicted for raping and murdering the young paramedical student in a moving bus on December 16, 2012. She was on her way back home when the incident happened and later succumbed to her injuries. The gang rape sparked a nationwide protest which led to a new legislation to deal with such heinous crimes. According to reports, of the six people convicted in the case, one was a minor, who was sent to a rehabilitation centre, and another, Ram Singh, committed suicide in the Tihar Jail.