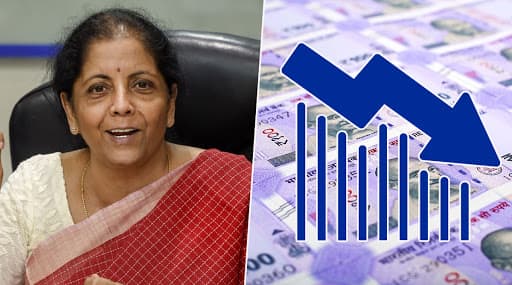 New Delhi, October 29: With the Indian economy struggling to get back to its momentum, reports are arriving that Prime Minister Narendra Modi and Union Finance Minister Nirmala Sitharaman are mulling a series of tax alignments for equities in the coming weeks. Though the details are yet to be out, sources in the Finance Ministry and NITI Aayog have stated that the procedures have already begun.
According to the report published in the CNBC Awaaz, the Union government is mulling over reviewing the existing structure of the Securities Transaction Tax (STT), Dividend Distribution Tax (DDT) and Long Term Capital Gains (LTCG) tax ahead of the next Union Budget -- likely to be presented on February 2020. However, this would be done in consultation with the Finance Ministry's Revenue Department and NITI Aayog. Will Prepare Blueprint for Companies Looking Beyond China: Finance Minister Nirmala Sitharaman.
The source added that the groundwork is being prepared and would be ready by November end. All the changes would be finally tabled ahead of Prime Minister's Office for approval, and they would be included in the Union Budget for Financial Year 2020-21. The source said, as quoted by the news website, "Now a group of officials are preparing the groundwork which is likely to finalised by November-end."
It is to be known that the FM Sitharaman had announced a slew of measures to revive the economy in the last couple of months. She has even slashed the corporate tax rate and announced the bank mergers. Though the first step was welcomed, several voices were raised against the second decisions. Following this, Sitharaman held several press conferences and meetings with the bank CEOs and Finance Ministry officials to hear their concerns. India Moves 14 Ranks Up in Ease of Doing Business Rankings, Nirmala Sitharaman Says Govt Will Fix Glitches in GST Filing.
As per the reports, India's corporate tax structure is among the lowest in Southeast Asia and due to this, chances have grown where foreign investors might look towards India for investment. Even the surcharge on foreign portfolio investment was suspended by the Union Ministry in August. With the recent developments in the economic sector and the decisions taken by the Finance Minister, the government looks confident the things would improve in the country soon.