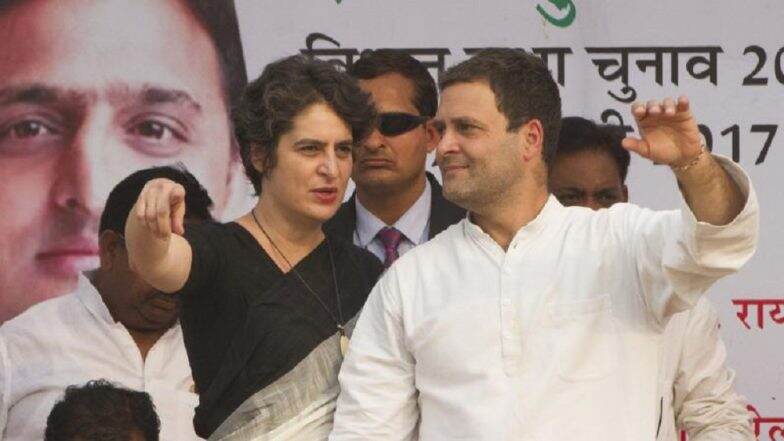 Lucknow, February 11:  Congress' biggest hope Priyanka Gandhi Vadra, who is being hailed as party's biggest hope in the make-or-break state of Uttar Pradesh ahead of 2019 general polls, will finally make her first visit to Lucknow on Monday after being appointed as the party's general secretary in-charge of eastern Uttar Pradesh. Priyanka will be accompanied by Jyotiraditya Scindia, general secretary for western UP, and Congress president Rahul Gandhi. Priyanka Gandhi, Rahul to Hold Roadshow in Lucknow on February 11.
Before their visit, preparations are underway at the Uttar Pradesh Congress Committee (UPCC) office, located at the posh Mall Avenue area. It is expected that all three leaders will get a grand welcome from the party workers, who are planning to hold a roadshow in the state capital. Stage Set to Welcome Priyanka Gandhi Vadra, Jyotiraditya Scindia.
Preparations underway at Congress office in Lucknow ahead of General Secretary for Eastern UP Priyanka Gandhi Vadra and General Secretary for UP West Jyotiraditya Scindia's visit tomorrow. They will be accompanied by Congress President Rahul Gandhi. pic.twitter.com/SeFCgwkp88

— ANI UP (@ANINewsUP) February 10, 2019
Lucknow: Latest visuals from Congress office. General Secretary for Uttar Pradesh East Priyanka Gandhi Vadra, General secretary for Uttar Pradesh West Jyotiraditya Scindia and party President Rahul Gandhi are visiting the city today. pic.twitter.com/zwfUn5VJTq

— ANI UP (@ANINewsUP) February 11, 2019
According to reports, Rahul Gandhi is likely to return back to Delhi the same day, while Priyanka and Scindia will stay in the state for three days to chalk out the strategy for the upcoming Lok Sabha elections in the state. UP-Uttarakhand Hooch Tragedy: Priyanka Gandhi Demands Compensation for Victims, Flays State Governments.
Appointment of Priyanka as the general secretary in-charge of eastern UP came after the Bahujan Samaj Party (BSP) and the Samajwadi Party (SP) has declared their 'mahagathbandhan' for the parliamentary polls.
The 2014 general elections were tragic for the Indian National Congress, bagging just two seats- Raebareli and Amethi- as compared to 21 seats it had won in the earlier election. According to sources, the Congress party has taken this major decision to appoint Priyanka to revive the party's seemingly defunct grassroots in the state.