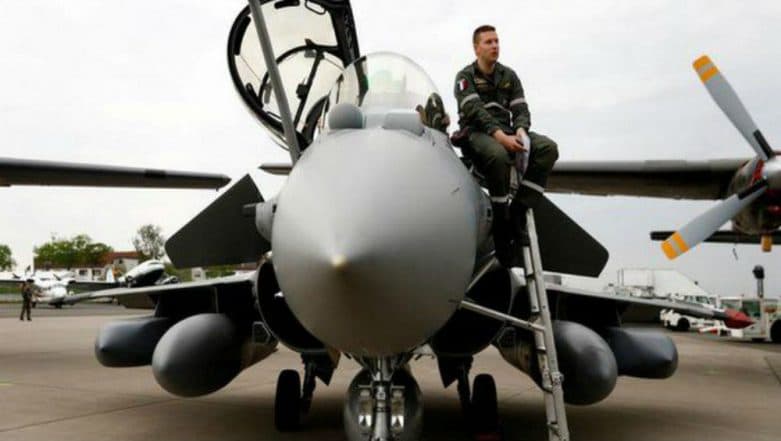 New Delhi, December 22: State-run plane-maker Hindustan Aeronautics Limited (HAL) chairman R Madhavan on Friday said that the HAL was capable of producing the Rafale fighter jets but he suggested that the quest of transfer of technology didn't arise in the current order of just 36 aircraft. The opposition- Congress has alleged that the Bharatiya Janata Party-led Centre is buying the military aircraft from Dassault Aviation, French aircraft manufacturer, at a much higher rate than what was being negotiated by previous United Progressive Alliance (UPA) government, which planned to buy 126 aircraft.
The INC has been accusing the current government of ignoring the state-owned HAL while negotiating the agreement and suggested that some of the aircraft could have been manufactured in India through a transfer of technology. Rafale Jet Deal is India's 'biggest Defence Scam': Congress Leader.
HAL Chairman, Madhavan said the HAL was capable of producing when the initial discussions were on. But the current government decided to purchase 36 aircraft separately as "it was necessary to buy them as soon as possible", he said. "For the 36, the question of production here does not arise," he added. Rafale Fighter Jet Is a Game Changer, Supreme Court Delivered Fine Judgment, Says Air Chief Marshal BS Dhanoa.
Earlier, Former Chairperson of HAL, T Suvarna Raju said "When HAL can build a 25-tonne Sukhoi-30, a fourth-generation fighter jet that forms the mainstay of the air force, from a raw material stage, then what are we talking about? We could have definitely done it (licence produced the Rafale jets)." Rafale Row: Congress, Rahul Gandhi Spreading Lies About Purchase of 36 Fighter Jets, Says Devendra Fadnavis.
On Friday, Congress leader, Mohan Prakash alleged that Rafale aircraft jet deal is the "biggest defence scam."Rafale fighter jet deal is India's biggest defence scam and is an open and shut case of corruption. The Modi government is guilty of presenting falsehood to the Supreme Court and committing perjury as well as breaching the privilege of Parliament," Prakash told reporters in Ahmedabad.
Prakash further alleged "The Modi government is shying away from constituting a JPC. Why? Because the one who had signed the deal will have to face the inquiry by the JPC."
Although the deal has been criticised by the opposition, the Supreme Court on 14 December had dismissed petitions challenging the deal between India and France for procurement of 36 Rafale fighter jets, saying there was "no occasion to really doubt the decision-making process" warranting setting aside of the contract.
(With PTI Inputs)