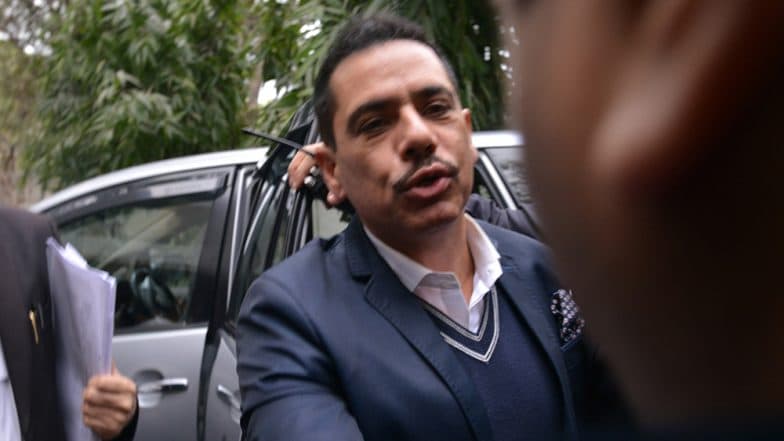 New Delhi, February 8: Robert Vadra, Congress chief Rahul Gandhi's brother-in-law, has been called to Enforcement Directorate (ED) office again on Saturday for questioning in money laundering case. On Thursday, Vadra appeared before the ED for the second day and was questioned for about nine hours on Thursday by the Enforcement Directorate in connection with a probe into allegations that he laundered money to purchase illegal foreign assets. ED Questioning Robert Vadra: Government's Attempt to Stop Opposition Parties to Unite, Says Mamata Banerjee.
The ED case against Vadra relates to allegations of money laundering in the purchase of a London-based property located at 12, Bryanston Square worth 1.9 million GBP (British pounds), which is allegedly owned by him.
On Wednesday, Vadra was grilled for five-and-a-half hours for the first time in the case. He had arrived at the ED office in Jamnagar House in central Delhi and was later asked to rejoin the probe on Thursday as he needed to answer more questions on allegedly acquiring immovable assets in the United Kingdom. Robert Vadra Leaves ED Office After Seven Hours of Questioning on Day 2, Priyanka Gandhi Picks Him up After Interrogation.
When Vadra appeared before the ED on the first day on Wednesday, Priyanka Gandhi, appointed Congress general secretary in-charge of eastern Uttar Pradesh, accompanied him to the investigating agency's office. Priyanka took charge of her new post at the Congress' national headquarters on Akbar Road after that. "He is my husband, he is my family...I support my family," Priyanka Gandhi said in a show of support to Vadra, who returned from London on Wednesday.
A Delhi Court on February 2, had directed Vadra to appear before the central probe agency and cooperate in the probe after he knocked at its door seeking anticipatory bail in the money laundering case. According to reports, Vadra is also supposed to be present before the ED on February 12 in Jaipur in another money laundering case related to a land scam in Bikaner. The Rajasthan High Court had directed him to cooperate with the agency in the case.