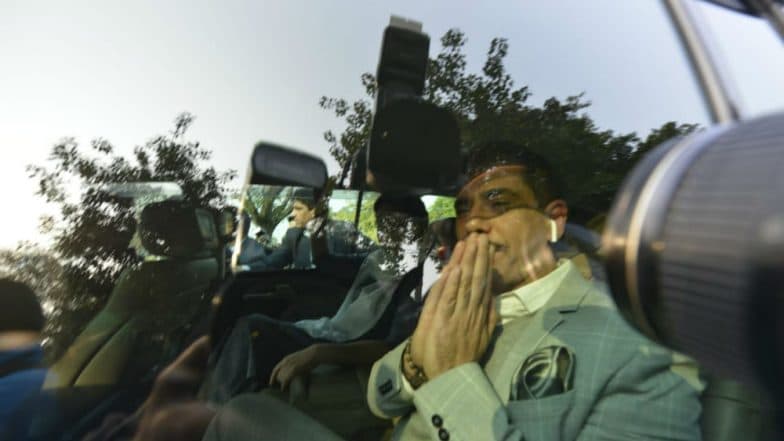 New Delhi, February 7: A day after being grilled by the Enforcement Directorate (ED) for nearly six hours in money laundering case, Robert Vadra, the son-in-law of Congress Chairperson Sonia Gandhi, will again appear before the ED for round two of questioning on Thursday. According to reports, sources in the ED office informed that Vadra will appear again at 10:30 am on Thursday. On Wednesday, Vadra's wife Priyanka Gandhi, who came in full support for her husband, accompanied him in a white Toyota Land Cruiser and dropped him outside the ED's office in Jamnagar House. Robert Vadra Grilled by Enforcement Directorate For 6 Hours.
Shortly after dropping her husband, Priyanka took charge as AICC general secretary in-charge of Uttar Pradesh East. She was formally inducted into the Congress party on January 23. Priyanka Gandhi Gets Her Own Office At Congress Headquarters Ahead of Lok Sabha Elections 2019.
A team of ED officials led by Joint Director, comprising Deputy Director and 5 other officers questioned Vadra. While speaking to media, Vadra's counsel Suman Jyoti Khaitan informed that Vadra has given the undertaking to appear before the ED whenever summoned. "Robert Vadra has not done anything wrong. This government wants to harass him. He, on his own, went to (Jaipur) court and said- I'm going to appear voluntarily before ED. Give me a date I will appear. Today, he has appeared on his own, without any summons. They probably wanted to harass him for political vendetta," he added.
Coming out in support of Robert Vadra, West Bengal Chief Minister Mamata Banerjee on Wednesday termed Vadra's questioning by ED an "attempt to stop the opposition parties to unite." Banerjee said on being asked to comment on summons and questioning of Robert Vadra by the Enforcement Directorate (ED) in connection with a money laundering case registered against him. "It is an attempt to not allow opposition parties to unite. Hence they are serving the ED notices to everyone and anyone. But all opposition parties are united," she said.