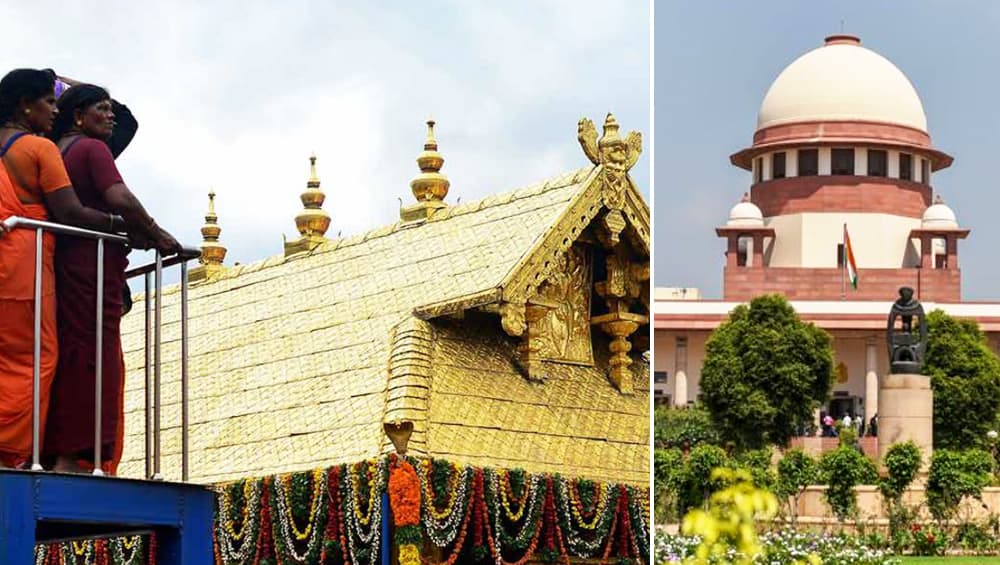 New Delhi, November 14: The Supreme Court today gave its verdict on the review petitions filed regarding the entry of women of all age groups into the Sabarimala Temple. The Apex Court said that the case will be referred to a larger bench in a 3:2 verdict. Justice Rohinton Fali Nariman and Justice DY Chandrachud gave dissent judgement.
There has been no stay in an earlier judgment, which means, for now, women of all ages can enter the Sabarimala Temple. According to reports, a 7-judge bench will hear the case next. Supreme Court during the hearing session of the review petition had said the entry of women into places of worship is not limited to this temple. It is involved in the entry of women into mosques as well.
The judgment was pronounced by a Bench comprising of Chief Justice of India Ranjan Gogoi and Justices Rohinton Nariman, AM Khanwilkar, DY Chandrachud and Indu Malhotra. It was one of the most important judgments before Gogoi's term ends on November 17. Supreme Court Verdict on Sabarimala Temple Case to be Delivered on Thursday.
On September 28, 2018, the top court opened the gates of the Sabarimala Temple in Kerala dedicated to Lord Ayyappa to the women in the age group of 10-50, saying it was violative of their fundamental rights and constitutional guarantees. A Constitution bench, headed by the then CJI Dipak Misra, gave a 4:1 verdict claiming the ban led to gender discrimination.
The decision was not welcomed by many leaders and religious leaders who expressed their disagreement and opined that it may bring an adverse impact on society. There were massive protests in Kerala, which resulted in a political slugfest between then ruling CPI-M and the BJP. Several petitions were filed in the Supreme Court to seek review of its verdict, highlighting that religious practices cannot be "tested on the basis of rationality".
The Kerala government had expressed its support for the Supreme Court ruling in 2018 and urged the top court to not consider the petitions seeking the review of the judgement.  Kerala Devaswom Minister Kadakampally Surendran on Tuesday asked the BJP, which has welcomed the recent Supreme Court order on Ayodhya, to also respect the apex court verdict on Sabarimala permitting women of all ages to pray at the Lord Ayyappa shrine
Kerala Police has been strictly monitoring the social media accounts and has issued warning to people to not create any nuisance after the verdict is out.
(With inputs from IANS)