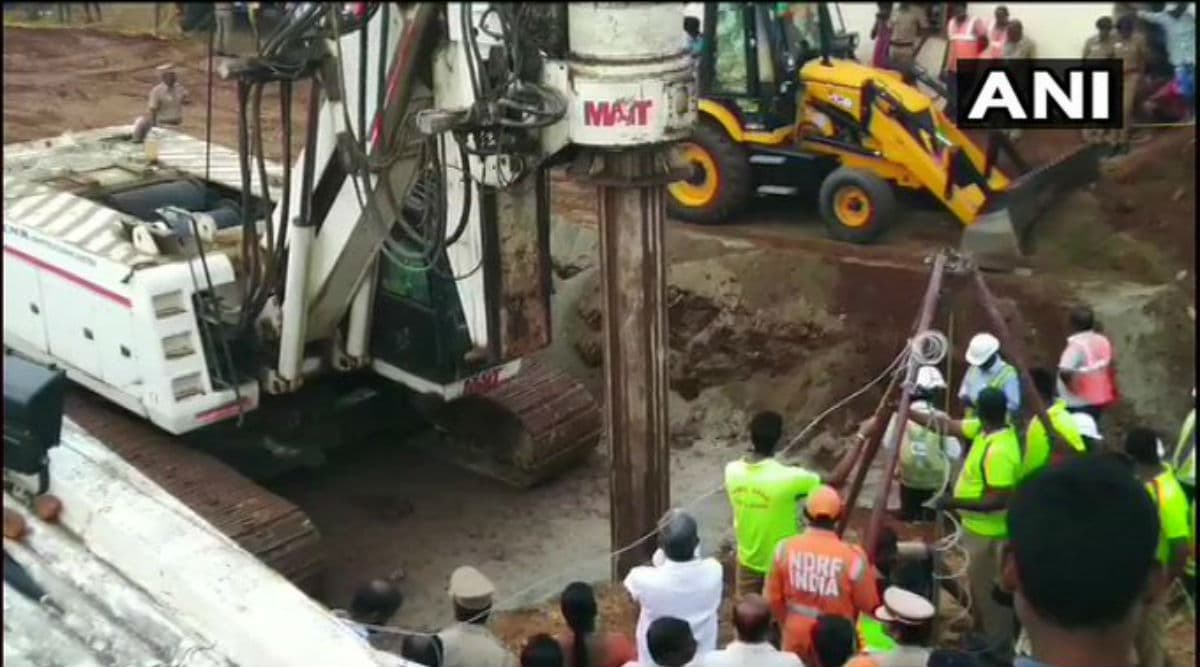 Tiruchirappalli, October 26: The rescue operations to save the two-year-old boy -- Sujith Wilson -- stuck in a 25-foot-deep borewell are in full swing in Tamil Nadu's Tiruchirappalli district. In the latest development, boring machine has reached the spot to aid the rescue operations underway. The operations continued well into Saturday night and is underway on Sunday morning. According to reports, the authorities will drill the 110 feet borewell to rescue the 2-year-old Sujith Wilson. Sujith Wilson, Trapped In Borewell In Tamil Nadu's Tiruchirappalli: Rescue Operations Underway As NDRF Team Attempts To Save Two-Year-Old Boy, Watch Live Streaming.
A team of National Disaster Response Force (NDRF), along with the state machineries are trying their best to rescue the toddler who fell in the borewell on Friday at 5:30 pm, while he was playing outside his house at Nadukattupatti.
See the Pictures in the Tweet Below
Tamil Nadu: Boring machine has reached the spot and efforts are underway to rescue a 2-yr-old boy who fell in a 25-ft deep borewell in Nadukattupatti of Tiruchirappalli Dist on 25th Oct. Yesterday, the boy fell further down the borewell,currently stuck at 100 ft pic.twitter.com/IzHu6PJJca

— ANI (@ANI) October 27, 2019
The infant fell into the borewell while he was playing near his house at 5:30 pm. At present, the medical team is providing oxygen supply to the boy from outside the borewell, where rescue operations are still underway.
Health Minister Vijayabaakar, Tourism minister Natarajan, Collector Sivarasu and SP Ziaul Haq are looking into the matter and directing the authorities concerned to try their best and rescue Sujith at earliest. In light of the situation, #SaveSujith was trending on social media.