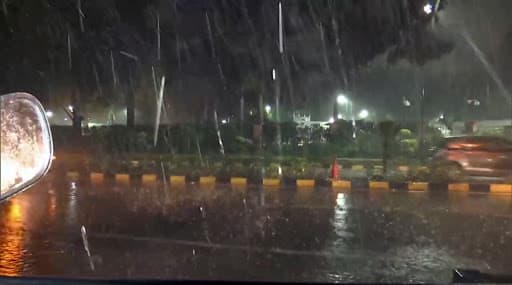 Chennai, December 1: The rains have impacted the normal lives in Tamil Nadu and neighbouring Puducherry with North-East monsoon triggering heavy showers in the last 24 hours. The regional meteorological centre in Chennai has predicted more spell of rains in the coming two days and issued a red alert to six districts. So far the intense weather has claimed the lives of five people. Tamil Nadu Rains: Holiday Declared in Schools and Colleges in Trichy Due to Heavy Downpour.
"Thiruvallur, Vellore, Thiruvannamalai, Thoothukkudi, Ramanathapuram and Tirunelveli districts in Tamil Nadu would receive extremely heavy rainfall (above 20cm) in the next 24 hours," the India Meteorological Department's Chennai regional centre alerted. Heavy Rainfall Lashes Parts of Tamil Nadu, Puducherry and Karnataka Due to Active Western Disturbance, IMD Predicts More Rains.
"In the last 24 hours ending 8.30 am on Sunday, Sathankulam in Tuticorin district recorded a maximum of 19 cm of rainfall followed by Cuddalore 17cm, Tirunelveli 15cm, Kancheepuram 13cm," said Director of the regional meteorological centre, N Puviarasan.
For Chennai and its nearby areas, light to moderate showers is forecasted over the next 48 hours period. "The city received 51 cm this season which is 9 per cent less compared to the normal 60 cm received during monsoon season," he said.