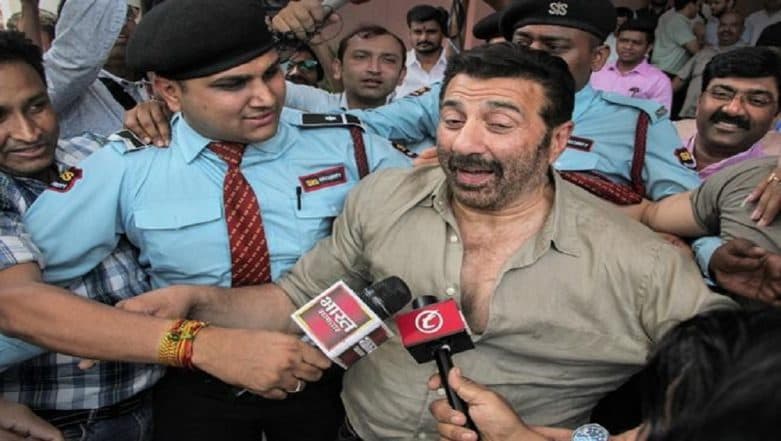 Chandigarh, September 5: Actor-politician Sunny Deol reached the Batala civic hospital on Thursday to meet the victims left injured following an explosion in a firecracker factory. Doel, who represents the Gurdaspur constituency under which the Batala region falls, assured the kin of victims of all possible assistance. His visit comes nearly 24 hours after the deadly blast 23 people dead and at least 27 injured.
Deol had, earlier in the day, drawn flak for not being present in his constituency while a major tragedy had struck the people. The Opposition had questioned the BJP MP not being steadfast in his outreach to the victims. The Congress, on the other hand, rushed Punjab Cabinet Sukhjinder Singh Randhawa at the site of accident last night. PM Modi Expresses Grief Over Batala Firecracker Factory Blast, Says 'Tragedy is Heart-Wrenching'
Randhawa had announced an ex-gratia compensation of Rs 2 lakh to the kin of deceased victims, whereas, Rs 50,000 would be provided by the state government to those left with serious injuries.
Deol Condemned For Late Visit:
#SunnyDeol reaches #Gurdaspur over 24 hours after 23 lives were lost in a tragic blast in an illegal factory. The constituents must at least now realize why electing stars like Sunny or Hema Malini who live in far-away Mumbai is not a great idea.

— Pooja Prasanna (@PoojaPrasanna4) September 5, 2019
Update by ANI:
Punjab: Gurdaspur MP Sunny Deol meets people who were injured in the fire that broke out yesterday at a fire-crackers factory in Batala in Gurdaspur district. 23 people had died & 20 got injured in the incident. pic.twitter.com/WFLn0lafnL

— ANI (@ANI) September 5, 2019
The explosion was reported last evening at an illegally-run firecracker factory in a residential neighbourhood of Batala. A preliminary probe has revealed that the factory owner had stored significant amount of firecrackers, which were expected to be sold on the occasion of Guru Nanak Dev's 532nd marriage anniversary.
The factory owner, along with six of his family members, were staying in the first floor of the factory. They, along with most of the labourers employed at the factory, were killed in the explosion.