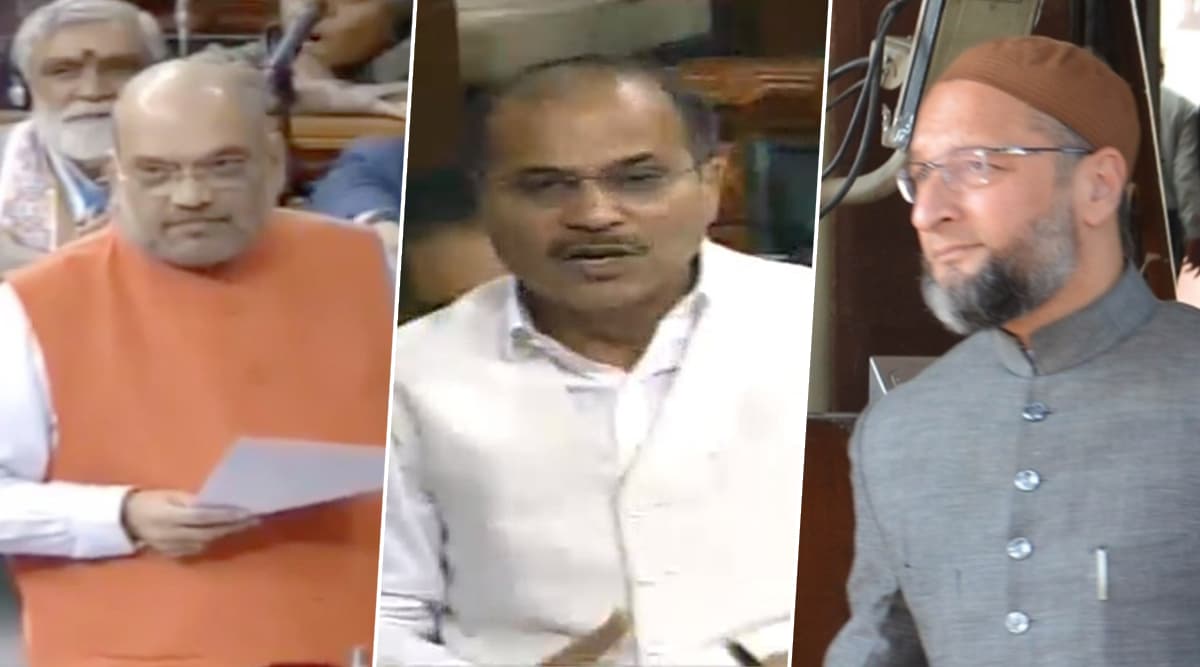 New Delhi, December 9: The government on Monday introduced the contentious Citizenship (Amendment) Bill, 2019 in the Lok Sabha despite objections raised by the Opposition, calling it "fundamentally unconstitutional" and in "violation" of Article 14 of the Constitution. Introducing the Bill, Union Home Minister Amit Shah rejected allegations of opposition members, saying, "I assure that the Bill does not violate any article of the Constitution and that no citizen will be deprived of one's rights." However, parties and their MPs voiced their opinion in the Lok Sabha. The Congress led the opposition to the bill and BJP defended the bill calling it essential for India's security. The parties opposing the bill are Mamata Banerjee's TMC, Congress (INC), Samajwadi Party, DMK, CPM, BSP and TRS. On the other hand, the BJP, JDU, YSR Congress Party, BJD and several other parties are in support of the bill. Citizenship Amendment Bill Debate: Manipur to be Exempted Via Inner Line Permit, Says Amit Shah; Here's How ILP Will Offset CAB Impact.
Congress leader and MP Adhir Ranjan Chowdhury opposed the bill and said in the Lok Sabha that, "We're opposing the Citizenship Amendment Bill, as it's discriminatory.The argument of persecuted refugees can be dealt by making separate provisions through amendment in current law for accommodating refugee. A separate discriminatory law is not needed for it." Citizenship Amendment Bill 2019 in Parliament: How Numbers Stack Up For Modi Government in Lok Sabha & Rajya Sabha.
The Nationalist Congress Party (NCP) MP Supriya Sule opposed the bill saying, "Entire ethos of our democracy is equality and talking about Article 14 & 15, I am not convinced by Home Minister, it will be struck down in Supreme Court. I request him to rethink of it and please withdraw the bill."
Nama Nageswara Rao of the Telangana Rashtra Samithi (TRS) expressed disapproval on the bill and said, "We oppose Citizenship Amendment Bill 2019, in line with our secular party policy. We strictly follow the provisions & spirit of Indian Constitution."
Afzal Ansari, BSP MP in Lok Sabha, said that, "The National President of BSP, Mayawati ji had earlier only stated that Citizenship Amendment Bill is unconstitutional & opposed it. Today as well, we stand here against the bill."
Prasanna Acharya, the Biju Janata Dal (BJD) MP, said "We'll support Citizenship Amendment Bill but our suggestion is to include Sri Lanka in it because there were reports about mistreatment towards minorities there in the past. Also, Govt should allay any misunderstanding that bill is against Muslims."
Rajiv Ranjan Singh, JDU MP, said in the Lok Sabha that, "We support this bill. This bill should not been seen in light of Indian citizens, both majority and minority. If persecuted minorities of Pakistan are given Indian citizenship then I think this is the right thing."
Vinayak Raut of the Shiv Sena questioned the Home Minister asking, "How many refugees from these six communities which are mentioned in the Bill are living in India? HM has not answered this, how much will our population increase when they get citizenship? Also, what about Tamils from Sri Lanka?"
The YSR Congress Party (YSRCP) MP Midhun Reddy said in the Lok Sabha that though his party supports the Citizenship Amendment Bill 2019, there are a few concerns that the YSRCP would like to be addressed regarding the bill. Reddy, speaking in the Lok Sabha during the debate on the bill said that the government must consider there are sects among Muslims which are persecuted, and demanded that they be treated at par with others in the CAB 2019.
Abhishek Banerjee, TMC MP in Lok Sabha, represented his party's views and said that, "Swami Vivekananda would be shell shocked if was here seeing this bill as it is against his idea of India. BJP's idea of India is divisive. It will be disastrous if we ignore words of Mahatma Gandhi and not heed advice of Sardar Patel."
Dayanidhi Maran, DMK MP in Lok Sabha, opposing the bill, said that, "Probably the fear of the West, the fear of being isolated by West has creeped into you and you had to include Christians in this bill. Also what about if Muslims from PoK want to come? What law do you have for that?"
Congress MP Manish Tewari in Lok Sabha said that the BJP was going against the Constitution by trying to get the Citizenship Amendment Bill 2019 passed and added, "This is against article 14, article 15, article 21, article 25 and 26 of the Indian constitution. This bill is unconstitutional and against basic right of equality Citizenship Amendment Bill 2019."