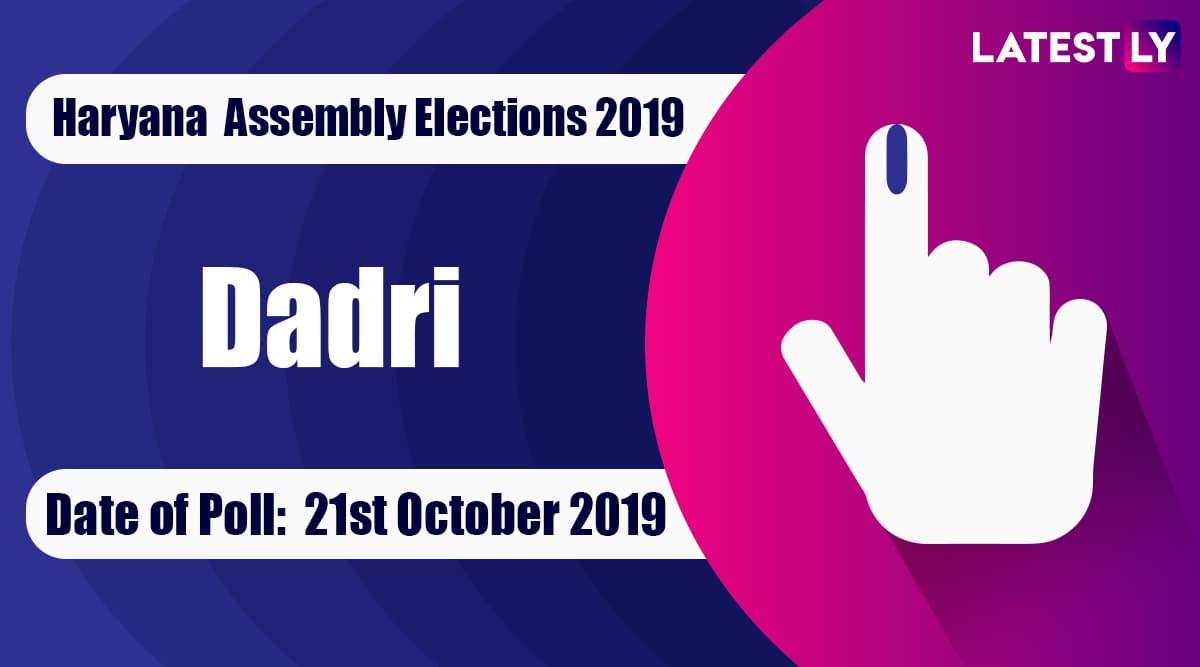 Independent candidate Sombir won the Dadri Vidhan Sabha constituency. He defeated Jannayak Janata Party (JJP) candidate Satpal Sangwan by a margin of 15,138 seats. Sombir received 40,031 votes, while 24,893 votes were polled to Sangwan. Two-time commonwealth gold medalist Babita Phogat came third. Phogat received 23,690 votes. The counting of votes began today at 8 am. Haryana Assembly Elections 2019: Full List of Constituencies With Current MLA Names and How BJP, Congress, INLD Performed in 2014.
The Dadri Vidhan Sabha constituency falls in the Charkhi Dadri district of Haryana. Voting in Dadri for the Haryana Assembly Elections 2019 took place on October 21. The Election Commission of India (ECI) on September 21 announced the election schedule for Haryana. Polling for the 90-member Haryana assembly will be held along with assembly elections in Maharashtra. In 2014, Rajdeep had the election on INLD's ticket.
According to the schedule of Haryana polls announced by the Election Commission, nomination papers can be filed till October 4. Nomination papers were scrutinised on October 5. The last date of withdrawal of candidature was October 7. Assembly Elections 2019 Dates: Maharashtra & Haryana Go to Polls in Single-Phase on October 21, Results on October 24.
The main competition in Haryana was between the ruling BJP and the Congress. However, the newly formed JPP managed to dent vote share of both the parties. Haryana Legislative Assembly comprises of 90 seats out of which 17 seats are reserved for Scheduled Castes (SC) and none for Scheduled Tribes (ST). In the 2014 polls in the state, the BJP had won with a thumping majority and had scripted history in the state. The BJP had won 47 seats, while the Congress managed to win only 15 seats.
| MLA Candidates | Party | Votes |
| --- | --- | --- |
| NITIN PAL JANGHU | INLD | 919 |
| MAJOR NIRPENDER SINGH SANGWAN | INC | 8022 |
| BAKSHI SAINI | BSP | 7656 |
| SOMBIR (Current MLA) | IND | 43849 |
| KULVIR | IND | 401 |
| BABITA KUMARI | BJP | 24786 |
| LALIT KUMAR | IND | 246 |
| RAJESH SINGH | IND | 195 |
| ANITA D/o Sombir | IND | 140 |
| NARESH KUMAR | IND | 126 |
| BHASKAR VASHISHTHA | IND | 120 |
| PYARE LAL | IND | 102 |
| ANITA W/o Arvind Pal | Bhartiya Shakti Chetna Party | NA |
| LAKHAN SINGH | Vikas India Party | NA |
| SANJEEV GODARA | Swaraj India | NA |
| SATPAL SANGWAN | Jannayak Janta Party | NA |
| SURENDER SINGH | Rashtriya Janta Party | NA |