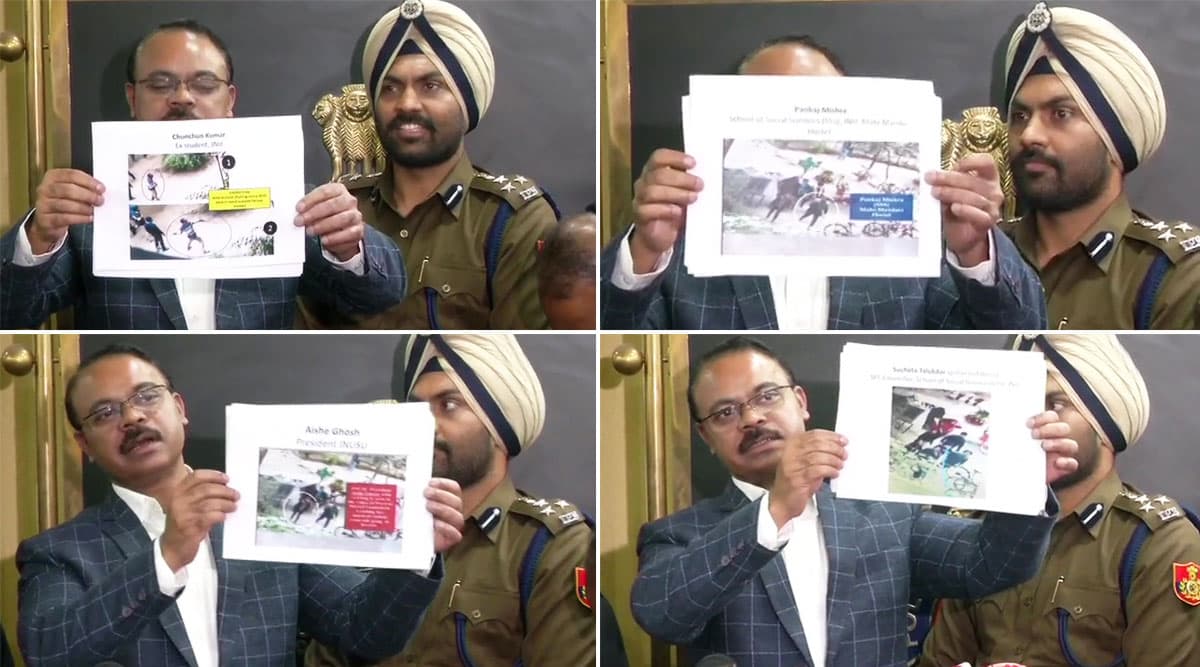 New Delhi, January 10: Delhi Police held a press conference on the probe in JNU violence case on Friday and informed the media about progress in the investigations so far. Addressing the media, Delhi Police PRO MS Randhawa and DCP Crime Branch, Joy Tirkey, tried to narrate the sequence of events that led to January 5 violence in the campus. Delhi Police PRO, MS Randhawa, added that investigation regarding the criminal cases filed in connection with JNU violence incident was looked into by the Crime Branch. The officer also said that a lot of misinformation was being circulated related to the JNU violence case. Usually, Delhi Police holds a press conference only after investigations are completed in a case. But in the JNU matter, the police held a conference despite investigations being underway, due to the "sensitive" nature of the case, said Delhi Police.
However, the Crime Branch DCP said that there is no CCTV footage available of the incident on January 5. He added that the investigation was based on some photographs, witnesses and a WhatsApp group named 'Unity For Left' and group administrator Yogendra Bharadwaj. Bharadwaj is member of the ABVP, BJP's student wing, said reports. The Delhi Police blamed Left front student groups for violence and named JNUSU President Aishe Ghosh as well. Students Protesting Against Semester Registration Process Moved Aggressively, Leading to Clash: JNU.
The DCP added that no person has been detained so far but said that a notice will soon be served to the people named in the press conference. The DCP named Pankaj Mishra, Yogendra Bharadwaj and Vikas Patel from the Unity  Against Left WhatsApp group and identified them by the departments they study in the university. All the three belong to ABVP, according to reports. JNU Violence: Masked Men Unleash Violence on JNU Campus, Police Stage Flag March; Opposition Blames Govt.
In total, nine students were named by Delhi Police. The names of students mentioned are: Chunchun Kumar (Ex-student, JNU), Pankaj Mishra (School of Social Sciences (SSS), Aishe Ghosh (President JNUSU), Vaskar Vijay Mech (MA, SAA, JNU), Sucheta Talukdar (SFI, Councillor, JNU), Priya Ranjan (SLL&CS, JNU), Dolan Samanta (School of Social Science), Yogendra Bhardwaj (PhD Sanskrit, JNU) and Vikas Patel (MS Korean, JNU).
Delhi Police tried to link January violence to the protests which were taking place regarding semester registration process on January 3 and earlier. The Delhi Police's version matched JNU administration's account, which said that some students wearing masks forcibly switched off the power supply to make the "servers dysfunctional" and hamper the semester exam registration process on January 3.
The Police Also Released a Photograph
JNU violence incident: Delhi Police releases images of the suspects, caught on the CCTV camera. #Delhi pic.twitter.com/UqNZCwKFId

— ANI (@ANI) January 10, 2020
Tweet Below
Dr. Joy Tirkey, DCP/Crime, Delhi Police on #JNUViolence: Three cases have been registered till now, and they are being investigated by us. pic.twitter.com/Z5UBWdZkXt

— ANI (@ANI) January 10, 2020
Reacting to Delhi Police probe, JNUSU president Aishe Ghosh said that, "We have not done anything wrong. We are not afraid, we will not budge. False narrative being created. No proof where I am seen attacking anyone."
Unprecedented violence was seen in the Jawaharlal Nehru University on Sunday as several masked individuals, both male and female, thrashed students, including girls, and teachers inside the campus with wooden and metal rods, injuring many.
At least 30 students and two teachers were admitted to the AIIMS with severe injuries following the evening clash. They included two office-bearers of the Jawaharal Nehru University Students Union (JNUSU), including President Aishe Ghosh - who was reportedly hit over the eye with an iron rod, received severe injuries.