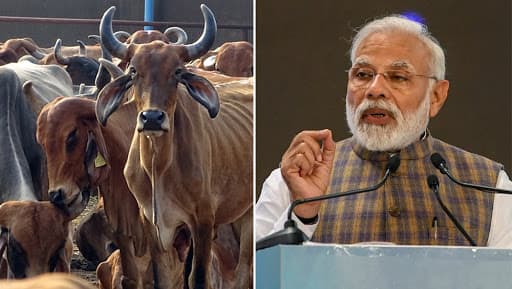 Mathura, February 11: Bharatiya Janata Party-led Union government's emphasis on cattle protection is widely known, and Prime Minister Narendra Modi is leading the campaign from the front. On Monday, PM Modi emphasised the importance of the cow in India's tradition and culture in Vrindavan town of Uttar Pradesh. He was of the opinion that nobody can repay a cow's debt.
Addressing a gathering – came to attend the Akshaya Patra Foundation's three billionths meal day – in the holy town of Vrindavan, the Premier said, "We cannot repay the debt of cow's milk. The cow is an important element of India's tradition and culture." Along with this, PM Modi listed his government's programmes for the improvement of the health of cattle.  Arvind Kejriwal Stirs Controversy, Calls Narendra Modi PM of Pakistan. 
Adding on, Narendra Modi went to state that cow has been a vital element of the rural economy and keeping in mind of this aspect, the BJP government launched schemes like the Rashtriya Gokul Mission and created Rashtriya Kamdhenu Aayog. He said, as reported by the Hindustan Times, "Cattle rearers can now get a loan of up to Rs 3 lakh as the banks have opened the avenue for them. We have decided to create the Rashtriya Kamdhenu Aayog (RKA) in the budget and proposed Rs 500 crore under it to look after the cow and its progeny."
PM Modi stated that to implement the laws and welfare schemes for cows, interim Union Finance Minister Piyush Goyal had announced funds for the Aayog, earlier this month. Along with cows, the Premier also focussed on the health of children and the importance of vaccination in his speech.
He said, as reported by the daily, "Just as a solid foundation is necessary for a strong building, it is just as important for children to have nutritious food and healthy childhood. The Centre has tried to form a security ring for children and food, vaccination and cleanliness are its three aspects."
After the speech, Narendra Modi served foods to the children in the Vrindavan Chandrodaya Mandir campus. It is to be known that last year Akshaya Patra served meals to 300 crore children with 17.6 lakh children fed every day through the network at 15,786 government schools in 12 states. It's a Bengaluru-based not-for-profit organisation – funded by the International Society for Krishna Consciousness (ISKCON) and works with the government on mid-day meal schemes.