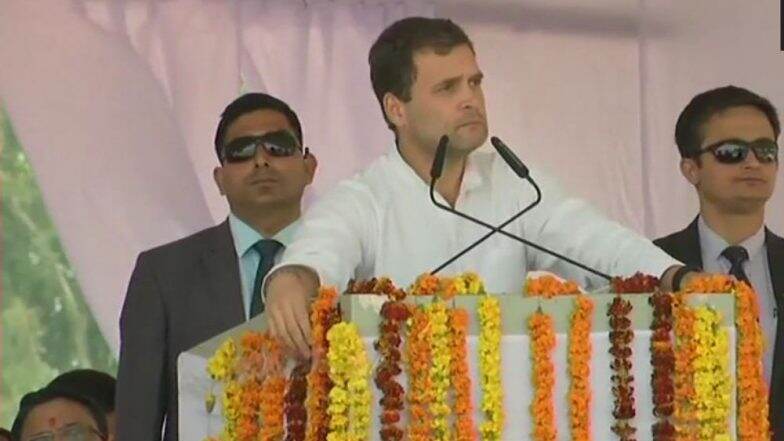 Dehradun, March 16: Tearing into Prime Minister Narendra Modi for alleged wrongdoing in the Rafale deal, Congress president Rahul Gandhi on Saturday at the Parivartan rally in Dehradun, Uttarakhand, rhetorically asked the people that, "What's so special about Anil Ambani that PM Narendra Modi gave the contract to make the biggest jets in the world?" Gandhi also tweeted on PM Narendra Modi's "Main Bhi Chowkidar" campaign on Twitter and called it a "Defensive tweet". BJP MP Rattan Lal Kataria Raises Bofors Scam Issue, Says 'Rahul Gandhi ka Baap to Mar Gaya...'
Gandhi also shared a picture of the Prime Minister with the caption, "You feeling a little guilty today?" The image shared by Rahul Gandhi has Prime Minister Narendra Modi in the foreground with pictures of Anil Ambani, Nirav Modi, Mehul Choksi, Vijay Mallya, Gautam Adani and Jay Shah. Rafale Deal Controversy: Congress Reiterates 'Chowkidar Chor Hai' Chant After 'The Hindu' Report Shows NDA Struck Costlier Deal.
Read Rahul Gandhi's Tweet Below:
Defensive tweet Mr Modi!

You feeling a little guilty today? pic.twitter.com/ztVGRlc599

— Rahul Gandhi (@RahulGandhi) March 16, 2019
Earlier, in the run up to the 2019 Lok Sabha polls, Prime Minister Narendra Modi on Saturday started the "Main Bhi Chowkidar" campaign, calling everyone who were fighting corruption, social evils and working hard for the progress of India, as watchmen.
"Your Chowkidar is standing firm and serving the nation. But, I am not alone. Everyone who is fighting corruption, dirt, social evils is a Chowkidar. Everyone working hard for the progress of India is a Chowkidar," Modi said in a series of tweets. "Today, every Indian is saying. Main Bhi Chowkidar," he added. This campaign by the PM is followed by his series of tweets in which he tagged over 100 people from the fields of politics, sports, Bollywood, arts and various walks of life to encourage people to come out and vote in large numbers.