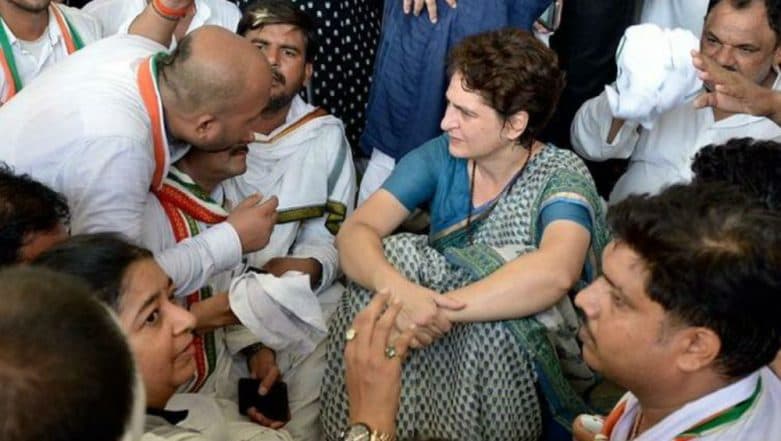 New Delhi, August 22: A day after a massive protest by members of the Dalit community in Delhi against the demolition of Sant Ravidas temple in Delhi's Tughlakabad, Congress General Secretary Priyanka Gandhi Vadra said Dalit voices must be heard. Hitting out at the Bharatiya Janata Party (BJP) government, Priyanka Gandhi said Dalits are being suppressed and subjected to violence for raising their voices.
"First the BJP government messes around with Ravi Das temple - the symbol of cultural heritage of crores of Dalit sisters and brothers, and when thousands of Dalit brothers and sisters raise their voice in the national capital, the BJP baton-charges them, gets tear gas fired at them and arrests them," Priyanka tweeted on Thursday. "This insult to the voice of Dalits is intolerable. This is an emotive issue. Their views must be respected," the Congress leader added.
Following the Supreme Court's order, the Delhi Development Authority (DDA) had, on August 10, demolished the centuries-old Guru Ravidas temple in a forest area in south Delhi's Tughlakabad. On Wednesday, Dalits from Punjab, Rajasthan, Haryana, UP and other states gathered in Delhi and protested against the demolition of Ravidas temple. According to the Delhi Police, the protest turned violent.
Priyanka Gandhi's Tweets:
दलितों की आवाज़ का ये अपमान बर्दाश्त से बाहर है। यह एक जज़्बाती मामला है उनकी आवाज का आदर होना चाहिए।#SaveSantRavidasTemple

— Priyanka Gandhi Vadra (@priyankagandhi) August 22, 2019
"At around 7:30 pm, the mob that gathered at Ravidas Marg turned unruly and became violent despite persuasion and appeal by police to maintain peace and started pelting stones and attacking policemen," senior police officer Chinmoy Biswal was quoted by NDTV as saying. The Delhi Police resorted to mild lathi-charge and fired tear gas to disperse a crowd of Dalits. Bhim Army Plans to Install Bust of Ravidas at Site of Demolished Temple.
Around 90 protesters, including the Bhim Army chief Chandrashekhar Azad, were arrested on Wednesday. According to a senior police official, Azad was taken to the Kalkaji police station in the southeast district in night and is being questioned. The police may lodge an FIR against him for rioting and unlawful activities. Bhim Army claimed that the police fired at the protesters, but the police denied that.
The Supreme Court on August 9 observed that "serious breach" had been committed by the Guru Ravidas Jainti Samaroh Samiti by not vacating the forest area despite judicial orders. Subsequently, the Sant Ravidas temple was razed.