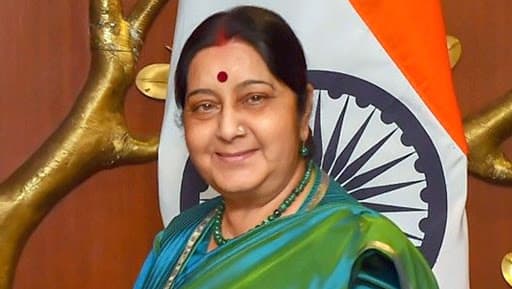 Former Union Minister Sushma Swaraj breathed her last on Tuesday night at New Delhi's All India Institute of Medical Sciences (AIIMS). The senior Bharatiya Janata Party (BJP) leader was admitted to AIIMS at New Delhi after suffering a heart attack. She served as External Affairs Minister in the Narendra Modi government from May 26, 2014, to May 30, 2019. Swaraj's death brings curtains down on one of the most illustrious political careers in modern India enjoyed by any woman politician. Sushma Swaraj Funeral to Take Place at Lodhi Road Electric Crematorium in Delhi Today.
Swaraj was born on February 14, 1953, at Ambala Cantt, Haryana to Hardev Sharma and Shrimati Laxmi Devi. Her parents hailed from Dharampura area of Lahore. After studying Law at Punjab University in Chandigarh, Swaraj started practice as an advocate in the Supreme Court in 1973. The veteran BJP leader  married Swaraj Kaushal, a fellow advocate at Supreme Court.
The former union minister began her political career with Akhil Bharatiya Vidyarthi Parishad in the 1970s. Swaraj actively participated in Jayaprakash Narayan's Total Revolution Movement. After the Emergency, she joined the Bharatiya Janata Party (BJP). She was Member of Haryana Legislative Assembly from 1977 to 1982 by winning Ambala Cantonment Assembly seat. She created history by becoming the youngest female cabinet minister of Haryana at the age of 25 years in 1977. Sushma Swaraj Bids Goodbye To External Affairs Ministry In Narendra Modi Cabinet, Leaves Twitter Teary-Eyed.
Swaraj again won the Ambala Cantonment seat in 1987 and became Education Minister of Haryana in the Bharatiya Janata Party–Lok Dal coalition government which lasted till 1990. In 1998, Swaraj resigned from the Union Cabinet to take over as the first female Chief Minister of Delhi. The 67-year-old veteran BJP leader served as the Member of Rajya Sabha.
The former Union Minister was elected to the 11th Lok Sabha from South Delhi constituency in 1996 and was made Information and Broadcasting minister during the 13-day government of PM Atal Bihari Vajpayee. Swaraj was re-elected to 12th Lok Sabha from South Delhi Parliamentary constituency in 1998. Again she was sworn-in as Union Cabinet Minister for Information and Broadcasting. Swaraj also handled the additional charge of the Ministry of Telecommunications from March 19, 1998, to October 12, 1998.
However, during the elections for the 13th Lok Sabha elections the BJP leader lost to the then Congress president Sonia Gandhi from Karnataka's Bellary district. She was elected as Rajya Sabha member in 2000. During the third term of the Atal Bihari Government, she was again given the charge of Information and Broadcasting ministry. She held the post till January 2003. From 2003 to 2004, Swaraj served as Minister of Health, Family Welfare and Parliamentary Affairs.
Swaraj had won 2009 Lok Sabha elections from the Vidisha Lok Sabha constituency in Madhya Pradesh. She became the leader of opposition replacing LK Advani. In 2014, She again won from the Vidisha Lok Sabha constituency. Swaraj was inducted into the Narendra Modi cabinet as Foreign Minister on May 26, 2014, and remained at the post till May 30, 2019. However, she did not contest the 2019 Lok Sabha Elections citing health reasons. Sushma Swaraj's Response To A Man Asking For Help In Broken English Wins The Hearts of Netizens!
Swaraj was the most popular minister of the Modi cabinet as she was just a tweet away from help. Her accessibility and down to earth nature endeared Swaraj to Indians in India as well as abroad. Her persona cut through party lines as the leader enjoyed amicable relations with members of other political parties as well. She a prolific orator and was known for her command on the Hindi language.