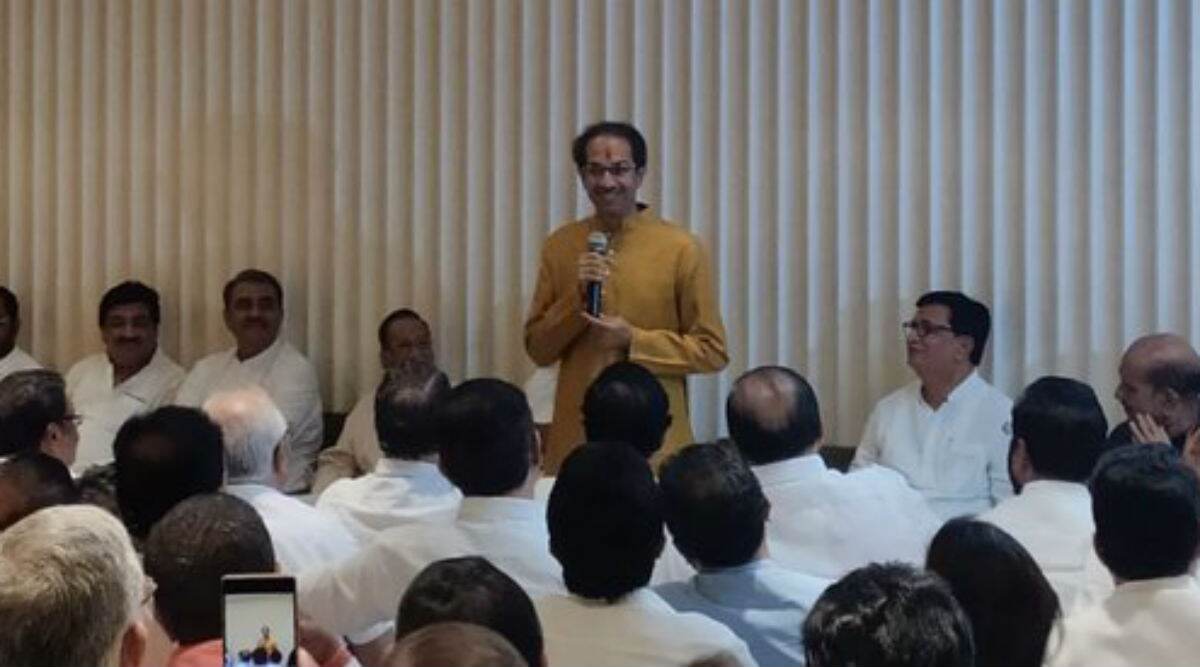 Mumbai, November 26: Legislators of the Shiv Sena, the Nationalist Congress Party (NCP) and the Congress on Tuesday unanimously passed a resolution proposing Uddhav Thackeray's name as chief ministerial candidate of the three parties' 'Maha Vikas Aghadi'. Uddhav Thackeray was also elected as leader of the 'Maha Vikas Aghadi' at the joint meeting of Shiv Sena, NCP and Congress MLAs. Following his election, NCP chief Sharad Pawar greeted Uddhav with a bouquet. Thackeray will take oath as the next CM on November 28 at Shivaji Park. Devendra Fadnavis Quits as CM, Says BJP Will Work as Effective Opposition in Maharashtra Assembly.
The resolution proposing Uddhav's name for the chief ministerial post was moved by NCP leader Jayant Patil. "We all want Uddhav Balasaheb Thackeray to lead our alliance as the Chief Minister," Patil said. The resolution was backed by Congress state president Balasaheb Thorat and subsequently passed by legislators of all three parties. "Three representatives of 'Maha Vikas Aghadi' will meet Maharashtra Governor today. The swearing-in ceremony to be held at Shivaji Park on December 1," Sharad Pawar declared. Sharad Pawar Emerges From Shadows As Maratha Strongman Amid Power Tussle in Maharashtra.
In his brief address, Uddhav thanked Congress Interim President Sonia Gandhi and hit out at the Bharatiya Janata Party (BJP) and Devendra Fadnavis. "I am not scared of anything. Lies are not part of Hindutva. When needed, you hug us and when not needed, you leave us. You tried to keep us away," he said. "I accept the responsibility given by all of you. I'm not alone but you all are CM with me. What has happened today is the actual democracy. We will make this Maharashtra once again that Maharashtra which Chhatrapati Shivaji Maharaj dreamt of," he added.
The fast-paced developments came barely hours after Chief Minister Devendra Fadnavis and Deputy CM Ajit Pawar abruptly resigned this afternoon, a day before the special session of Maharashtra Legislative Assembly was to be convened on Wednesday as ordered by the Supreme Court.