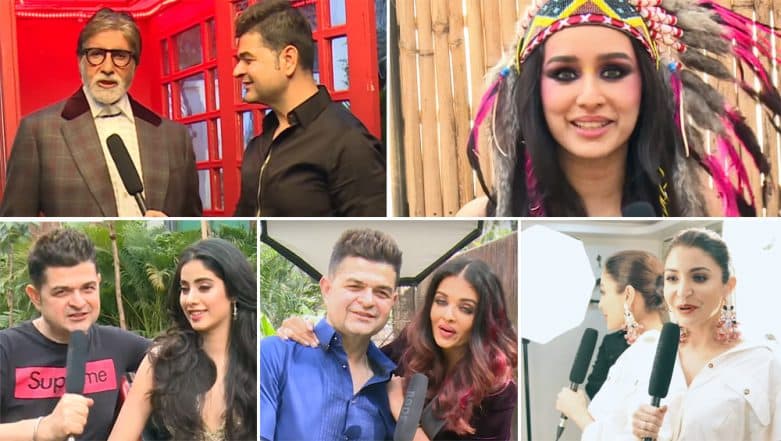 And finally here it is! Dabboo Ratnani Calendar 2019 is all set to roll out with a plethora of stars on it. This year is a super-special one as this is the 20th edition of the celeb calendar. Which means, it has been 20 years, the photographer has been clicking glamorous pictures of the celebs for his custom calendar and how the celebs are all happy about it. They recently released the teaser of the calendar and that is simply making our curiosity even higher! Shah Rukh Khan, Alia Bhatt, Akshay Kumar, Anushka Sharma Look Glamorous As They Shoot for Dabboo Ratnani Calendar 2019.
Abhishek Bachchan, Varun Dhawan, Amitabh Bachchan, Kartik Aaryan, Sidharth Malhotra, Sonakshi Sinha, Shraddha Kapoor, Janhvi Kapoor, Tiger Shroff, Aishwarya Rai Bachchan, Vidya Balan, Farhan Akhtar, John Abraham, Kriti Sanon, Sunny Leone, Kiara Advani were spotted in this fun video.
In the teaser, the celebs interacted not only with the photographer, but also fooled around with his kids during the shoot. Also, they sweetly complained about Dabboo for making them do challenging things to get the perfect click. They then told about the number of 'shots' that they have given for the calendar series in 20 years. Aishwarya has been present in all the shoots giving us '20 perfect shots' and next to her is husband Abhishek with 18 clicks! The newest to add to the glitzy magazine are Janhvi and Kiara. Dabboo Ratnani's Hottest Calendar Girls: Disha Patani, Sunny Leone, Alia Bhatt, Shraddha Kapoor & Others Pose Topless for Hot & Sexy Photos!.
Check out the teaser video of Dabboo Ratnani 2019 calendar here:
While we got a chance to have a glimpse of some outfits, others are still all under wraps. However, as the date-book completes two decades, we can expect some really good ones this year. So, whose photo are you waiting for, the most?