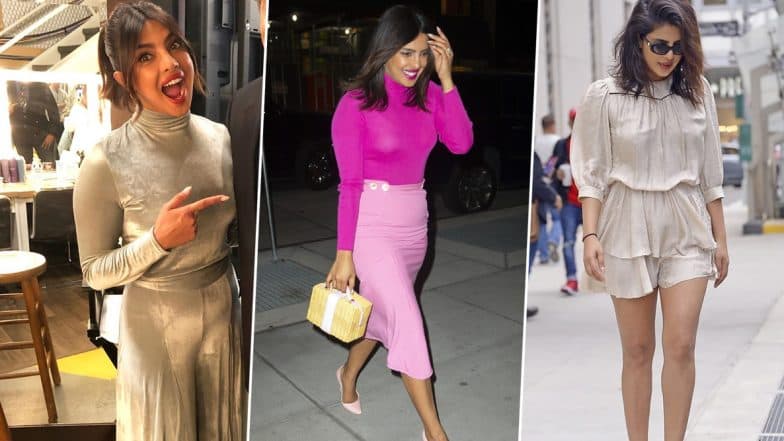 Priyanka Chopra Jonas is back to New York after her promotion for The Sky is Pink in Mumbai. While we got to see some different and creative looks in India, Priyanka has been keeping a similar outfits pattern for her promotion in New York. We got to see some florals, some pinks and some serious formal skirts. Even though her attire for most events is simplistic and boring, it is classy and we can't deny that. From her street style white dress to her kimono-like floral silk dress, Priyanka Chopra has been blessing her fans with glamour. Exclusive: Priyanka Chopra Talks About Buying Her First House with Husband Nick Jonas in LA (Watch Video).
Something all her outfits have in common is a high neckline. She's either wearing a turtle neck or a dress with the neckline high. Keeping her hair and makeup minimal, she let her outfits stand out. Some of them looked stunning while some could've used some help. What? Priyanka Chopra Wanted to Be Mrs Nick Jonas Since 2008! - Watch Video.
Priyanka in White Mini Dress
This dress is absolutely beautiful! Everything about this dress is cute. The fabric, the frills and the sleeves make an adorable combination together.
Priyanka in White Mini Dress
View this post on Instagram
This dress is something that would look great with some sneakers as well. It has a versatile touch that will give it a pass for every occasion.
Priyanka in All Pink
Okay, so this one had potential. It had some serious potential but Priyanka made it a massive flop. The top would've gone beautifully with a black skirt or maybe some muted shade. The monochromatic effect is not working here.
Priyanka in All Pink
View this post on Instagram
And the sheer quality of it looks unintentional and makes it look like she just had a wardrobe malfunction.
Priyanka in Blue
All we can say is this outfit is the sister of the previous one. Another turtle neck and high-waisted skirt. The skirt is not the most flattering on her and there is no other way to put it.
Priyanka in Blue
View this post on Instagram
Thankfully, her little pooch was there to save the night. Her pup grabbed all the attention around and we need more pictures of the doggo!
Priyanka for The View
Now we have to ask, what is going on with the turtle necks? It is an excellent fall fashion pick but she's overdoing it. The fabric, the colour, the style, it's all so bad!
Priyanka for The View
View this post on Instagram
This outfit looks like something a queen from Rupaul's Drag Race would wear and end up getting eliminated. However, the actress still manages to look gorgeous with this.
Priyanka in Silk Pink
This is how monochrome works! Her dress is chic and pretty, giving us 'the trophy wife going on brunch with girlfriends' vibe. Her hair is in a bun, adding to the classy look.
Priyanka in Silk Pink
View this post on Instagram
The ensemble together gives us a Japanese kimono-esque feel. The hair and outfit look like a traditional Japanese look. But a look done right.
From what we can see, Priyanka Chopra Jonas nails the street style department but her talk show and red carpet appearances need a little help.