This is one fashion that you thought is boring but made your mom smile with delight. Midi skirts. These below the knee or even mid-calf skirts are in vogue and how. Our favourite celebrities, from Hollywood actress and fashion icon Blake Lively to our homegirl Priyanka Chopra are digging this fashion. And why not. They're super reliable because midi-skirts will save you from having a Marilyn Monroe moment on a windy day and still make you look uber stylish. These midi skirts are available in various fabric, style and form. Best part about wearing a midi skirt - they go with about anything, and everything – something as basic as a white tee! Today, we will look into Bollywood actress, global icon and fashionista Priyanka Chopra's style files on midi skirts. Importantly, how the 36-year-old created these memorable fashion moments. Priyanka Chopra Wears Sexy Lingerie Blazer Dress: Actress' Slit Brassiere Suit from Dion Lee is High on Fashion (See Pics).
1. Priyanka Chopra in Carolina Herrera Skirt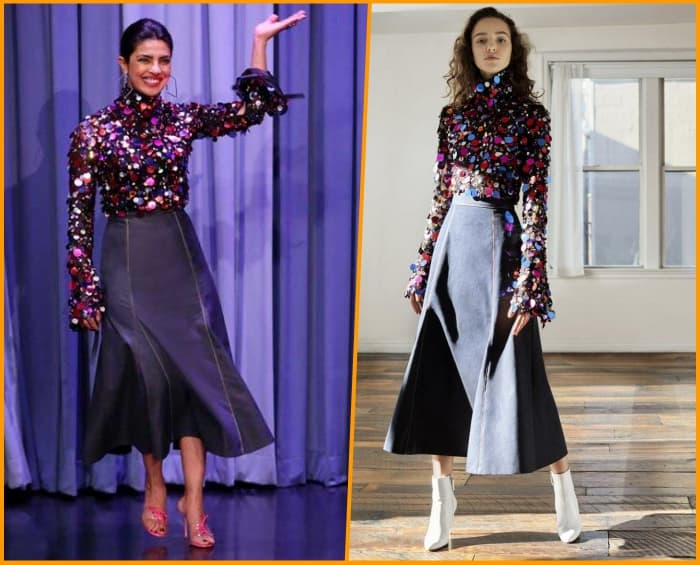 Priyanka was dressed in Carolina Herrera Pre-Fall 2018 Collection as she visited the Tonight Show with Jimmy Fallon in April 2018. It was a denim midi pencil skirt, which she paired up with an embellished turtleneck cocktail blouse. The paillette top had long sleeves with back ties. Styled by her trusted Mimi Cuttrell, the Quantico actress rounded off her look with a pair of pink leather PVC mule by Gianvito Rossi. Priyanka Chopra's Best Style Moments in ALL COLOURS! Birthday Girl's Fashion Statement Over the Years in Photos.
2. Priyanka Chopra in Derek Lam Belted Leather Skirt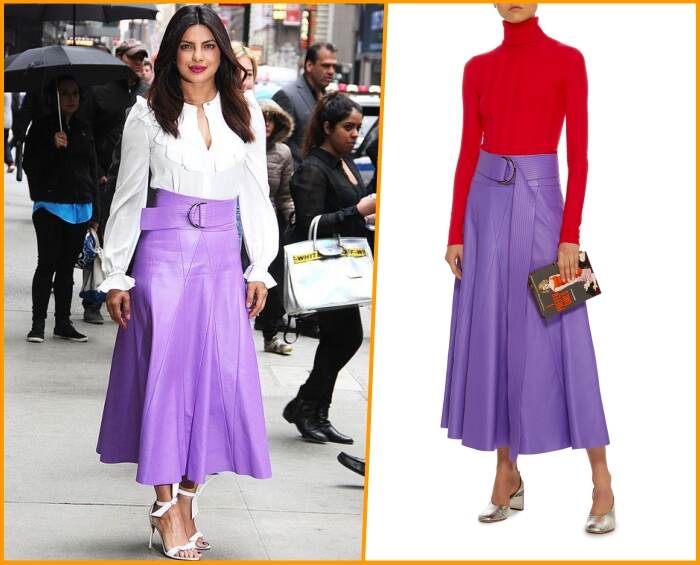 It is an art to mix a quirky and a staple piece from wardrobe to create a super chic OOTD. Having another fashionable day out in New York City, Priyanka was photographed rocking a bright lavender Derek Lam midi skirt. The fashionista wore a classic long-sleeved white top over the belted leather skirt in colour from the family of 2018 Pantone colour of the year. The 36-year-old wore a white Clarita bow-embellished leather sandals from Alexandre Birman.
3. Priyanka Chopra in Christopher BU Skirt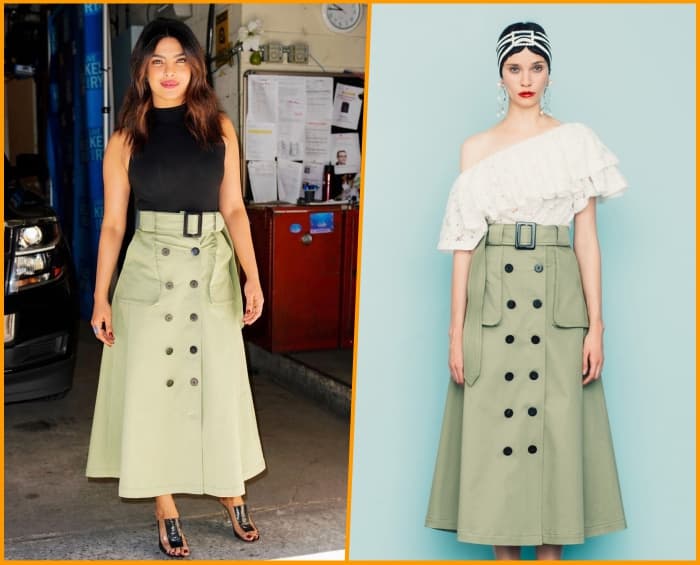 This light olive midi skirt is our next favourite from Priyanka's style-files. It is from Christopher BU Spring Summer Collection 2018, which the Indian superstar wore it with a black ballet body crew tank bodysuit. What makes us love this high-waisted belted skirt so much are the big pockets and buttons. As for the footwear, PeeCee again chooses a stunner, a black watersnake skin Patricia mules from Ritch Erani NYFC.
4. Priyanka Chopra in Dion Lee Skirt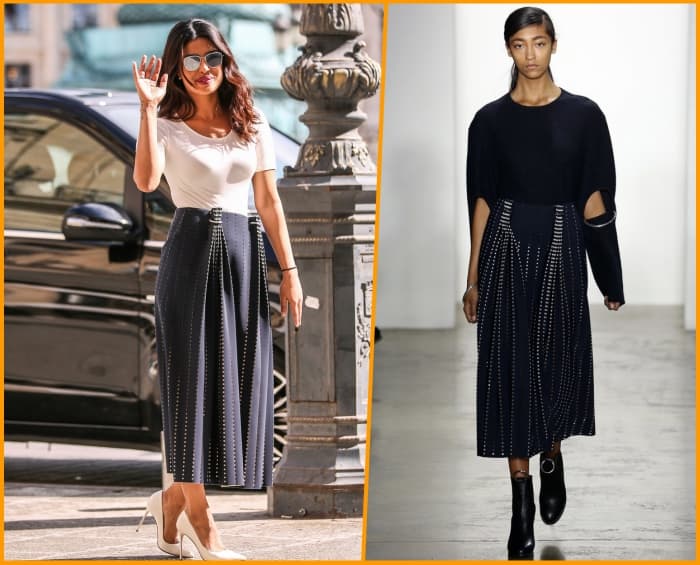 One skirt we absolutely want to steal from Priyanka's wardrobe has to be this Dion Lee midi skirt. Snapped on the streets of Paris, the Bollywood actress kept her look edgy yet elegant in a Dion Lee fall 2016 ink and ivory aperture pleat skirt. With a sassy bottom wear choice, Priyanka opted to keep it simple with a basic white half-sleeved tee. She mastered the Parisian chic look with a pair of white pumps and sunglasses.
That was Priyanka Chopra's midi skirt game being on point. From flowy silhouettes to denim and making use of bright colours is simply amazing. Midi skirts are a perfect way to amp up your personal style if you are uncomfortable revealing your legs. These prove one does not need to flaunt your skin and still look every bit stylish, glamorous and elegant.