After Diwali, the country, especially North India is currently immersed in the celebrations of Chhath Puja 2018. The Chhath also known as Chhathi, Chhath Parv, Dala Chhath, Dala Puja and Surya Shashthi is observed over a period of four days on the sixth day of the Kartika month. In 2018, the Chhath is being celebrated from November 11 to November 14. The Sun God, Surya is worshipped during Chhath Puja to promote well-being, prosperity and progress. Women observe fast during the four-day festival. Apart from following significant rituals, devotees also meet and greet each other and send across wishes to celebrate the festival. To send across wishes and greetings, we have curated messages in Hindi, Bhojpuri & Maithili to send across on this auspicious festival to your loved ones and to observe Chhath Puja 2018. Chhath Puja 2018 Sandhya Arghya and Usha Arghya Time in Patna, Delhi, Mumbai & Kolkata: Know the Sunset & Sunrise Timings For Praying the Sun God.
Chhath is mainly observed in the Indian state of Bihar and neighbouring country Nepal. Dedicated to Surya Devta and his consort Usha popularly known as Chhathi Maiya, women observe fast for the well-being of sons and happiness of the family. The first day is known as Nahay Khay, and the second day is known as Kharna. November 13 marks as the third day of the festival and is the main day of Chhath Puja. On this day, Arghya is given to the setting sun and the fasting continues throughout the night. To observe the main day of Chhath, send across these thoughtful messages and greetings of Chhath Puja in Hindi to your near and dear ones. Happy Chhath Puja 2018 Wishes: Best WhatsApp Messages, Stickers, Facebook Quotes, Statuses, GIF Photos to Send Chhathi Maiya Puja Greetings.
Chhath Puja 2018 Wishes in Hindi
Chhath Puja Ki Shubhkamnayein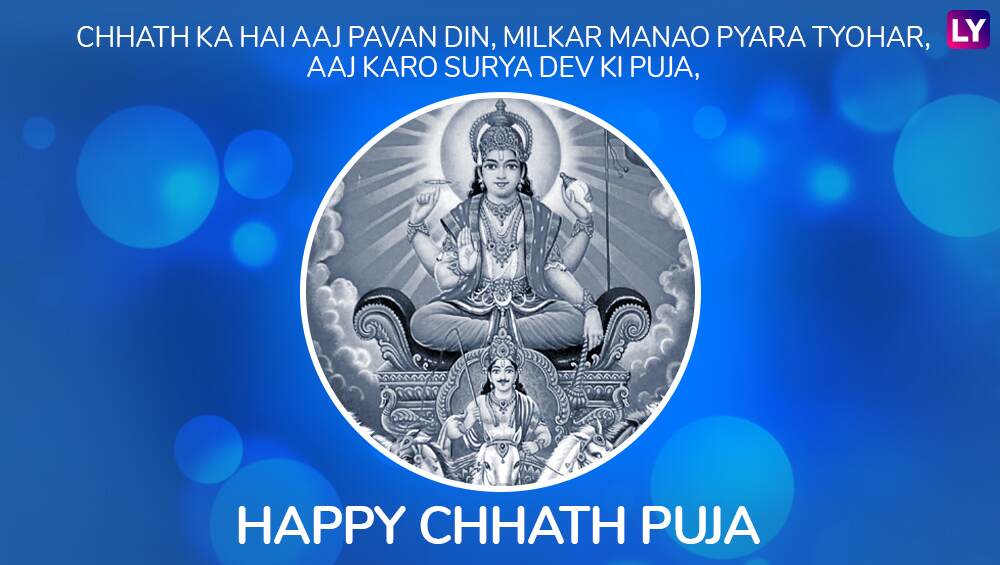 WhatsApp Message Reads: Chhath Ka Hai Aaj Pavan Din, Milkar manao Pyara Tyohar, Aaj Karo Surya Dev ki Puja, Happy Chhath Puja.
Chhath Puja Ki Shubkamnayein
WhatsApp Message Reads: Chhath Puja Ka Pavan Parv, Hai Surya Dev Ki Puja Ka Parva, Karo Milke Surya Dev ko Pranam, Aur Bolo Sukh Shanti De Aapar, Happy Chhath.
Happy Chhath 2018!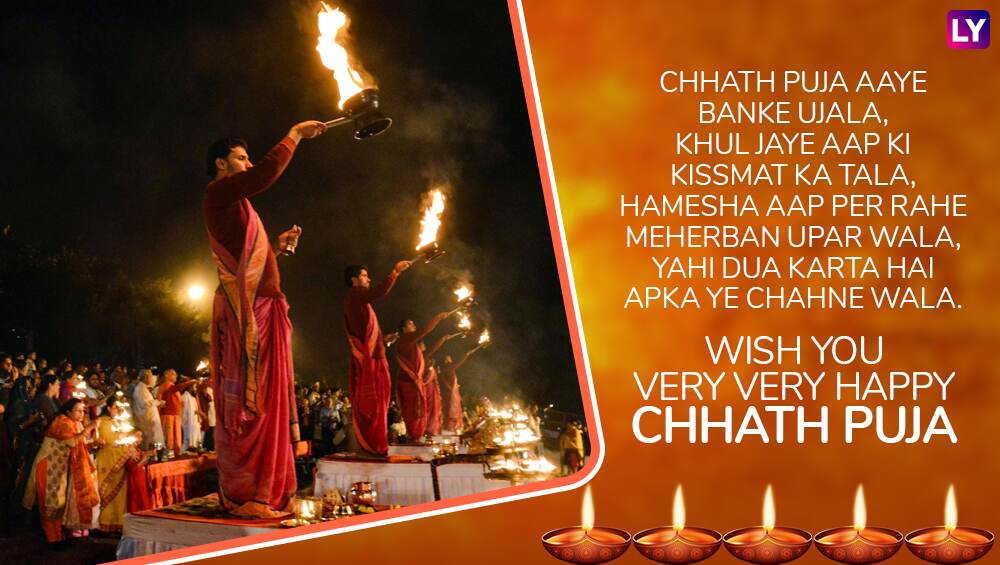 WhatsApp Message Reads: Chhath Puja aaye banke Ujala, Khul jaye Aap ki Kissmat ka Tala, Hamesha Aap per rahe Meherban Upar wala, Yahi Dua karta hai apka ye chahne wala. Wish u Very Very Happy Chhath Puja.
Chhath Puja Ki Badhaai!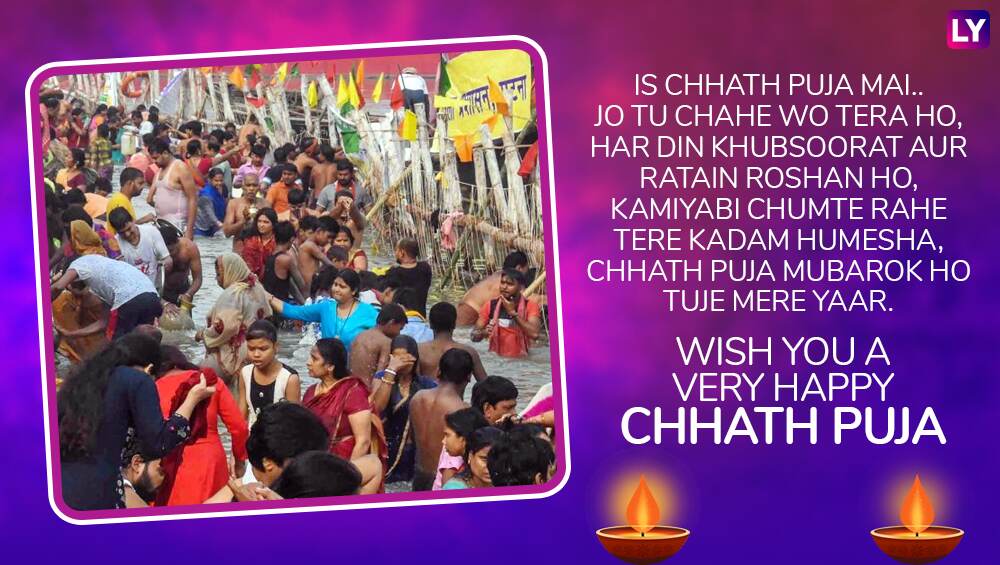 WhatsApp Message Reads: Is Chhath Puja Mai..Jo Tu Chahe Wo Tera Ho, Har Din Khubsoorat Aur Ratain Roshan Ho, Kamiyabi Chumte Rahe Tere Kadam Humesha, Chhath Puja Mubarok Ho Tuje Mere Yaar. Wish you a Very happy Chhath Puja.
Happy Chhath 2018!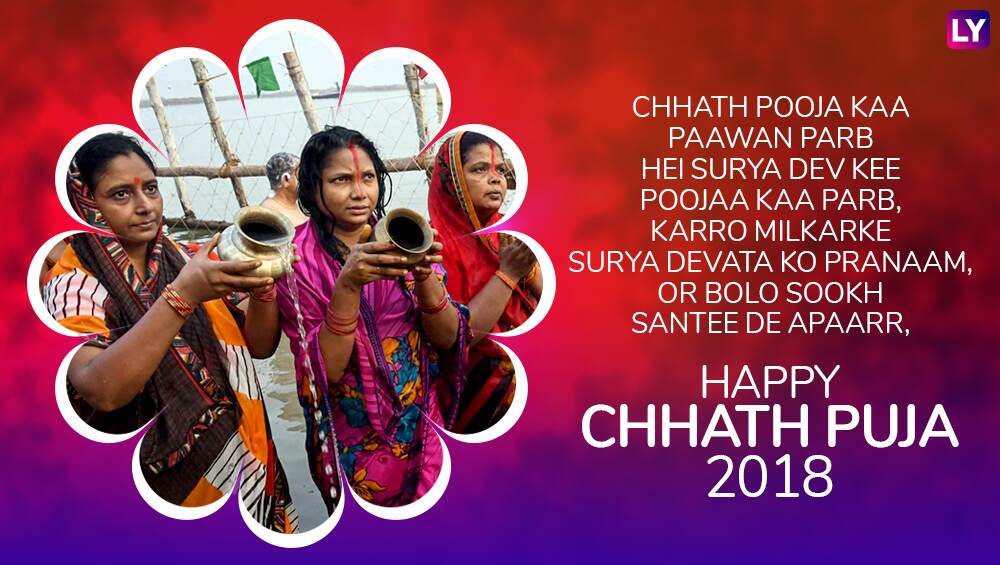 WhatsApp Message Reads: Chhath Pooja Kaa Paawan Parb Hei Surya Dev Kee Poojaa Kaa Parb, Karro Milkarke Surya Devata Ko Pranaam, Or Bolo Sookh Santee De Apaarr, Happy Chhath Pooja 2018.
Women observe a full day of fast without water on the third day. Today, devotees will be offering Arghya to the setting Sun as the main ritual of the day. It is the only time of the year when Arghya is given to the setting Sun. The fasting is continued throughout the night and Parana is done on the next day after sunrise. On the fourth day and last day i.e. November 14, Arghya is given to the rising Sun and it is known as Usha Arghya. The 36-hour long fast is broken after giving Arghya to the Sun. We wish everyone a Happy Chhath 2018!