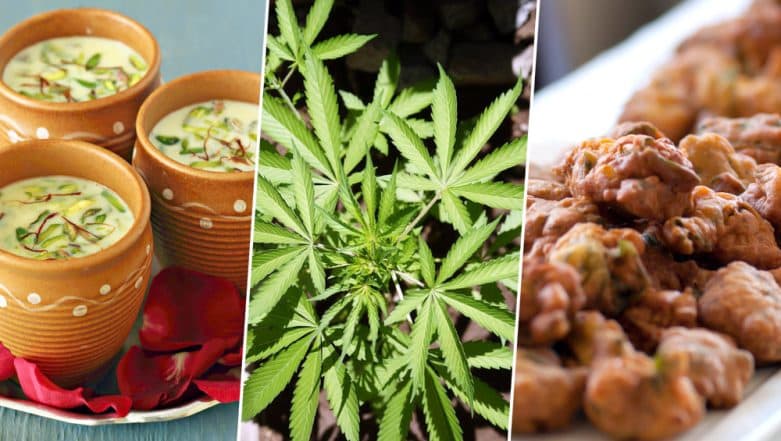 Holi Hai!!! Finally, Holi is here. As the saying goes, Holi ke din dil khil jaate hai, it is time to forget all your worries and indulge in celebration. Also known as the festival of love, the day marks to celebrate love and compassion. The time to celebrate love and happiness in the most colourful way with the festival of colours- Holi. Indians with a lot of fun and enthusiasm. People plan Holi parties and events on all scales to commemorate the day of leaving behind all evil and spreading happiness. Bhang finds a special place in the celebration of Holi. People drink the cannabis-infused drink on Holi in the form of bhang to enjoy the day. Bhang chutney, pakora, lassi and thandai are a few common forms in which bhang is consumed. It is said that when the ocean was churned(Samudra Manthan) by the Gods and the demons, a drop of the nectar fell on Mount Madra and a plant sprouted out it. Holi this year falls on the 21st of March followed by Holika Dahan(burning of demon Holika) or Chhoti Holi that will be celebrated on the 20th of March. Easy Bhang Recipes You Can Make This Maha Shivratri to Relish the 'Nectar of the Gods.'
Here's how you can make Bhang pakora and Bhang thandai at home:
Bhang Pakora
Ingredients:
Potatoes - 250 grams

Onions - 150 grams

Gram flour - 200 grams

Marijuana (Bhang) - 40 grams

Cumin - 1 teaspoon

Dry mango powder - 1/2 teaspoon

Pomegranate - 1/4 teaspoon

Red chilli - 1 teaspoon

Salt - 1 teaspoon

Coriander - 1 tablespoon

Water - 200 millilitres

Chaat masala - for garnishing
Method
In a mixing bowl, add all the ingredients and mix well to combine.

Heat sufficient oil in a heavy skillet. Deep fry until golden brown. Drain it on an absorbent paper.

Garnish with chaat masala.

Serve.
Here's how you can make Bhang Pakora:
Bhang Thandai
Bhang Thandai is the tastiest way to consume bhang. With ingredients such as Milk, Sugar, Almonds, Cashewnuts, Pistachio, Watermelon seeds (Chaulmugur), Fennel seeds, Black peppercorns, Poppy seeds (posto), Saffron - 1 tsp (extra for garnish), Green cardamoms, Cinnamon Stick, Cloves, Ice cubes, etc.
Here's how you can make Bhang Thandai:
Celebrate Holi by wishing each other well.
Holi 2019 WhatsApp Stickers to Send Greetings For the Festive Season
Just like everything has a flipside, Bhang isn't spared too. Bhang has its own set of side-effects and consuming Bhang totally depends on your discretion. The leaves aren't legally sold in India. However, it is legally available in shops in the form of beverages such as bhang lassi and bhang thandai.