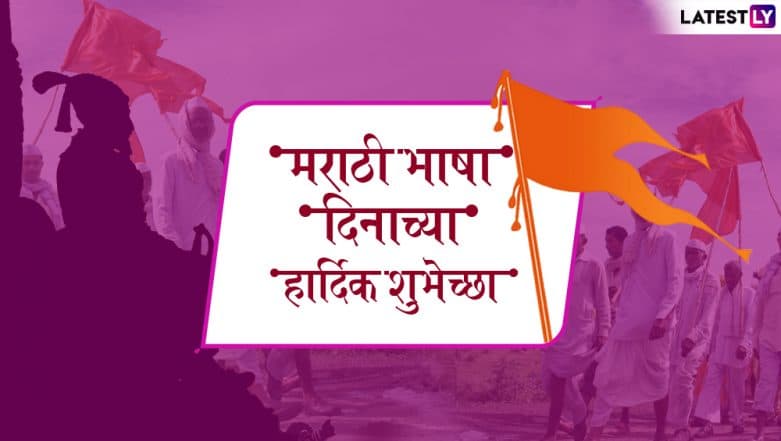 Today is a very important day for the Marathi speaking community. It is Marathi Bhasha Din on February 27. It is a day which marks the birth anniversary of eminent writer and poet Kusumagraj. On the occasion of Marathi language day, people who have their mother tongue as Marathi, ensure they greet their friends and family. Marathi Bhasha Diwas is a day to take pride in the beauty of this language. Maharashtrians send Marathi Bhasha Din greetings, images and messages to send their wishes to everyone. People also share WhatsApp stickers, Facebook statuses, Instagram pictures to mark the day and greet everyone on social media. If you too are looking for greetings, messages, Facebook statuses, images to wish for a Happy Marathi Din 2019, let us give you a collection of Marathi Bhasha Din messages in Marathi. Marathi Bhasha Din 2019: Know Date, History and Significance of Marathi Language Day.
The Marathi Bhasha Diwas or Marathi Language Day is one of the important days which is celebrated in the state of Maharashtra and Goa. Some parts of Karnataka and Madhya Pradesh where there is a prominent Marathi speaking community also mark this day. Several schools and colleges also organise cultural programmes which promote the greatness of Marathi. Look at our collection of Marathi Bhasha Din messages and greetings.
Marathi Bhasha Din 2019 Greetings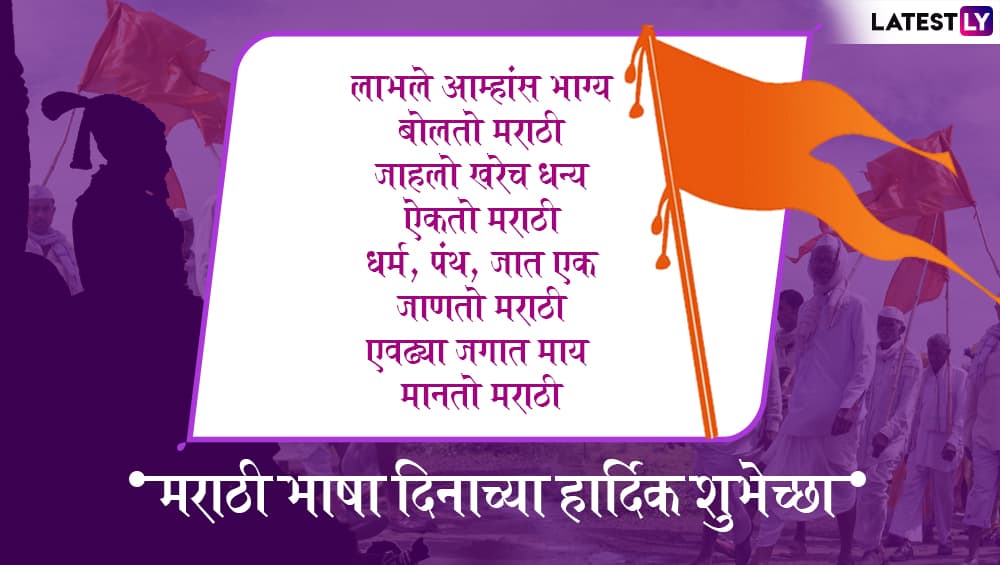 Message Reads: लाभले आम्हांस भाग्य बोलतो मराठी, जाहलो खरेच धन्य ऐकतो मराठी, धर्म, पंथ, जात एक जाणतो मराठी, एवढ्या जगात माय मानतो मराठी. मराठी भाषा दिनाच्या हार्दिक शुभेच्छा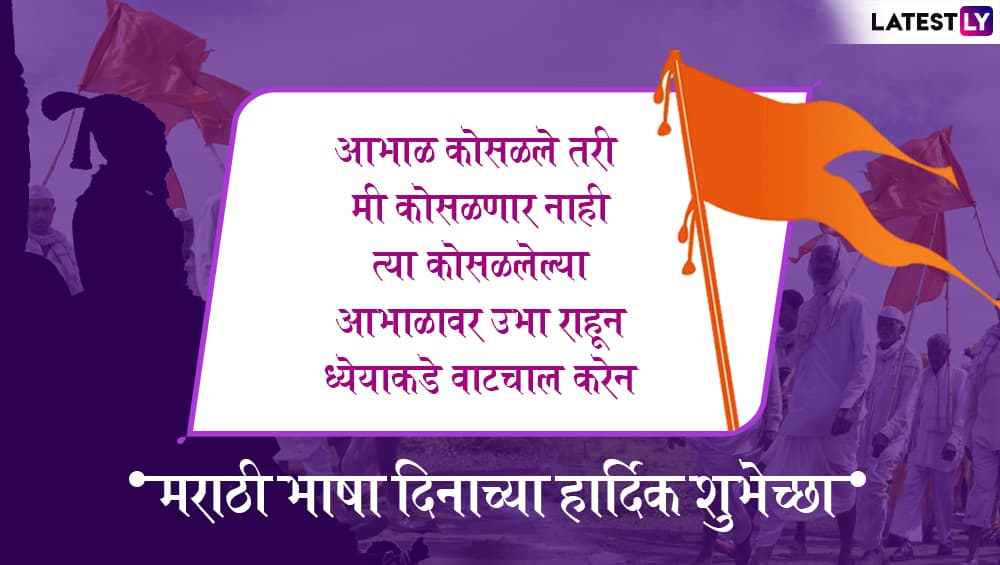 Message Reads: आभाळ कोसळले तरी मी कोसळणार नाही त्या कोसळलेल्या आभाळावर उबा राहून ध्येयाकडे वाटचाल करेन. मराठी भाषा दिनाच्या हार्दिक शुभेच्छा
Message Reads: रांगणाऱ्या तान्हुल्यापरी गोंडस निरागस मराठी, तळपणाऱ्या दिनकरापरी प्रखर अन् तेजस मराठी, ऊब देई आईच्यापरी हळवी अन् लोभस मराठी, ओळखावी विश्वभर ही गोजिरी सालस मराठी. मराठी भाषा दिनाच्या हार्दिक शुभेच्छा!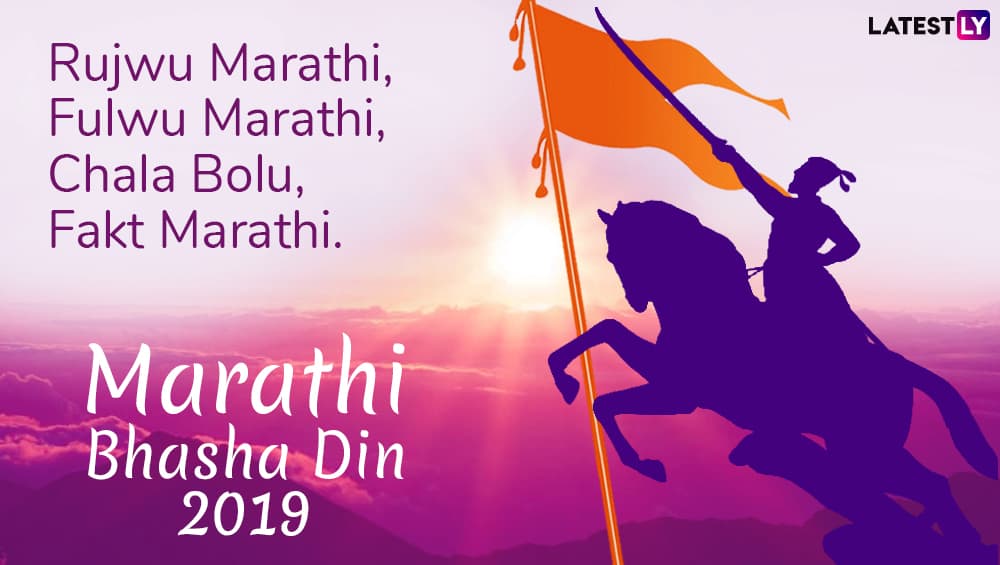 Message Reads: Rujwu Marathi, Fulwu Marathi, Chala Bolu, Fakt Marathi. Marathi Bhasha Dinachya Hardik Shubhecha!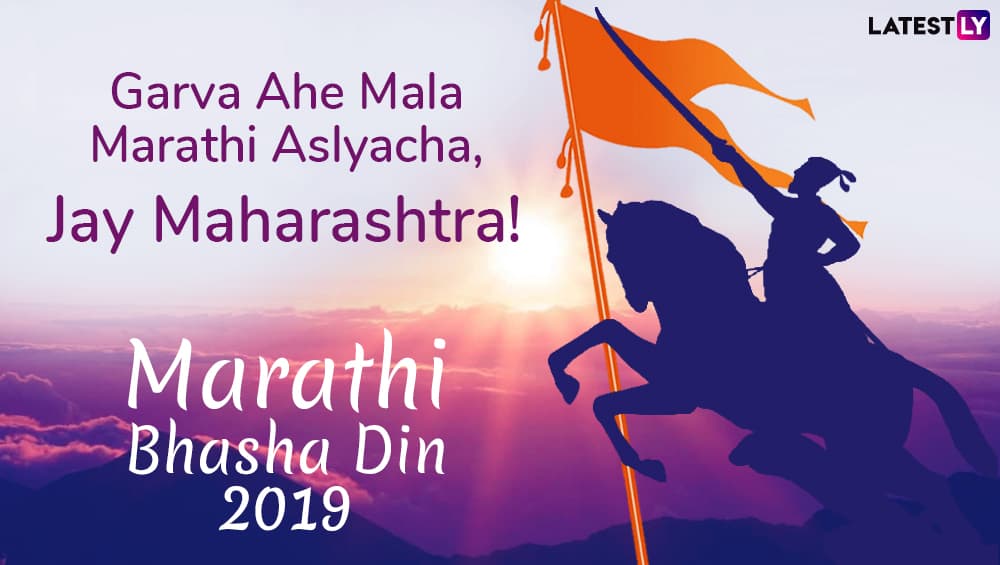 Message Reads: Garva Ahe Mala Marathi Aslyacha, Jay Maharashtra!
Marathi Bhasha Dinachya Hardik Shubhecha!
Marathi Bhasha Din WhatsApp Stickers
The sticker feature on WhatsApp has made it easier to express for people. There are several sticker packs which make Marathi stickers available on your smartphones. You can download Marathi sticker pack from Play Store or the App Store and share them with your contacts. So go ahead and install these Marathi WhatsApp stickers so you can send them for Marathi Bhasha Din 2019.
We hope the above messages, greetings, images help you to convey your pride in and about the Marathi language. It is the language of the state and should indeed be respected. Although we do not need just one day to honour what we speak in, it is important to even wish others who do not fluently speak the language. We Wish you all a Happy Marathi Bhasha Diwas 2019!