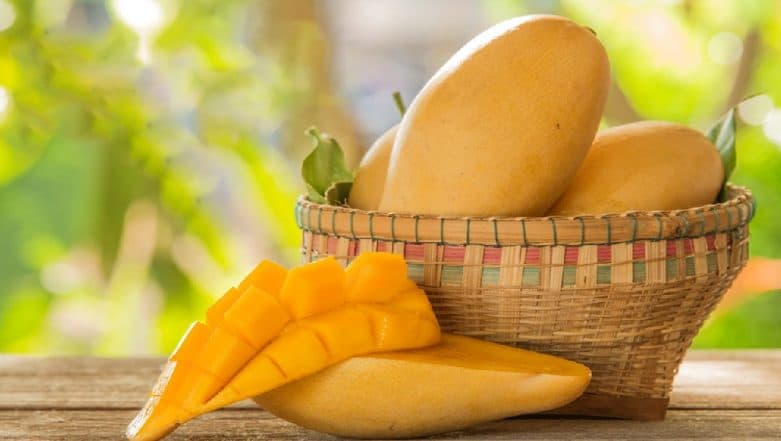 Are you one of those who loves mangoes dearly but prefers death when it comes to choosing the right Alphonso mangoes? Because same! Come summers and the market is flooded with all the hues of yellow and the supermarkets begin to look like a garden full daffodils- full of different kinds of mangoes. Sometimes it is even difficult to even figure the different types. However, if you are a mango-lover, you'll know that the king of all mangoes is actually the best Devgad and Ratnagiri Alphonsos aka Hafoos, Hapuz, or Aapoos from the state of Maharashtra. Not just are they extremely yummy but also look and smell amazing. Calcium Carbide in Mangoes: Your Favourite Summer Fruit May Be Loaded With Cancer-Causing Chemicals; Easy Ways to Detect Artificial Ripening Agents (Watch Video.)
However, the very little known fact is that most good quality Alphonso mangoes are exported internationally and therefore we are left with all the bad quality ones. The vendors then pass off Alphonso mango lookalikes from Karnataka and other places known as Pairee or other mangoes. How to Cut a Mango Correctly? 3 Quick and Interesting Ways to Eat the King of Fruits This Summer.
Here are easy tricks to identify real Alphonso or Hapoos mango:
Smell
The fragrance of real Devgad and Ratnagiri Alphonso and Hapuz mango is the key. An original Alphonso mango will have a sweet natural aroma. And we are talking about real fragrance, one mango is enough to fill your house with its fragrance. However, there are times when vendors use chemicals to ripen the mangoes but the aroma will not be enough.
Shape
The best Alphonso from the mango groves of Devgad and Ratnagiri are usually oval in shape and do not become narrower from below.
Colour
The real Alphonso or Hapuz will have gradients of yellow and green on it. It will not be completely yellow like the Badami mangoes uniform yellow is not how Alphonso mangoes' colour should be.
Texture
Real Alphonso or Hapoos mangoes that ripe on the trees are softer than the ones that are artificially ripened.  Sometimes the artificially ripened ones may look perfectly yellow from the top but may be hard to touch.
How to check for original Alphonso or Hapoos mango video:
Enjoy your mangoes but beware of the fake and chemically ripened ones. Also, moderation is the key, consuming too many mangoes can actually be bad for your health and cause diarrhoea, vomiting, headache, dizziness, nausea, etc. Moreover, eating mangos ripened with compounds such as calcium carbide can lead to serious neurological problems and even cancer.