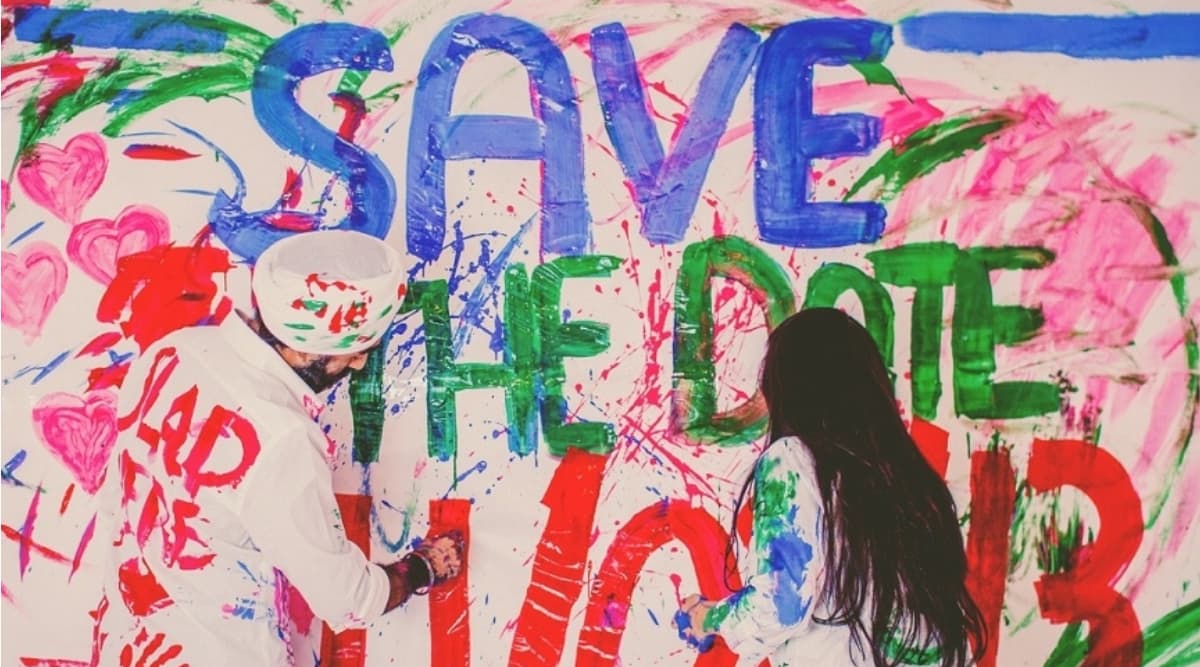 If you are getting married, you must be engaged in planning all the tiny details for months. But save-the-date photoshoot should be one of the first to-dos of your wedding checklist. While you would not want to go ahead with the usual, boring, and done-to-death ideas, there are plenty of ways you can get creative with this section of your pre-wedding photoshoot. We give you a low-down on the most unique and fun ones.
1. Blow Up
Balloons can add a fun element to anything, but if you are using them for your photoshoot, make sure that you stamp or write the save to date information on them to make the balloons look even cuter. Couple's 'Dirty' Photoshoot in Mud Goes Viral, Netizens Question If Its a Pre or Post Wedding Shoot! See Viral Pics (New).
2. Kick It
Now using your shoes as a prop is something which you must have never thought or heard, did you? Have the date written on the soles of your shoes or your boots, and see how exclusive your pictures come out.
3. Go Big
Instead of scribbling your wedding date on a slate or on a board, use full-size-body numbers to really make an impact that your guests won't forget. Too cute, isn't it? Getting Married Soon? 7 Unique Pre-Wedding Shoot Themes You Could Try With Your Partner.
4. Get Sporty
If you and your soul mate like sports and are into a lot into football or any other game, get sporty with your save-the-date numbers by printing it on your T-shirt.
5. Bark It Out
If your pet is an inseparable part of you, what better than having your pooch to save the date? Hang the number on your dog's neck to make the big announcement.
6. Stamp the Spoons
If you are a foodie, you can simply stamp the date of your big day on spoons. This can be a kitchen-friendly, fun photoshoot where you can also use other kitchen cutlery and elements as props.
7. Fly a Kite
What better way can you possibly think to announce your big day than to let a kite with the details of your wedding day soar high up in the air? Let your love take flight! Honest' Indian Wedding Invitation Card: Comedian Akshar Pathak's Parody Invite Has People Laughing Out Loud (View Viral Pics). 
8. Time the Clock
If you want to get a little more unconventional, you can incorporate a clock and other time pieces for your save-the-date photoshoot. This can be an excellent way to send the message that no one is late for your very important day.
9. Go Graffiti
For a fun touch, tag the floor or a wall with chalk for your big day's announcement. You can envision this if you have visited the famous John Lennon wall in Prague.
10. Drive It
If you want a great save-the-date picture, you can simply put on the date in front of a vibrant (say yellow) vintage car. How royal will the two of you look announcing your love from a vintage car!
If you are the wanderlust kinds, you can easily put your wedding date on a suitcase. Another way to really make a statement is to pin the date with cloth pins. Just scribble the date on cloth pins and pin them around and soon, you will find your friends pinning it around on Pinterest.