If you have been at your vulnerable words, you know how powerful kind worst can be. Suicide helplines have been founded with the sole purpose of doling sage advice to troubled minds. India has been seeing a spate in the number of suicides in the country. According to the World Health Organisation, the worst affected are between the ages of 15 and 29. To address this growing problem, suicide helplines have been mushrooming all over the country that are aimed at lending an ear to those who are battling suicidal thoughts. But how dependable are these helplines? Do they really work? Latestly dialled some of the most popular suicide helpline numbers in the country to check whether they really do. And here's what we found out.
The Samaritans (Yes)
Samaritans is a suicide helpline based in Byculla, Mumbai, which was first established in the UK for providing emotional support to anyone in distress. The Byculla-based NGO is operative from 3 PM to 9 PM every day and if you dial any of their numbers, (+91 84229 84528 / +91 84229 84529 / +91 84229 84530) it will be answered. A reassuring voice from the other end of the phone patiently listened to our grievances and asked all the right questions, taking special care to avoid any triggering statements. These facts about suicide cases in India highlight the importance of promoting mental health awareness.
Sneha Suicide Prevention Centre (Yes)
The Chennai-based suicide prevention centre Sneha is Tamil Nadu's only suicide prevention centre. As per their website, the centre has helped around one lakh callers who had suicide on their minds. Their helpline (044 2464 0050) is operated by professionals who give sage advice to anyone calling them with distress. When we dialled the helpline number, a mental health professional from the other end patiently heard out the problem and counselled us appropriately.
Connecting (Yes)
The Pune-based suicide prevention helpline is operated by volunteers who have undergone an intensive 45-hour training to help people suffering from a mental breakdown. The volunteers can converse with people in English, Hindi and Marathi and can provide callers with contacts of mental health professionals for reference. The service is available on two numbers (9922001122 or on 8002094353) between 2 pm and 8 pm. Connecting is one of the trustworthy helpline numbers which keeps its promise of helping out people undergoing emotional turmoil. Understanding 5 shocking facts about depression and suicides in men.
Vandrevala Foundation (Yes)
The Vandrevala Foundation Mental Health Helpline was established in 2009, which is manned by trained counsellors who are adept at handling suicidal cases. If you call on their helpline (1860-266-2345 / 1800-233-3330) expect someone to pick up the phone and hear out your grievances. According to the website, the Vandrevala Foundation Mental Health Helpline has attended more than 225,000 calls, helping people seek urgent help for suicidal ideation.
Roshni (Yes)
Roshni Trust is an NGO aimed at helping people seeking support for depression and suicidal behaviour. It aims to eradicate the stigma associated with mental health issues and they also offer services for terminally ill patients. Their helplines (040 - 6620 2000, 6620 2001) and manned by volunteers trained to handle people experiencing an emotional breakdown and adept at calming them down.
COOJ Mental Health Foundation (Yes)
The Goa-based mental health centre aims to promote mental health by prioritising four mental health needs – psychosocial rehabilitation, suicide prevention, geriatric health and community awareness and outreach. The volunteers can be contacted on their helpline 098225 62522. Rest assured, the call will be answered.
Aasra (No)
The Mumbai-based mental health NGO Aasra is the first thing that pops up when someone googles anything about suicide.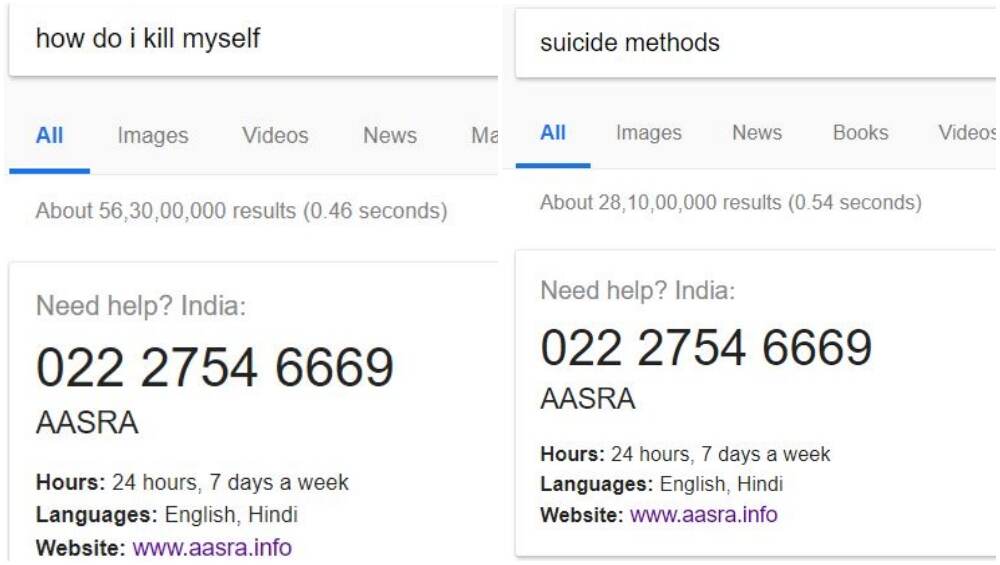 So naturally, we started by dialling Aasra's helpline number (022 2754 6669) and shockingly, it went unanswered. While the number is operational, no one picks the call from the other end. It's inexplicable how the most-search engine optimised site on suicide prevention has been lying defunct.
It's reassuring that most of the suicide helplines in India are functional and volunteers who man them do their best in discouraging people from taking the extreme step. More and more young Indians falling prey to depression and the stigma surrounding mental health matters doesn't necessarily help the situation. At such times, people need someone unbiased to turn to. That's where these mental health helplines come into the picture.