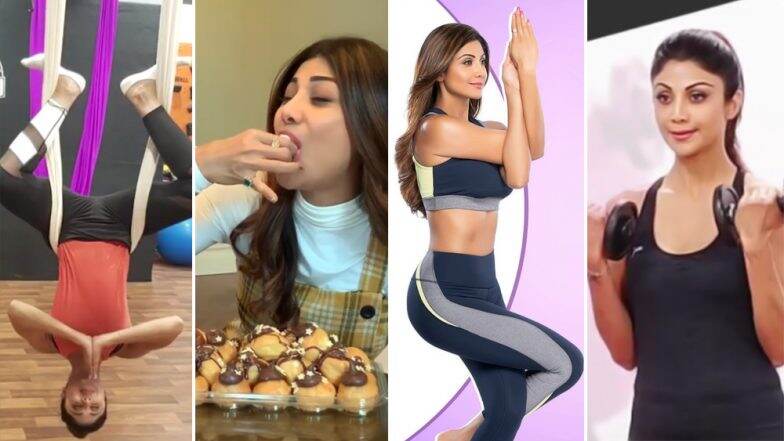 Shilpa Shetty Kundra is the fitness goddess. One of the most important things that makes Shilpa different from all the other fitness influencers is that she believes in the holistic approach towards good health and fitness and caters the same to the followers of her YouTube channel, Instagram and Facebook. She has always believed that being healthy is an amalgamation of routine exercise, high protein-fibre-rich diet, good mental health, yoga and also not devoiding yourself with things you like to eat. Shilpa Shetty Kundra may be the only star whose #SundayBinge videos are equally popular as her workout or yoga videos. However, recently she announced that after her YouTube channel she is also coming up with her app which is a piece of good news for all the fitness enthusiasts. International Literacy Day 2018: Are You Informed about Your Health And Nutrition? 5 Weight Loss Books by Indian Writers That You Must Read.
Shilpa Shetty Kundra has vibrant health and fitness-related content on her Facebook and YouTube and even her book, 'The Great Indian Diet' which is one of the best weight loss books in India! Now, this app will surely be a delight to all her followers and fans. In the interview Shilpa Shetty Kundra announced her health app, she said, "It's so important for everyone to know that nutrition plays such an important part in maintaining good health. I feel that is something most people don't understand. People think that it's just about working out. I keep emphasising that it is 70 percent nutrition and 30 percent workout regime." Shilpa revealed that she would launch her health app to guide her followers about health and fitness. "I am going to come with my health app in a couple of months."
While we are eagerly waiting for her app to be launched. Here are a few videos and pictures of Shilpa Shetty Kundra that proves that she is a Fitness Goddess who exactly knows how to cheat right!
Shilpa Shetty Kundra will stay fit and also encourage you to stay fit, the right way!
View this post on Instagram
Her book is a treat to people who want to lose weight and not their mind. You'll be proud of the great Indian diet.
View this post on Instagram
Who can do Bakasana on a Bosu like a pro? Shilpa Shetty Kundra!
View this post on Instagram
She has even given water yoga a shot!
View this post on Instagram
Pushing her boundaries every day. Check her out doing the front rolls.
View this post on Instagram
But somehow, yoga seems to be her first love!
View this post on Instagram
No, we are kidding, it is surely her Sunday Binge! Check out.
View this post on Instagram
Her envious #SundayBinge videos have kept me hooked on to her Instagram account.
View this post on Instagram
She also cooks amazingly healthy food like a boss! The list seems never-ending.
But, me thinks being happy contributes majorly to her fit body.
View this post on Instagram
Now you know how Shilpa Shetty Kundra's #10YearChallenge photo on her Instagram looks like she ages in reverse. Take a look.
View this post on Instagram
I believe that in terms of health, fitness, mindfulness, one can learn a tonne of things from Shilpa Shetty Kundra just by following her on different social media platforms. We wish Shilpa keeps bestowing us with her health gyaan!