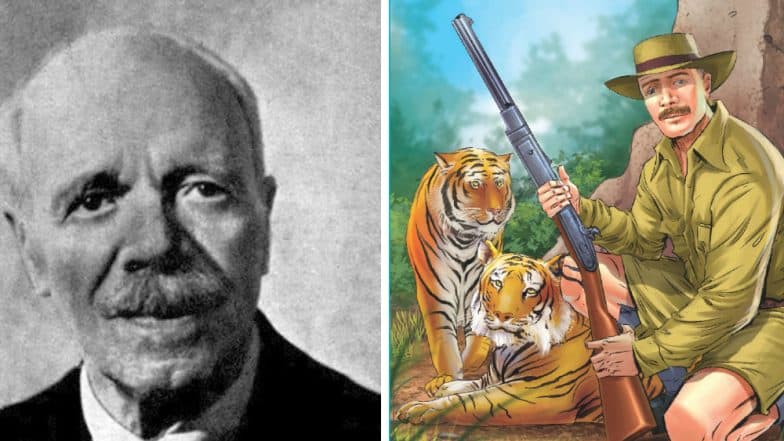 If there ever were to be a contest concerning the name of a human being coexisting or becoming synonym with that of an animal, Jim Corbett would win the contest hands down. July 25, 2018, marks the 143th birth anniversary of the British hunter, and tracker turned conservationist. The famous author, hunted a large number of man-eating tigers and leopards in India. He was also author of the book named The Man-Eating Leopard of Rudraprayag and Man-Eaters of Kumaon.
The book details and mentions the varied and rich experiences that Corbett went through and experienced in the Kumaon (Uttarakhand) region of India, roughly between 1900-1930s. The book also contains information on the Champawat Man-eater. The Champawat Tiger was a female Bengal tiger who was reportedly responsible for over 400 deaths in Nepal and the Kumaon area of India. She is also named in the Guinness Book of World Records for the highest number of fatalities from a tiger. This tiger was shot by Jim Corbett in the year 1907.
Below are some of the best quotes from the books written by Jim Corbett:
1. There are events in one's life which, no matter how remote, never fade from memory
2. There is no universal language in the jungles; each species has its own language, and though the vocabulary of some is limited, as in the case of porcupines and vultures, the language of each species is understood by all the jungle-folk.
3. Hundreds of false rumors of alleged attacks by the man-eater were brought to us, entailing endless miles of walking, but this was only to be expected, for in an area in which an established man-eater is operating everyone suspects their own shadows, and every sound heard at night is attributed to the man-eater.
4. The word 'Terror' is so generally and universally used in connection with everyday trivial matters that it is apt to fail to convey, when intended to do so, its real meaning
5. However much I doubted the man's ability to accomplish the task he had set himself, I could not help admiring his faith and his industry.
The oldest national park in India, established in 1936, as Hailey National Park to protect the endangered Bengal tiger is named after Jim Corbett who played a key role in its establishment. The park was the first to come under the Project Tiger initiative. Born as Edward James Corbett on 25 July 1875, Corbett passed away on 19 April 1955 in Kenya. Corbett left for Kenya in November 1947 and the house he lived in India has been transformed into a museum and is known as the Jim Corbett Museum. He surely must have left India but not before leaving an indelible mark on the wildlife scene of this country. The Jim Corbett National Park is a testimony to that fact.