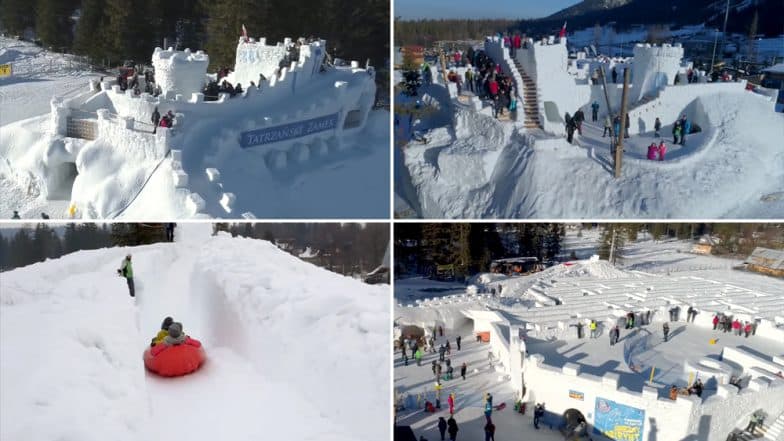 Do you like playing in the snow? Now imagine getting lost while playing! No no, we do not mean among the heaps of cold snow but an actual game of maze. We have seen a snowman being built out of snow but now there is a massive labyrinth that is constructed completely in snow. Poland's popular Snowlandia Zakopane Park has made the world's largest snow maze here which would get even an elder excited to play and get lost in here. Winter 2019: These Pictures of Snowfall From India And Around The World Would Make You Want to Head For a Vacation Now!
Usually seen in parks, made with bushes, this one in Poland has utilised the snow to create a structure that spreads across 2500 square meters. With that big of a structure, it even has many sculptures and architectural delights within. From animal structures to knights and hidden treasures, this maze is a sure delight for people of all age groups. In fact, it will get the kid in you rolling and running around in here. Pictures of Frozen Dal Lake in Srinagar and Snowfall in Manali Makes Us Want to Rush to the Hills This Holiday Season!
Watch Video of the World's Largest Snow Maze Built in Poland
It is indeed a mind-boggling puzzle! Winding alleys, made with a thickness of about two-meters, this winter wonderland was built by piecing together over 60,000 ice blocks. It took about a month for 50 workers to put it all together. The ice structure has a 16-metre snow castle too. It is full of amazing chambers, accompanied by snow sculptures on the inside. During the evenings, this maze is colourfully lit up and no doubt, the entire area turns magical. It has definitely proved to be a big hit with the visitors who come here in great numbers.