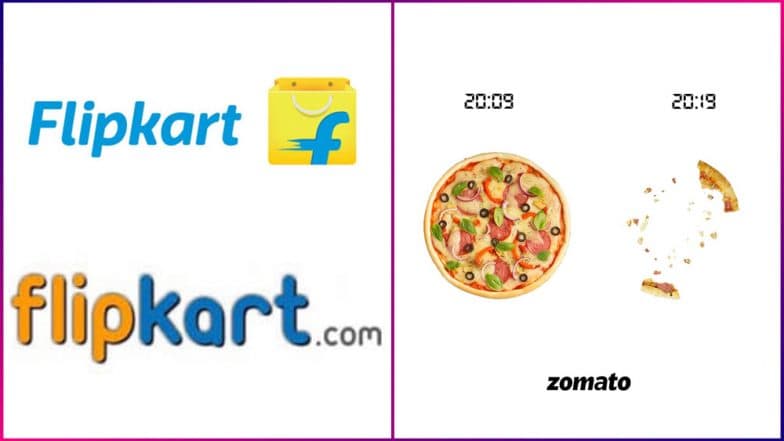 Online shopping website Flipkart and restaurant search and discovery service, Zomato have also accepted the #10yearchallenge that has gripped social media currently. For the challenge, people are sharing pictures of how the past ten years groomed them well. Netizens are posting one picture from 2009 and the latest one showing the changes in them. From commoners to celebrities, everyone is equally participating in this new found internet challenge. And now brands popularly known for their social media presence is also participating in it.
On Wednesday, Flipkart started in 2007 also took Twitter showing their change in the past 10 years. With the caption #10YearChallenge, they shared Flipkart's earlier and current logo portraying the difference. Zomato in 2008 rather creatively posted a photo of a pizza with 20:09 wrote on top it, while 20:19 on top of the leftover crumbs with the caption: '10 minute challenge, anyone?' #10yearchallenge Grips Social Media, From Celebrities to Commoners Everyone Shares Before And After Photos from 2009 & 2019.
Here's Flipkart's #10yearchallenge:
View this post on Instagram
Check out Zomato's #10yearchallenge or '10-minute challenge':
View this post on Instagram
Social media users were in much praises of both the companies' #10yearchallenge posts. Twitterati praised Flipkart citing how the company has grown in the past ten years. Meanwhile, Zomato took the cake for their creative spot. Followers commented on their post saying how they would like to take up the 10-minute challenge.
Watch the video below:
As #10yearchallenge went viral, celebrities like Jessica Biel, Padma Lakshmi, Lori Loughlin, Candace Cameron Bure, Ryan Seacrest and Kevin Hart were the first to post. Something that the popular people have in common is that the age difference can hardly be spotted in their physical appearance. Most of them looked the same with an only change seen in hairstyle. Bollywood names like Vishal Dadlani, Sonam Kapoor, Diana Penty, Shruti Haasan, Esha Gupta, Bipasha Basu and Daisy Shah also posted pictures from 2009 and 2019.