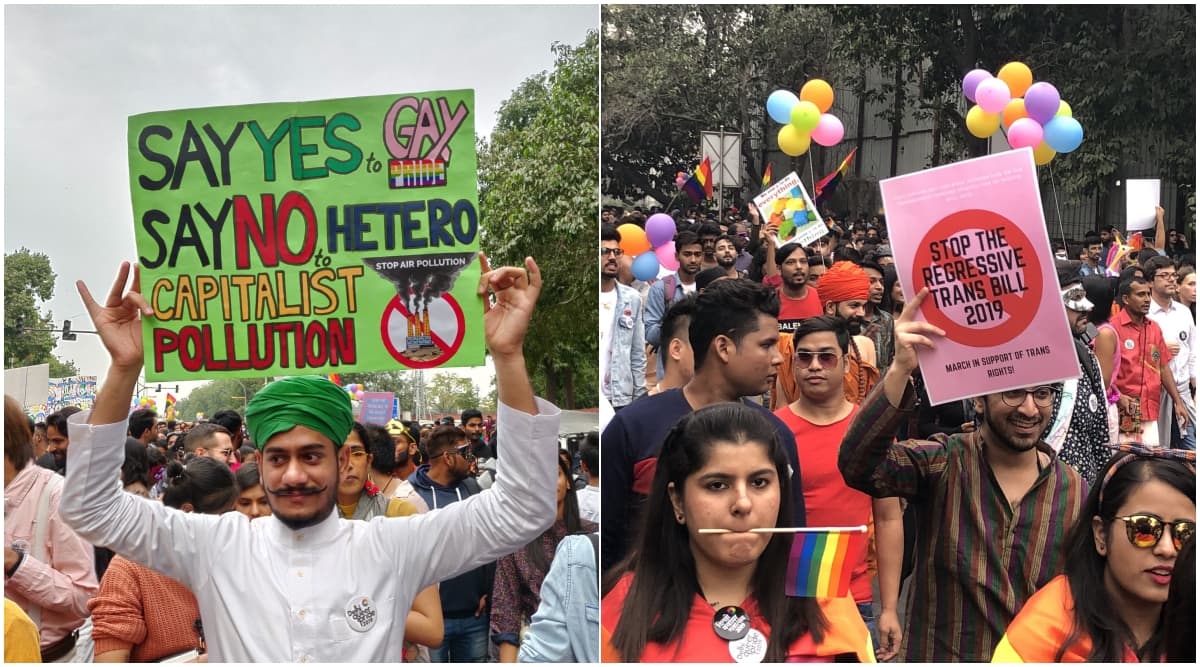 On November 24, the streets of Delhi from Barakhamba Road intersection to Jantar Mantar were filled with great enthusiasm, cheer and colours as the 12th Queer Pride Parade celebrating homosexuality took place. Over thousands of people from the LGBTQ community and supporters joined along and condemned the Transgender Bill 2019. People held posters, dressed in colourful attires, marched with the rainbow-coloured flag to voice their support of trans rights. Social media was buzzing with pictures of people from pride. But along with the slogans for propagating homosexual love, there were some voices that even called out the hate for current situations in the country. Taiwan's First Pride March After Legalizing Gay Marriage.
The Transgender Bill was tabled at the Rajya Sabha last week and wanted to get the transgender community in highlight. However, the queer community is not in favour because it ignores many grievances and there are fewer provisions to address them. However, this time around, it wasn't the only issue that the community addressed. The parade took a political turn and touched upon the issues of Kashmir, JNU fee hike protests, NRC among many others. Among all "Love is Love" slogans, there was a certain amount of hate too. Gay Pride Parade: Hundreds of Thousands March Across Europe to Mark 41 Years of Decriminalisation of Homosexuality.
Check Some Pics From Delhi's Pride Parade:
Stop The Trans Bill
Members of the LGBTQI community celebrate during a #pride #parade in New Delhi on Sunday #LGBTQ #LGBT #Delhi #PhotoOfTheDay #photojournalism #photography @NatGeoPhotos @instagram pic.twitter.com/aTd3oMqxA2

— Rahul Singh (@Rahulphoto_) November 24, 2019
Delhi Queer Pride Parade demands Trans Bill to be sent to Select Committee. #DelhiQueerPride2019 pic.twitter.com/j0HGMgx04h

— Trishna Wahengbam (@trishnawaheng) November 24, 2019
Some More Glimpses 
Glimpses of Delhi Pride Parade 2019#pride2019 #DelhiQueerPride2019 #delhiqueerpride pic.twitter.com/IrDL4jliBV

— Ramet Dhage (@ramet_dhage) November 25, 2019
Targetting Saffron?
I also support LGBT Community🌈, bt What is Mean Rainbows Over Saffron? Easy trick h Attention Gain Karne Ka🧐... I Against This Lady Or whatever Is She nd Illogical Poster 😡😡😡😡😡😡 #LGBT #delhipride pic.twitter.com/G9ea4wIyqZ

— Prerna Shree (@prerna_shree) November 24, 2019
Going Into Political Issue
same bharat mata. same.#delhipride #delhiqueerpride pic.twitter.com/exQaDC6rOA

— kweer kid (@KidKweer) November 24, 2019
Targeting Two issues in One?
#DelhiPride agree pic.twitter.com/kWXB9eBQWV

— Bodhisattva Sen Roy (@insenroy) November 24, 2019
Love Beyond Barricades
Love and the Barricades... #DelhiPride #pride2019 #TransBill2019 pic.twitter.com/qdMCXobCnI

— Shromona Das (@das_shromona) November 24, 2019
Some of the placards did dwell a lot into the political scenario of the country. We look forward to the next year's parade, hoping there is more of "love is love" than just hate.