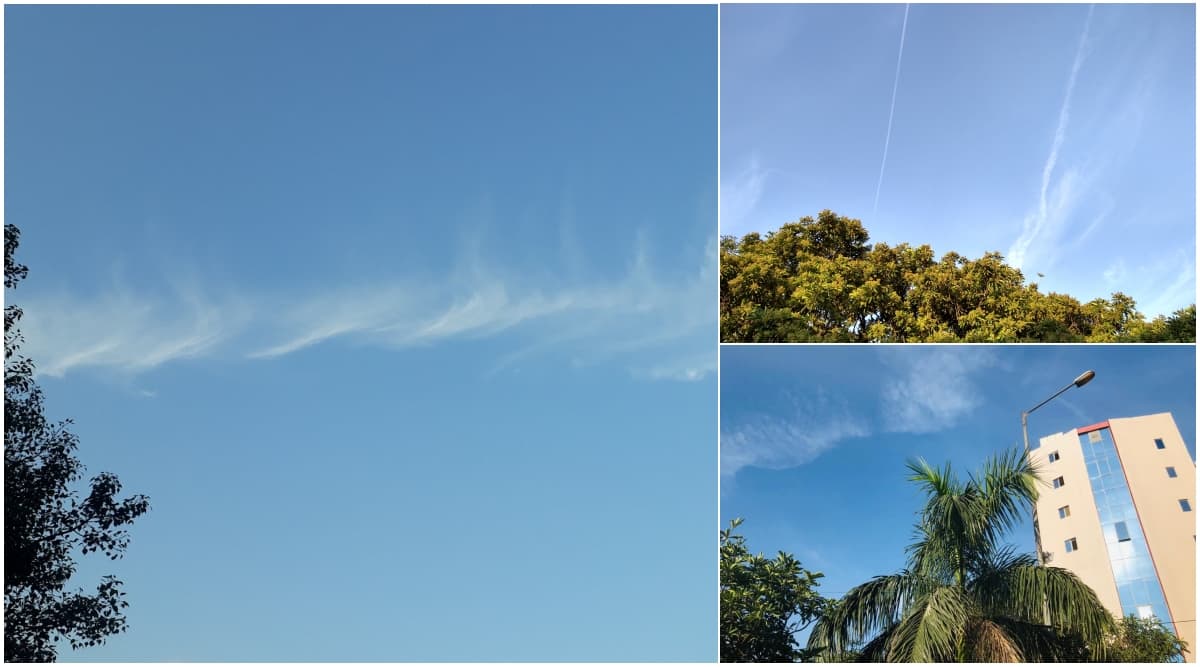 The residents of Delhi are currently looming in the crisis of severe air quality. Due to the rising air pollution in the national capital, even stepping out for school or work has become a risk. Each day citizens await for the air to clear and November 17 seems to be a respite as the air quality has improved. People have taken to social media to share pictures of the clear blue skies that have graced the city today. This morning, the air quality improved from 'severe' to 'very poor' category. And chancing upon the opportunity, pictures of nice clear skies are shared on Twitter.
This morning, the AQI in Lodhi Road in Delhi was recorded at 218 (PM 2.5) and 217 (PM 10). The range of 51 to 100 of AQI is considered as satisfactory; 101-200 is moderate; 201-300 falls under the category of poor. While the last few days saw the index rise into severe to hazardous category, as the situation improves people are happy. So photos of blue skies, which has unfortunately become a rare instance in the NCR, are being shared online. Mumbai and Thane Wakes Up to Foggy Morning! Is It Pollution or Is Winter Coming? Asks Twitter.
Check Pictures of Blue Skies Observed in Delhi Today:
Good Thing
Good thing: Clear skies in Delhi NCR

Sad thing: We don't share this the way we shared smog pictures. #DelhiAirPollution pic.twitter.com/cnPK397LTs

— Kshitij Tiwari (@kshaitij) November 17, 2019
Sunset Skies Without the Smog
Spot the plane. #TheBlueSkies https://t.co/vBi8CBoKH7 pic.twitter.com/sphFGwhU2M

— Nitesh Jain (@619nitesh) November 17, 2019
Looks So Beautiful
Beautiful blue Delhi sky Now :) pic.twitter.com/l1VpRezBLB

— SirishaRao (@SirishaRao17) November 17, 2019
Hoping it Lasts
Blue sky in delhi...will it last? pic.twitter.com/bUBG1PQbWA

— Arun Thapar (@Arun_Thapar) November 17, 2019
A Rare Sky!
A rare blue #sky in #Delhi pic.twitter.com/k47Xh4Zb1f

— Nivedita Khandekar (@nivedita_Him) November 17, 2019
Please Stay
Good to see the blue sky back in Delhi ! pic.twitter.com/kzbPD2lnB7

— Deepak Doegar (@DeepakDoegar) November 17, 2019
Blue Skies and Breathable Air
finally some clear skies and breathable air in delhi pic.twitter.com/q5fI4QKHle

— z❁ (@Zaii03) November 17, 2019
It is nice to see some nice sky pictures from Delhi on the timeline. From few weeks we have seen only dark, smoggy pictures which show the pitiable condition in the NCR region these days. Schools had to be shut down and an emergency was declared because the air quality deteriorated so much. It is no less than a luxury these days to see clear blue skies in Delhi and people are flaunting it like one.