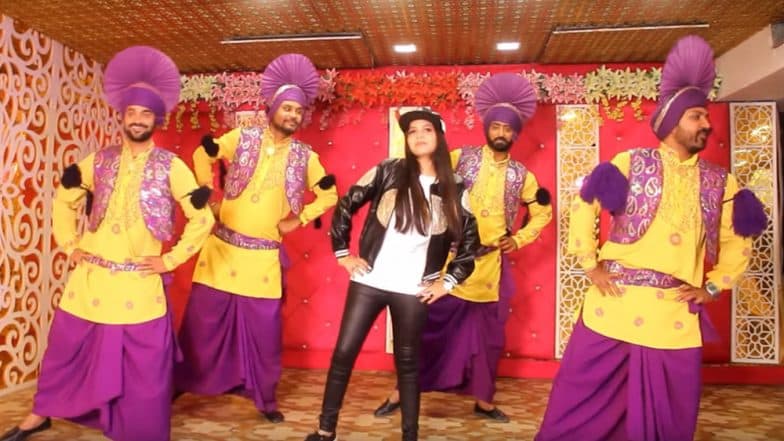 The Indian queen of cringe pop Dhinchak Pooja is back with a new song and we wonder how her fans (if at all any) are feeling right now. Titled "Nache Jab Kudi Dilli Di", Pooja's latest track in Punjabi has nothing much to offer, it sounds like any other Punjabi music you have heard before. And just like her previous songs, Pooja can be seen trying her best to dance in this one too. The video features her in different places in Delhi from shopping malls, random pavements and shop fronts. After "Dilon Ka Shooter" in which showed she showed her love for a scooter, Pooja rides a bullet in this one.
Unlike her previous songs, Pooja can be seen with a group of professional dancers dressed in Bhangra costumes, which is a major shift from her friends gracing her videos in the background. Dhinchak Pooja's videos went viral in 2017 making her quite popular. Some of her hits include "Swag Wali Topi", "Selfie Maine Leli Aaj", "Dilon Ka Shooter" and "Baapu Dede Thoda Cash". Dhinchak Pooja Releases New Song 'Swag Mera Style Hai' and We Advise You to Keep an Ambulance on Speed Dial Before Watching the Video.
"Nache Jab Kudi Di" has been written, composed, produced and sung by Pooja herself while the beats are by Deejay Samrat. It seems the song is Pooja's version of the life of a Delhi girl. She rides a bullet, works on a laptop, rides a bullet and poorly manages to dance with professionals.
Watch the video below:
The track has already garnered a lot of attention on social media with over 1.47 lakh views on YouTube. And quite obviously, the comments section of the video is disabled. American YouTuber and singer Rebecca Black started cringe-pop genre when she released 'Friday' back in 2011. It went viral and was dubbed as "the worst song ever". It seems Dhinchak Pooja has taken upon her to carry on with the legacy of cringe-pop.