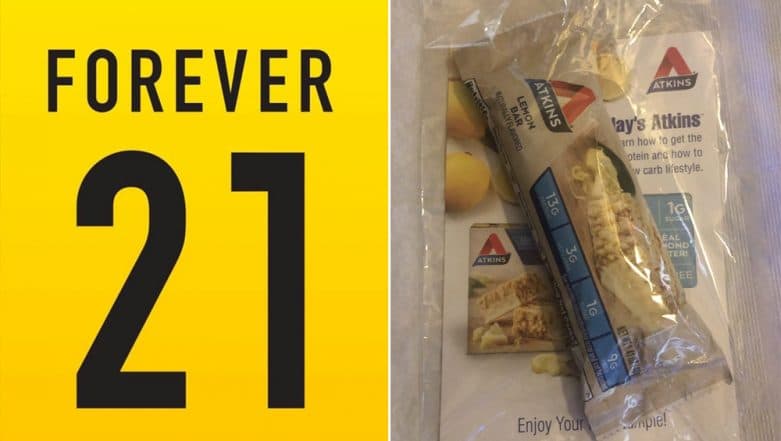 One of the most go-to brands, Forever 21 is under major criticism after it decided to send out diet bars with plus size orders. Tweets and images of the product's shipment along with Atkins diet bars have floored online, with raged netizens accusing the brand of body shaming. As per the viral tweets, it appears that Forever 21 was sending the bars only to the customers who ordered plus size clothes. The diet bar has been received only through orders placed online. After facing flask, Forever 21 reportedly issued an apology for the move. Girl Gets Body Shamed by Boyfriend, Twitterati Helps Her to Dump Him. 
Earlier this week, when customers received their orders, they were surprised to see Atkins diet bars in the shipment. Headquartered in the United Kingdom, Atkins markets the bars as low-carb snacks for weight loss. Not many people welcomed the idea and called out the brand for fat-shaming. The bars were received only through plus size orders. Ashley Graham Gets Body Shamed on Instagram: 'You Are FAT! Get a Brain & Marry a White Man'. 
Check Out A Few Tweets:
my mom ordered some clothes from @Forever21 's plus size collection and they sent a Atkins diet bar along with the stuff she ordered💀 pic.twitter.com/Lxi6XnuOB1

— jesse (@jessemarisaelao) July 19, 2019
This Customer Was Reminded if Her Body is Beach Ready!
bought a swimsuit online from forever 21 and they sent me an atkins bar along with it lmaoo thank u for reminding me that i don't have a beach ready bod

— Cailee (@caileeargudo) July 23, 2019
Sickening Move
I went from a size 24 to 18, still a plus size girl, so I ordered jeans from @Forever21 Opened the package, when I looked inside I see this Atkins bar. What are you trying to Tell me Forever 21, I'm FAT, LOSE WEIGHT? do you give these to NON-PLUS SIZE WOMEN as well? pic.twitter.com/ds8kUTs7T7

— MissGG🏳️‍🌈 (@MissGirlGames) July 19, 2019
As the tweets went viral, Forever 21 issued an apology. CNN Business quoted the brand as saying, "From time to time, Forever 21 surprises our customers with free test products from third parties in their e-commerce orders. The freebie items in question were included in all online orders, across all sizes and categories, for a limited time and have since been removed. This was an oversight on our part and we sincerely apologize for any offense this may have caused to our customers, as this was not our intention in any way."
With recent criticism, the brand might lose its customers. Forever 21 has long been famous for keeping a wide range of clothing options for all shapes and sizes. The brand stood as a favourite to many for this very reason. However, this recent move has risked the brand's status. Some women on viral tweets claimed to switch their shopping destination elsewhere after the diet bar sample was included in their product.