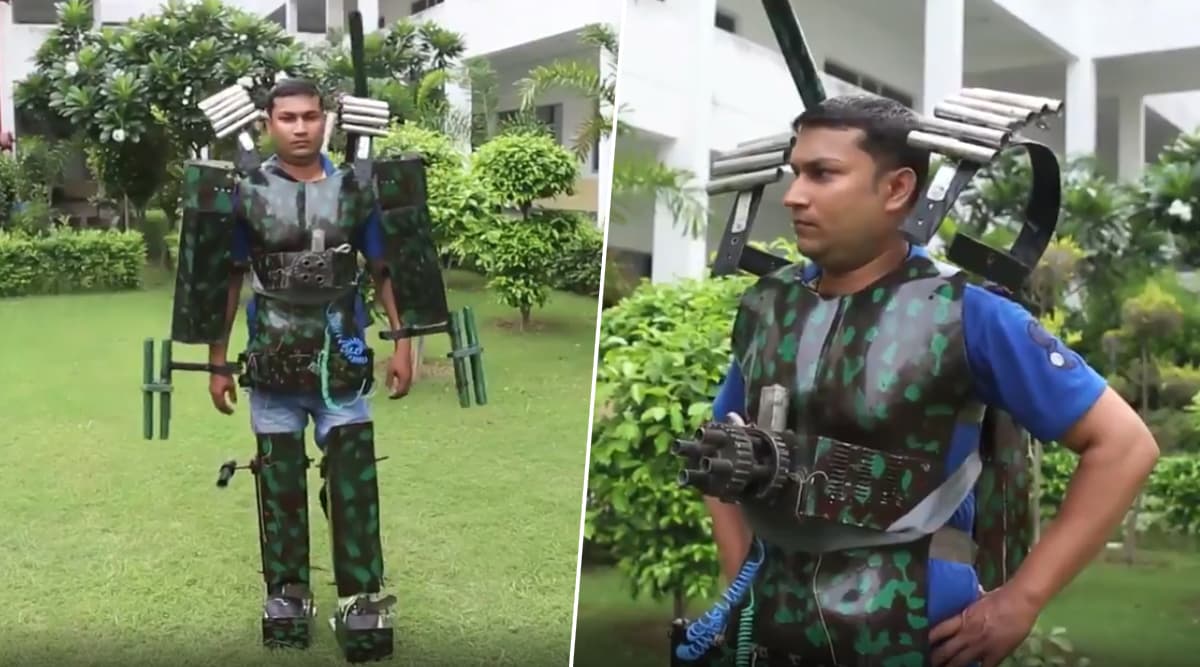 Iron Man suit has been a favourite of those who watched the Avengers series. And while many have tried to imitate his red and golden costume, more so in time for the Halloween festival, a video of an Indian man's version of it is going viral. Packed with some fire weapons and gun-like devices on it, the Iron Man costume can be used to fight terror. A video of this functional suit was shared online but the not so sophisticated design has not impressed many. The video of this suit is going viral. Iron Man Suit Stolen: Robert Dawney Jr.'s Original Costume Report Missing From Prop Storage Warehouse.
With an army-like pattern on the vest and metal coverings for the hands, this suit has more than one weapons attached to it. There are three fire weapons, one on the hands, one at the shoulder and one even on the stomach. The caption of the video says, "Indian man designs 'Iron Man' suit to help fight terror!" The video has got over 3 lakh views and 3,000 plus likes. But the reactions, however, are diverse. Jetpack Suit Testing Successfully Done By British Inventor Richard Browning Over Water: Watch 'Iron Man' Video.
Check The Video of Indian Man's Iron Man Suit:
Indian man designs 'Iron Man' suit to help fight terror! pic.twitter.com/sXXR2bXIjL

— RT (@RT_com) October 25, 2019
The netizens gave a few mixed reactions as the design looks incomplete and not too convenient too. Check how the netizens reacted on this video.
Sasta Tony Stark!
Sasta Tony Stark...

Utha le re Deva !!!

😭😭😭😭😭😭 https://t.co/4MldRxiNbK

— Soul of India (@iamtssh) October 26, 2019
Make Something Useful Next?
Haha Funny...!!! At least he is innovating...Good going... Next time do something which can actually be used.

— Restoring India (@restoringindiaa) October 25, 2019
If You Were in the US
You walk around wearing that in the US, and you'd probably be shot by the cops.

— Eddie (@OutcastHero72) October 25, 2019
Or is it For Halloween?
Dude, that's a Halloween costume.

— Prakhar (@Prakhar60756986) October 25, 2019
That's Cool Actually!
damn he looks really cool

— halo 3: OJST (@moodprobiotic) October 25, 2019
But Not Very Accurate
accuracy: Zero :))

— Rain Maker (@rainmakerfellow) October 25, 2019
Meanwhile, Iron Man
— Unemployed Marwadi 🇮🇳 (@Muaaaahrwadi) October 26, 2019
Appreciate the Efforts But Not Too Functional
We appreciate his effort but the real life is way different than Bollywood movies...😂 Actually even from the Hollywood movies...

Btw, looks like it's not iron man but an Indian character in an Iındian movie that I saw once on internet...

— AGLA (@AHIH_AShR_AHIH) October 25, 2019
The suit also looks too heavy and one cannot really use it in real life, forget at the borders. The idea definitely needs more brushing up and better-skilled to actually be functional for the purpose as mentioned. Nevertheless, the man has taken in a lot of effort to build what suit he has and that needs to be appreciated.