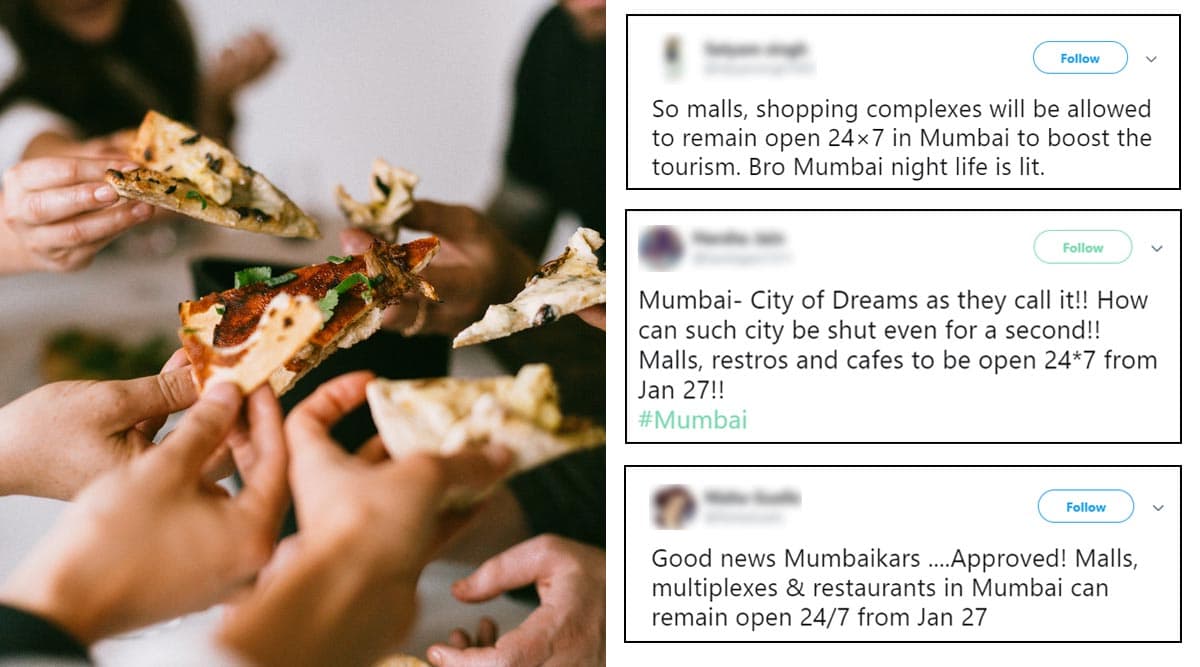 Mumbaikars are extremely happy with the recent announcement of keeping the malls and restaurants open 24/7. This decision was taken by the State Tourism Minister, Aaditya Thackeray along with the representatives of shopping malls, hotels, restaurants and others, who attended the meeting. Soon after it made to the headlines, people in the city of dreams began to rejoice. They have taken to Twitter showcasing their full support with Thackeray, as they celebrate the decision. The netizens are praising the government and cannot wait for January 27, 2020, the moment it will be effective. The tweets have gone viral, as Mumbai, wholly be the city that never sleeps. Mumbai To Have Malls, Multiplexes, Shops & Restaurants Open 24x7 From January 27.
The meeting held by Aditya Thackeray on January 16 was attended by the Civic Chief and Commissioner of Police, Sanjay Barve along with other senior civic officials. The decision reportedly allows at least 25 malls and several other shops, multiplexes and restaurants across the city to stay open 24*7. However, the last order for alcohol would still be 1:30 am. The Brihanmumbai Municipal Corporation (BMC) and Mumbai Police permit the new rule for establishments only in "gated communities," like the malls, mills and compounds and in non-residential compounds, midnight January 26.
People have taken to Twitter showcasing their support to the decision. It sounds like Mumbai will finally be living up to its reputation. Now all our dreams of a late-night food trail post partying in the maximum city of dreams are soon to come true. Check the tweets below how Twitterati is celebrating the move.
Check Tweets:
Mumbai will never sleep now 💕 yieee, a nice move by @AUThackeray

Malls, multiplexes, shops, and restaurants can stay open 24/7, starting Jan 27.

Thank you 😊

— Shalu Awasthi (@Shalu_official) January 17, 2020
Can't Wait For Late Night Fun!
Mumbai 24*7. This should be fun. Midnight 🕛 birthdays 🎂 will be so much more interesting now with choices of malls and restaurants.

— Pankaj Upadhyay (@pankajcreates) January 17, 2020
One Thing At A Time, Buddy!
Malls & Restaurant will be open 24*7 in Mumbai, totally support this Decision !

We just Hope One day Outside Food & beverages will be allowed in "Cinema Theaters" & food inside Cinema theaters will be sold at MRP.@AUThackeray

— Viv℮к SαwαηT (@VivekSawant9999) January 17, 2020
Good News Indeed:
Good news Mumbaikars ....Approved! Malls, multiplexes & restaurants in Mumbai can remain open 24/7 from Jan 27

— Nisha Guelis (@NishaGuelis) January 17, 2020
City That Never Sleeps!
Mumbai- City of Dreams as they call it!! How can such city be shut even for a second!! Malls, restros and cafes to be open 24*7 from Jan 27!! #Mumbai

— Harsha Jain (@harshajain1311) January 18, 2020
The step might prove a development for the tourism of Mumbai. While the breakthrough is yet to be seen, we surely cannot wait for the decision to come into action. The city that never sleeps, we are so ready to unveil the late-night fun.