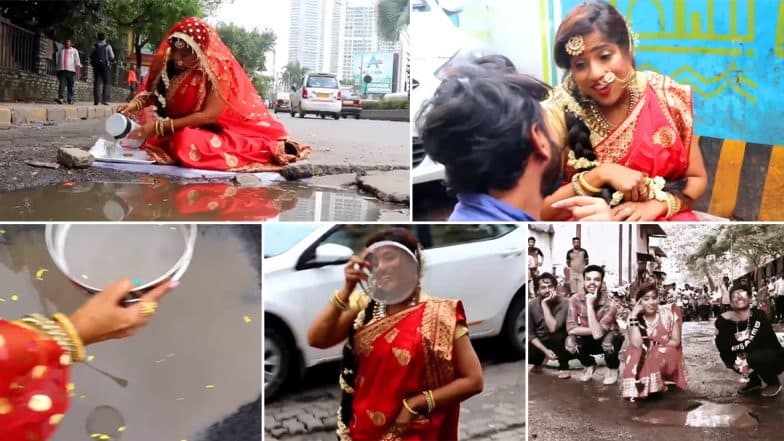 The viral videos mocking the current situation of the city is the new trend going on, in case you have missed it. Internet is filled with memes, snaps and videos that mock the present situation of the roads of the country which has more potholes than the actual space to walk. One of the constant members to go on this mocking spree is Red FM 93.5's radio jockey, RJ Malishka. The internet sensation had earlier shook the social media with her entertaining videos titled Mumbai tula BMC var bharosa nahi kay and Geli Mumbai Khadyat. Yet again, she is back with a brand new concept with her 'moon' based song 'Dekho Chaand Aya, Chaand Nazar Aaya'. Bengaluru Fake Moonwalk Video Over Potholes Helps Get Roads Fixed! BBMP Responds to Viral Clip by Beginning Construction.
The song is totally dedicated to the potholes found on most of the roads of the maximum city. RJ has been questioning the BMC since her past two songs and yet again she decided to follow the suit with this funny song. She compiled a few Hindi and Marathi songs dedicated to 'chaand' (moon) and compared it to the moon. For this, she dressed up traditional, as they doll up for the occasion of karwa chauth. Check out the track below.
RJ Malishka's Viral Video
The incessant rains this year led to many creative minds look into the 'potholes matter.' Earlier this month, a Bengaluru based man created an amazing video that shows him moon-walking as an astronaut in the outer space, only to make us realize that he is actually walking on the crater-pocked road in Karnataka. The video went viral like a wildfire on the social media.