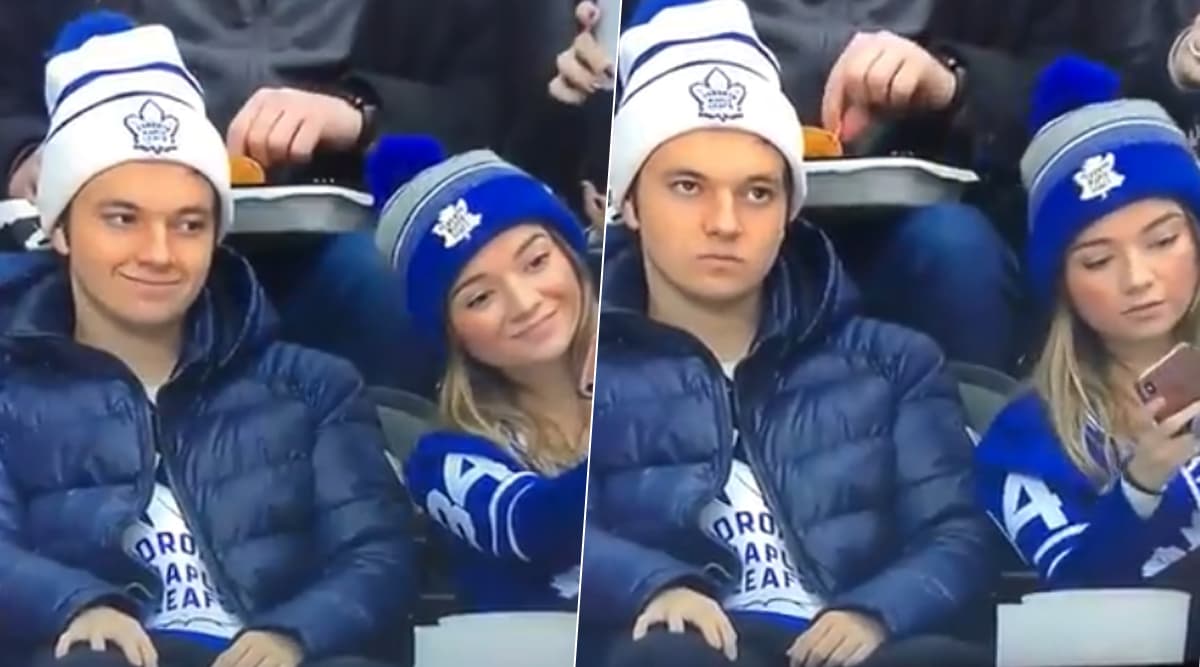 A short video clip of siblings taking a selfie during an ice hockey tournament of the National Hockey League is breaking the internet, thanks to the expressions of the guy. A pair of siblings and supporters of Toronto Maple Leafs were caught taking a selfie during the match on camera. The best part is the guy's change of expressions immediately after the picture was taken. It was a match between Toronto Maple Leafs and Pittsburgh Penguins, the former not in their best form. The short clip has been got more than 28 million views in about three days and the pair is breaking the internet. The guy also represents a lot of people who just do not like taking selfies. Meanwhile, the actual picture that the pair took has also come up online and now everyone knows the back story of it. Video of Security Guard Dancing in Houston Astros Vs Tampa Bay Rays in ALDS Game 4 Reminds People of His Previous Dance Face-Off (Watch Viral Videos).
The funny incident took place in Pittsburgh where 17-year-old Kosta Bourikas and his 20-year-old sister Patricia Bourikas were attending the hockey match because Kosta is a die-hard fan of the Maple Leafs. Unfortunately, his team did not score more than one goals and opponents Pittsburgh Penguins win straight with 6-1. It was probably the disappointment that was clearly evident in Kosta's heart which showed up in the well-timed video footage of his sister clicking a selfie. The video was shared on Twitter and people could not stop laughing at the reality. Hershey Bears' Ice Hockey Fans Throw 34,000 Teddy Bears Onto Rink Breaking World Record (Watch Video).
Watch Viral Video of Siblings Taking a Selfie During Hockey Match:
😂 #Leafs #HNIC pic.twitter.com/GdwrxEomG6

— Kevin Doherty (@magictoasterfi1) November 17, 2019
While the displeasure on the brother's part is so so evident, here's the actual picture of them.
— Meg🖤 (@meg_asaurus1) November 18, 2019
But netizens exactly know the guy was thinking. Talking about the funny moment Kosta told Global News, "I'm just trying to watch the game. Obviously I'm depressed, she's like, 'Hey, how about a picture?' She puts her phone to me. I give her a fake smile. I give her what she wants, so I just smiled and then I got back to how I was really feeling.'" While the sister said she was trying to lighten his mood. Aww, Sweet!
But little they know this clip of them would go so viral. Canada's Sports Network also posted it on Twitter asking users to give their reactions and everyone had a good laugh at the captions. Check some of the captions below.
The Disappointment of Losing
Resting Leaf Face

— Glen (@handsomey) November 17, 2019
Every Sibling Ever?
when ya gotta go to the game with your sibling after arguing all day pic.twitter.com/wPWvMGt7xf

— QHughes𝕊𝕂𝕐 (@CanuckSyko) November 17, 2019
The Reality of It All
Social Media v Real Life

— Tina papania (@TPapania) November 17, 2019
Some of the people even mistook them for a couple which was one of the funniest things for the siblings. Patricia mentioned how her phone was exploding with notifications and Kosta was getting calls from everyone as soon as the clip was aired and shared online. She then clarified on every page about them being siblings and not a couple. All that aside, the expressions deserved to go viral about how many of us feel while clicking selfies.